Kentucky's Julius Randle back home for the Final Four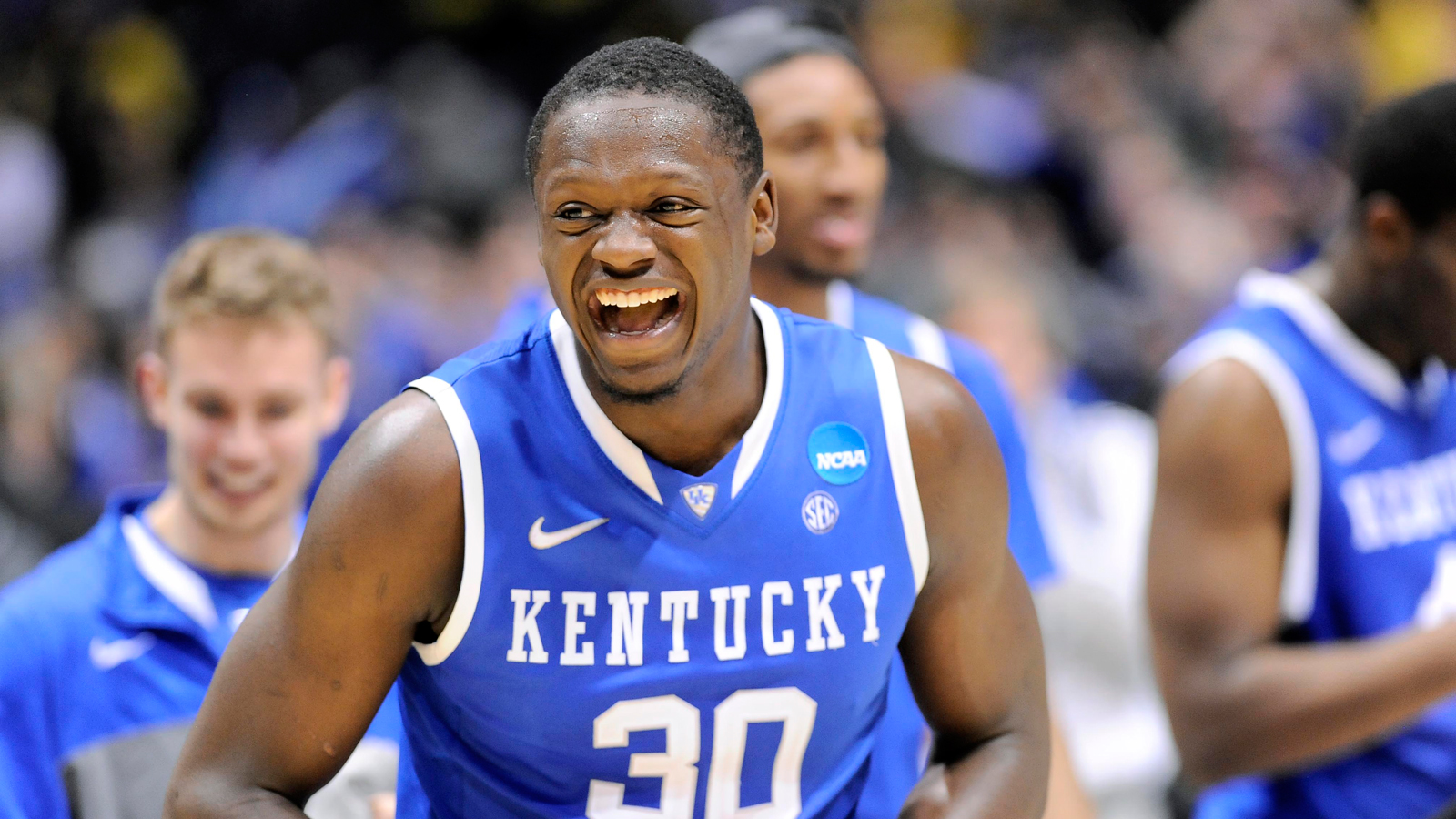 PLANO, Texas and McKINNEY, Texas — Carolyn Kyles and Jeff Webster made it through security at Indianapolis International Airport, and the race was on.
"We've got to find a TV," Kyles told Webster as her stride picked up.
About 12 miles away, Kyles' son and Webster's mentee and godson, Julius Randle, was polishing off his fourth double-double in four NCAA Tournament games.
When Kentucky earned a Sweet 16 bid a week earlier and a ticket to Indianapolis, the duo purchased tickets on the last flight to Dallas of the day at 7:50 p.m. and hoped for an early tip time. Kyles had to return to Dallas for work on Monday morning in accounting at Ecova, a private energy management company in north Dallas.
Kentucky got stuck with a 5:05 p.m. tipoff and faced what Webster called "torture."
As Randle trotted back to the bench for a timeout with just under 12 minutes to play and Kentucky trailing Michigan by two, his eyes met Webster's in the stands. Webster balled up a fist and pounded his chest. Randle mirrored the gesture when he saw it.
Kyles' eyes welled up with tears and she and Webster shuffled up the aisle at Lucas Oil Stadium toward the exit.
The last three years, Randle's first act as a state champion at Prestonwood Christian School in Plano, Texas was to run into the stands and hug his mom. After his proudest moment and biggest accomplishment yet, she couldn't be there.
"It was awful," Kyles told FOX Sports Southwest this week at her home in McKinney, Texas.
Kyles was glued to her phone as she and Webster raced the 15 minutes down I-70 to the airport. Friends and a few reporters who knew the situation texted her updates while she kept open an app that provided score updates.
Neither checked a bag. Both had pre-printed their boarding passes to streamline the check-in process. Not far from the security checkpoint, they pulled up chairs at an airport restaurant that had a TV turned into the game. The Wildcats were up two with about three minutes to play when they finally found a place to see what could have been Randle's final game at Kentucky.
Michigan tied the game with 30 seconds to play, and Kyles watched as Aaron Harrison took a handoff and drove toward the top of the key. He stopped, crossed over from his right hand to his left hand and let a shot fly from 23 feet over Caris Levert's outstretched left hand.
He drained it, and the moment was immortalized on the following week's Sports Illustrated cover.
Kyles' perhaps forgot she had left the stadium, but screamed "YES!" like she was still in her seat.
"It's a small airport. It's quiet. Everybody turns and starts coming toward us. I think I saw security," Kyles said.
Onlookers did the math of Kyles' and Webster's Kentucky gear and the game on the television, and the two nervously held hands until after Nik Stauskas' halfcourt heave bounced wildly off the backboard.
It was time to disturb the sterile foyer once again.
"That's my baby! And he's coming home!" Kyles screamed.
The excitement of the ending left both future flyers distracted from the reason why they left the game. Before the players had even left the court, Kyles caught her self losing track of time.
"We've got to get to this gate," she told Webster.
With Webster and Kyles somewhere in the sky between Indianapolis and Dallas, Randle spoke six words Kyles will remember forever.
"I'm coming home to my mom," he told reporters after the game.
He's coming home to plenty of others, too. The same people who helped Randle reach a lifelong dream of leaving and playing for Kentucky will be the ones who make his return to Dallas this weekend so special. It's a welcome reward at the end of a tumultuous first (and likely only) season as a college athlete.
Kyles always demanded a lot from her son, and a meeting with Randle's first-grade teacher only cemented that demand.
"He's an 'A' student and you shouldn't accept anything else," she told Kyles.
When she'd asked other students to draw up a completed equation, most kept it simple. Two plus two equals four, though some of Randle's less gifted classmates unwittingly argued for George Orwell's interpretation of the outcome.
Randle tallied up what 2 million would equal if it were multiplied by 10,000.
Kyles, a skinny former college player at Texas-Arlington who stands 6-foot-2, saw his potential on the court, too.
Kindergarteners shouldn't be able to dribble that well, Kyles thought. He was already big for his age, so Kyles enrolled him in a city league with kids two years older than him. A second-place finish in his first season of organized basketball left him in tears.
Up until fifth grade, Kyles served as Randle's unofficial coach. They'd go to the park or nearby rec center together, where Kyles toughened up her son with powerful post moves. She'd throw elbows. She'd knock him down. He'd be infuriated.
"You're going to get pushed down, but you don't give up. You keep fighting," she told him.
Those battles in the park had become more even by the time Randle had grown into a 5-foot, 10-inch fifth grader.
Kyles took Randle to try out for the Texas Titans, a local AAU traveling team.
"He was always the guy everyone talked about as this really good player," Titans coach Scott Pospichal said.
Pospichal needed about five minutes to see that talk was born for good reason. Randle played for the Titans (and only the Titans) every summer through his high school career. He also found a mentor in assistant coach Jeff Webster, a formr star at Oklahoma who grew into Randle's godfather.
"He was looking for people he could trust," Pospichal said.
He found one in Webster, who eventually began picking Randle up from school each day. The father of two began treating him like his third child and gave Randle the father figure he didn't have at home.
"We have a respect factor, because I can tell him if he's right or wrong and what he needs to do. He trusts me," Webster said.
On the court, Webster and Pospichal teamed up to help develop Randle's game. They quickly discovered he played best when he had something to prove. Neither coach was above manufacturing a situation to get a rise out of their budding star.
"I'd call time out and he wouldn't have really done anything too wrong and I'd get all over him for some small thing. Then, he'd go out there and dominate," Pospichal said.
That didn't happen too many times before Pospichal asked Webster why he always had to play the part of bad cop to Webster's good cop.
"Because he's riding home with me," Webster would tell him.
"That shows you how good his mom is," Pospichal said. "She has the toughest job of all. She had to be good guy and bad guy."
By seventh grade, Kyles got sick of seeing Randle come home with straight As on his report card and no homework. She enrolled him at Prestonwood Christian School.
"Those teachers challenged him," Kyles said. "Pushed him with his math, which he was already great in."
By ninth grade, Kyles' lessons to her son extended to the kitchen.
Some nights, her work in accounting for Ecova would keep her in the office late. Randle quickly learned an adjustment would be necessary on nights that was the case.
During one particular week, Kyles had to stay at the office late for three consecutive nights.
"He was like, 'This woman isn't going to cook,'" Kyles recalled. "'I have got to survive.'"
Randle's secret cooking hobby was born. He started by calling his mother and asking for instructions on how to make lasagna.
Through high school, the two spent quite a few nights cooking together. Even after earning his license, Randle never drove himself to school. He and Kyles spent their morning drives every day talking.
On the weekends, Randle sometimes switched his role to fashion consultant on shopping trips.
"Mom, put that back," he'd say. "That's not you."
Webster helped him manage the difficulties that come with being a teenage boy.
"Anything you can think about from responsibility with school, leadership, being respectful, speaking to people in the right way," Webster said. "There's the drugs, alcohol, females. Anything out there, we've talked about it. … Julius has always been a mature human being. He's made wise choices and had good people around him to help him make wise choices. "
Randle found it easy to listen to Webster, a fellow McDonald's All-American back in 1989 who was an All-Big Eight performer at Oklahoma and went on to a brief pro career.
"He's been in all the places Julius wants to be," said Chris Lovell, Randle's high school coach at Prestonwood. "He's been a great mentor for Julius in basketball and in life."
The shy kid Kyles saw growing up became a shy man whose birth certificate says he's 19 but deep, slow voice and thick frame make him seem a decade older. With media, he speaks softly and with heavy eyes that look like a man who's about to nap, or perhaps just woke up from one.
"He knew he wanted to be a pro, he was going to do whatever it took to be one," Pospichal said. "He wasn't really an 'I'm going to a party' guy."
From the time he started school until now, Randle kept a small circle of 2-3 close friends and was content to keep his life simple: School, basketball, church and family. Keeping that circle small got a lot easier when he recently got a new cell phone number.
"Jeff and I, we could say the same things, but it just sounds different to Julius when it comes from Jeff," Kyles said. "He just needed that male bonding. Not just as a mentor and coach, but that dad figure. They have such a close bond. He believes everything he says and looks up to Jeff."
Randle saw every day how he provided for his family, spoke to his wife and children. He saw his work ethic combined with an ability to carve out time to spend with Randle, a kid he hardly knew, to give him the things the world's best mother never could.
"That's the type of person and man I aspire to be," Randle said.
By the time Randle was a sophomore and their mailbox was constantly stuffed with recruiting letters, Kyles knew the next step on his road to the NBA wouldn't be in Texas. She placed the family's three-bedroom, two-bath, 1,787 square foot home in McKinney on the market in hopes of following her son to his college destination. There were a few close calls, but it never sold.
Near the end of his junior year, she sat him down.
"I don't want you to pick a school where I can see you play if your heart's not in it. I've had my chance to see you, go where you're going to be happy and I'll get there when I can," Kyles told Randle. "I don't think God wants me to sell this house. I think he wants you to fly on your own. I've guided you right."
The parade of coaches through their living room marched on. When Mike Krzyzewski arrived, Kyles and Randle sat and listened to him talk about his own experiences in life for 30 minutes before Julius' future even became a topic of discussion.
"I've always loved him, even before Julius existed," Kyles said. "When you talk to him, he makes you feel important."
Roy Williams came, too.
"Roy's like that granddad that, if you're feeling bad, he'll make you feel so much better and put a smile on your face," Kyles said.
Around 30 Division I coaches sat in the plastic bleachers of Prestonwood's arena for a practice, including Krzyzewski and Williams, as well as Kansas' Bill Self and Texas' Rick Barnes.
Kyles knew where her son's heart was.
"He always wanted to play for Kentucky. He knew it wasn't a place for everyone, but Coach Cal was going to push him," Kyles said. "If he wanted to go to the next level, Cal was one of the top coaches who could get him there. He wasn't going to baby him."
With that, Randle was off to Lexington. Aaron and Andrew Harrison, Randle's former AAU rivals from Houston, joined him.
The group, boasting six McDonald's All-Americans was widely considered the best recruiting class in college basketball history. Before the season, there was chatter about the possibility of a 40-0 season. Hoops maven Dick Vitale publicly said anything less than a national title would be a "huge disappointment."
"They put them up on this pedestal," Kyles said. "They just expected them to walk in without ever playing a college game and kill, steal and destroy."
A March 1 loss to South Carolina marked the low point of the season, sending Kentucky to 21-8 and 11-5 in the SEC, which sent just three of its 14 teams to the NCAA Tournament. The Wildcats also became the first-ever preseason No. 1 to fall out of the top 25.
Traditionally, 40-0 seasons do not feature stretches of three losses in five games.
"I come from a winning environment, so to lose, and to lose when we had so much talent was difficult," Randle said.
Webster and his wife, Tori, pleaded with Kyles to stay off the Internet, but she couldn't resist.
Some days, she'd leave her desk at work to cry in the bathroom.
"I just couldn't understand what was going on," she said.
Kyles could only attend Saturday home games and a handful of others throughout the season.
Julius had questions of his own and shared them privately with Webster. Did he make the right decision? Why is this happening? What could he do better? When would it turn around?
The only answer was keep working.
"I had to be really aggressive. I had to raise the standard and say this is what's not acceptable," Calipari said. "I never budged. But I always believed in the team and I always believed in individual players."
Step by step Kentucky inched closer to their goal, aided by a mysterious "tweak" that Calipari has referenced several times. They reached the SEC Tournament final, but fellow Final Four participant and overall No. 1 seed Florida ended the run with their third win over the Wildcats this season.
Kentucky ended up in St. Louis as the No. 8 seed in the loaded Midwest bracket. The Wildcats muscled out Kansas State for a 56-49 win, holding Bruce Weber's team to just 35.8 percent shooting.
Wichita State–also known as the 35-0 team that actually had a chance to go 40-0–awaited in Round 2. The Final Four participants a year ago were one half of a game that looked more like a Final Four game than one in the Round of 32. Kentucky survived, 78-76, becoming the first team to eliminate a No. 1 seed in this year's tournament.
"I just felt like if you put us in a live or die situation, we'd have a refuse to lose mentality," Randle said.
The win over Wichita State made it official: Kentucky was back, even if those crazy 40-0 aspirations were long gone.
"It took us four months. So now they got it. They're young, it takes time," Calipari said. "You cannot skip steps. We all want to skip steps. We all want freshmen to be sophomores and juniors. They're not. You have people say, 'Well, they're no longer freshmen.' They're still freshmen."
The round of 16 meant a second meeting with in-state rival Louisville, the defending national champions.
Kentucky rallied from down seven with 4:45 to play and closed the game on a 17-5 run to win, 74-69.
"We got here through an absolute mine field and happened to not step on a mine," Calipari said.
Randle has averaged 15.7 points and 12 rebounds a game during the tournament run, becoming the first freshman to record double-doubles in his first four tournament games since 1978.
"He's played better and better as the year's gone on. Basically he's doing less, which looks like more," Calipari said. "But it's hard to convince young people that way. It's hard to convince any of our players that if you are doing less, you're going to look better."
The win over Michigan, which ended without the two most influential people in Randle's life in the stands, provided part of a moment Randle tweeted about two years ago.
Randle is expected to have about 25 family members in attendance on Saturday night.
In 2014, I want to win a national championship in Dallas !!! In front of all my family and friends .. Would be crazy !! 

— Julius Randle (@J30_RANDLE) April 12, 2012
"Time passes so fast. I think back and remember him playin' as a little kid and then in high school. It's like I close my eyes and I open them I'm looking at this 6-9, 250-pound guy playing," Kyles said. "And he's mine, he's my son. I get pure joy watching him."
When the buzzer sounds and concludes 40 minutes of hoops in front of more than 75,000 fans, keep an eye on Randle in Kentucky makes it to Monday night. You can bet he'll be looking up in the stands to find the most familiar face among the dozens he grew up with.
Kyles just may get that hug she missed last Sunday.