Kawhi Leonard is the future of the Spurs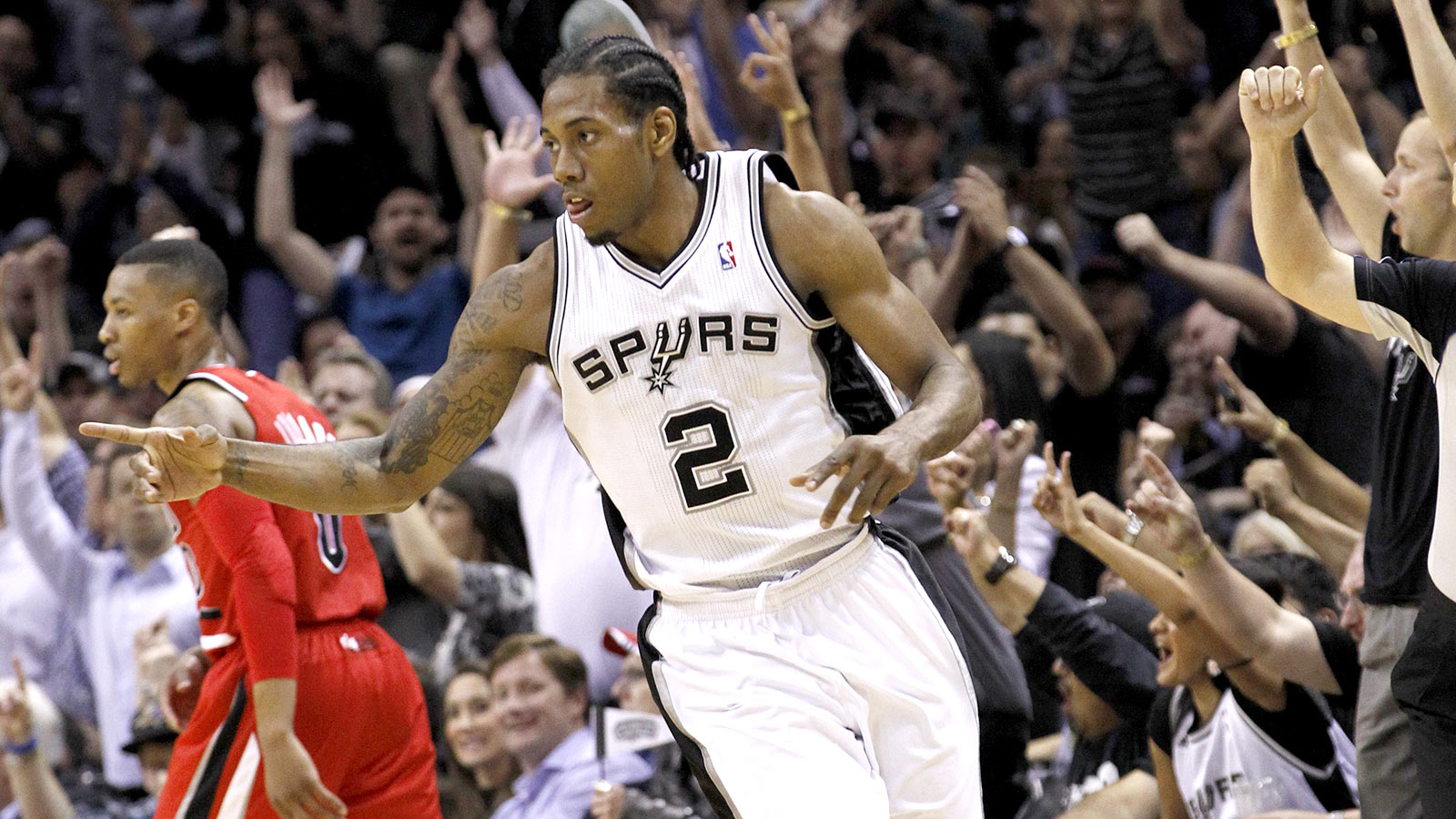 Kawhi Leonard isn't worried about joining San Antonio's most exclusive club. Right now he's consumed with LeBron James and the Miami Heat. Winning a championship is the only thing on his mind.
"They're the defending champions," Leonard said, "but just another team we have to get by."
As long as the Three Amigos reside in the Alamo City, the Spurs' universe will revolve around Tim Duncan, Manu Ginobili and Tony Parker. And rightfully so.
No trio is more fully entrenched, more closely associated with one franchise. They are the Spurs brand. They've been the on-court triangle of South Texas basketball since winning their first championship together 11 years ago.
They're playing for their fourth together – and fifth for the franchise – starting Thursday night in San Antonio. The Spurs and the Heat, along with their Big Three, are meeting in the NBA Finals for the second consecutive June.
There's never really been much momentum to adding a fourth big to the San Antonio mix. Bruce Bowen came closest. His jersey hangs in the AT&T Center, a testament to his impact on the last three titles, but no one ever referred to Bowen as part of the Big Four.
That's not going to change. Still, a changing of the guard is inevitable. Time will make sure of that. And whenever it finally happens, bet on Leonard being building block No. 1 of the next Spurs' generation.
"He's probably the future of the Spurs," Spurs coach Gregg Popovich admitted, "partially because everybody else is older than dirt, and somebody younger has got to take over eventually."
Leonard isn't taking that baton by default. The talent is there for the 22-year-old small forward. Leonard recently earned NBA all-defensive team recognition, which was a yearly occurrence for Bowen. In his third season, Leonard averaged career-highs with 6.2 rebounds, 1.73 steals (10th in the league) and 0.76 blocks. He led the Spurs in steals in 28 games, and in rebounds and blocks 12 times each.
The analytic gurus point out that San Antonio's defense is much better with Leonard on the floor. Points per possession, shooting percentages and all those other fancy numbers drop for the opposition. Watching him play, you see why. Leonard crowds shooters, cuts off angles and is generally a pest. Just ask Kevin Durant and Russell Westbrook.
The comparisons with Bowen largely end on the defensive end. Leonard has the ability to take over offensively. He's averaging 13.3 points during the playoffs – fourth on the team behind a certain trio – while showing a burst and ability to get to the rim that rivals many of the league's most explosive scorers. He knocks down open shots and rarely turns the ball over.
"We tell him to be more aggressive and don't worry about us, we will find our own shots, and he needed to find his," Parker said. "When he plays well we usually win. It was the same thing when Manu and I first arrived with Tim in his prime."
It's no surprise Popovich sees the complete package, albeit a developing 6-foot-7 package that is beginning to scratch the star surface.
"First of all, his body is pretty amazing," Popovich said. "His length, I mean, if you just look at his shoulders, you can see how he's built, but his length, his hands, he's got quick enough feet, and he's learning how to use them. That's the start.
"After that he's got a work ethic that's second to none. He's a before and after practice kind of guy. He's a sponge. I literally have to get him out of the gym. So those two factors are huge. And thirdly, he's gaining confidence. He's starting to feel his oats a little bit and is starting to figure out that he's a hell of a player."
Confidence will be needed for ultimate defensive challenge: LeBron. Leonard has spent three seasons stepping up to those challenges, and how he does over the next couple of weeks will go a long way in determining whether downtown San Antonio schedules a fifth river parade.
Getting back to the Finals is the first step.
"It feels good, but it's not over yet," Leonard said. "I'll be happy once we win."
Follow Art Garcia on Twitter @ArtGarcia92