June Jones resigns from SMU after dismal 0-2 start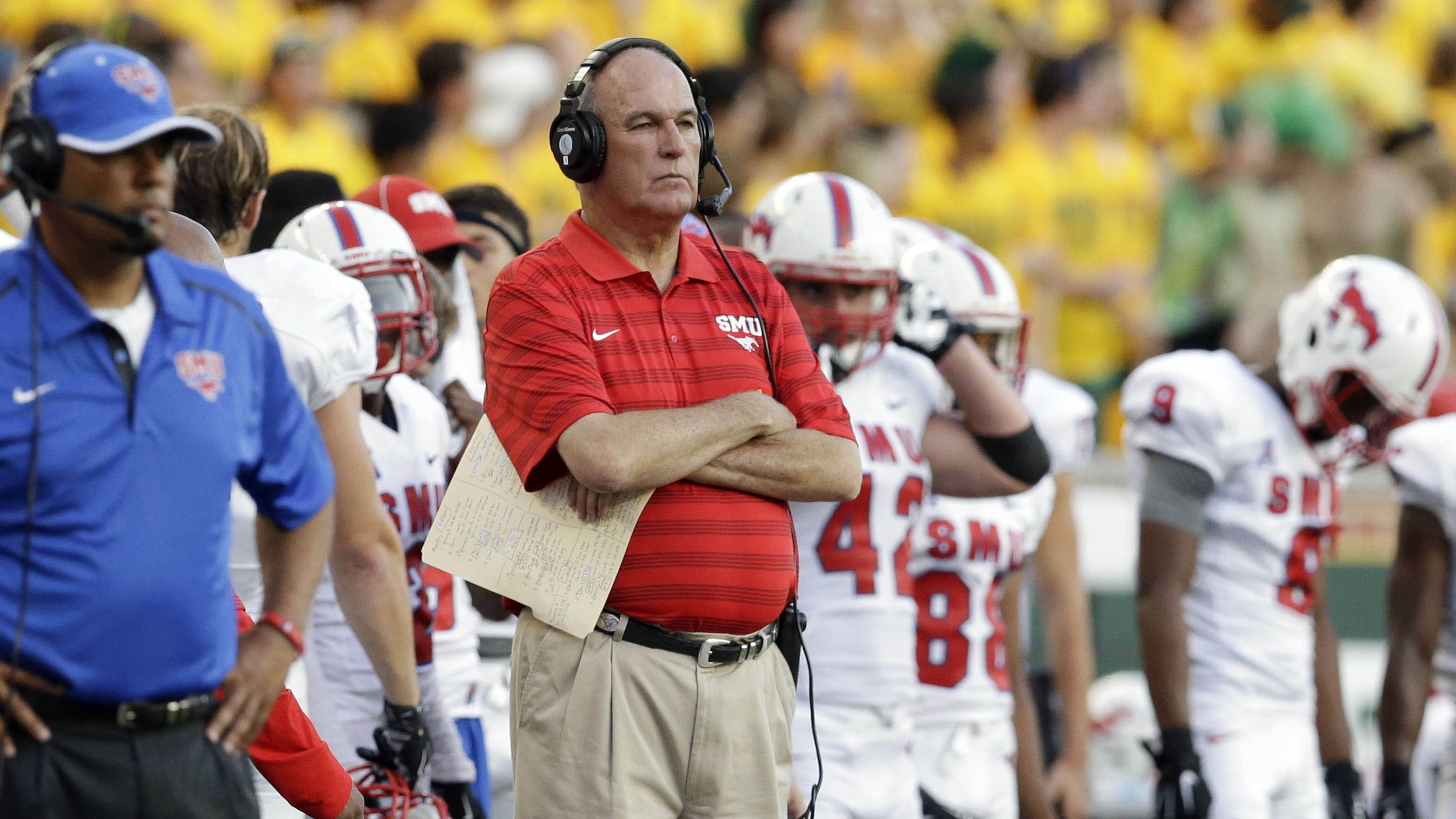 June Jones, who took a moribund SMU football program to four straight bowl games, resigned Monday as the program has hit a low again.
In a release from SMU, Jones said he resigned because of personal issues.
"It was a very difficult decision to make, as you can imagine," Jones said in the statement. "This job has a lot of demands, as you know, and along with that journey comes a price that is paid. I have some personal issues I have been dealing with and I need to take a step away so I can address them at this time."
Jones' resignation is effective immediately. Defensive coordinator Tom Mason will serve as head coach the remainder of the season. Athletic director Rick Hart said in a statement that Jones' decision to resign was his own.
SMU is off to an 0-2 start after losing to Baylor 45-0 and North Texas43-6. The Mustangs' only points came on a Hail Mary pass on the final play of Saturday's game at UNT.
However, SMU is just two seasons removed from four straight bowl appearances under Jones. The first bowl in that streak, the 2009 Hawaii Bowl, was SMU's first postseason appearance in 25 years.
Jones was in his seventh season at SMU with a record of 36-43. After leading Hawaii to a similar turnaround an BCS bowl bid, Jones' first team at SMU went 1-11. However, he coached SMU to co-division championships in C-USA in 2009 and 2010.
After falling short of a bowl berth with a 5-7 record last season, SMU's first in the American Athletic Conference, the Mustangs started off 2014 with tremendous struggles on offense. SMU used three quarterbacks in both of its games in an effort to kickstart the Run and Shoot offense Jones is noted for.
Jones' agent, Leigh Steinberg broke the news of his resignation on Twitter: "June had felt for some time he had accomplished [the] mission to turn around [the] program and needed a break."
SMU's next opponent is No. 7 Texas A&M on Sept. 20, followed by TCU on Sept. 27.
Follow Keith Whitmire on Twitter: @Keith_Whitmire