Jerry Jones shouldn't pass on chance to get Johnny Football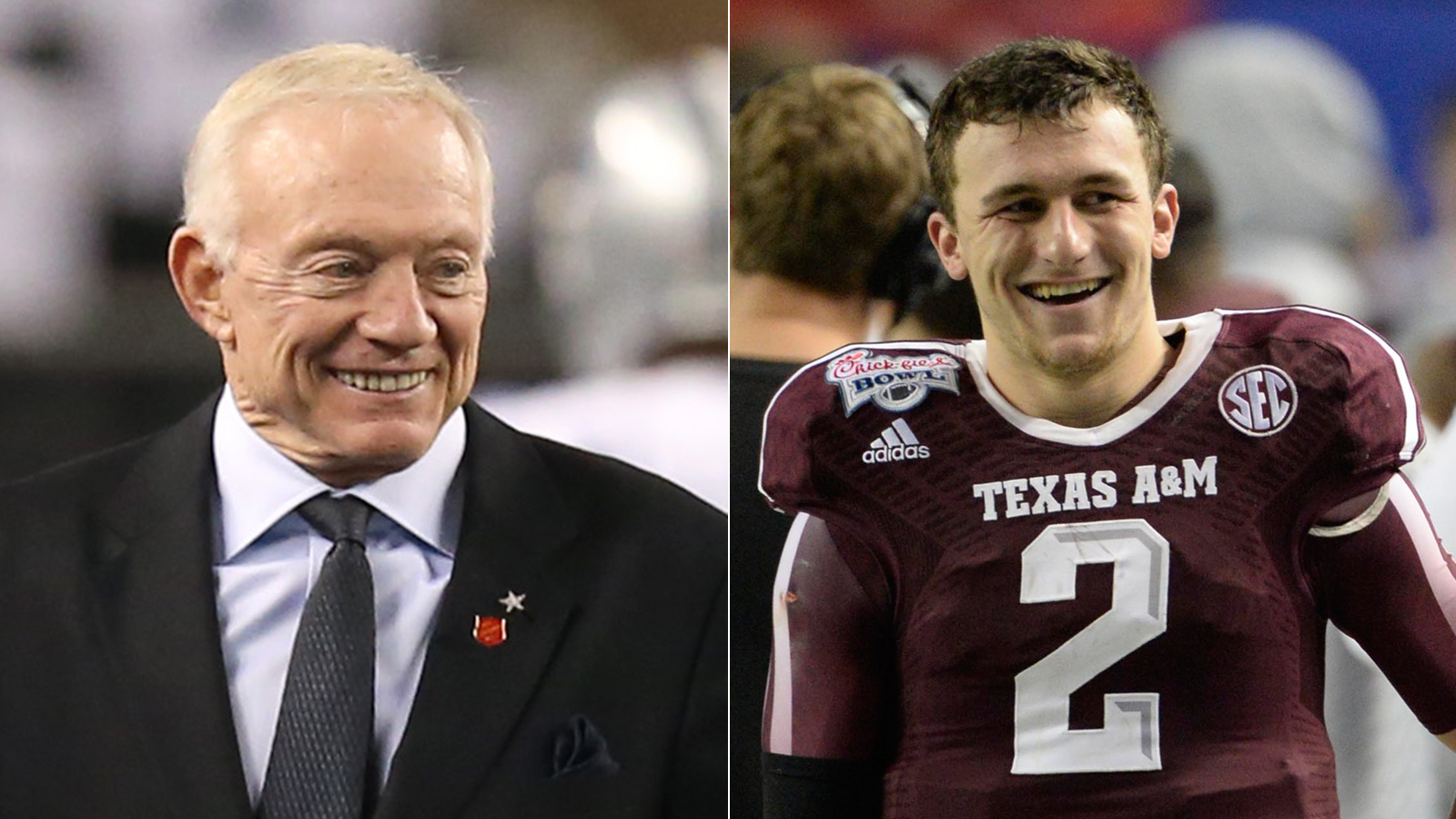 DALLAS — Johnny Manziel is about to become the most talked-about, over-analyzed prospect in the history of the NFL draft. His official announcement Wednesday that he would be leaving College Station early had draft gurus across the country buzzing.
Thus begins the NFL's silly season. And with the draft being pushed back until early May, there is more time than ever for speculation. Cowboys owner Jerry Jones was quick to say after the season that he wasn't interested in taking a quarterback in the first round. You may have noticed the Cowboys could use a little help along the defensive line. There's an argument they can't afford the luxury of selecting a quarterback that high in the draft. A lot of that has to do with Tony Romo already having received $25 million in guaranteed money … and much more on the way.
But here's the deal. Moving into the top-10 to draft Manziel wouldn't be as cost prohibitive as you might think. With the new rookie wage scale that came out of the last lockout, you don't have to commit $50 million to a player before he's thrown a single pass. That's why Jones has to at least consider selecting a once-in-a-generation talent such as Manziel.
It's impossible for this fan base to be excited about the return of Jason Garrett and Co. after three consecutive .500 seasons. Last offseason's defensive scheme change turned out to be a bust. Now, Jones and Garrett are left to pick up the pieces and possibly continue with Rod Marinelli as the defensive coordinator.
Of course, the biggest reason Jones needs to think about drafting a quarterback is the condition of Tony Romo's back. He will turn 34 before the start of next season. He's undergone two surgeries on his back in the past seven months, although the first was to remove a cyst. The Cowboys are attempting to make this surgery on Romo's herniated disk out to be routine, but they know the risk factors. Troy Aikman said recently that it was his back that ended his career prematurely, not concussions. Maybe Romo has a couple seasons left of elite production in him, but the Cowboys have to think about the future.
If the Cowboys were somehow able to land Manziel in the draft, it's not like he'd have to start immediately. I think he could benefit from a year of watching Romo. People forget that Aaron Rodgers had to sit on the bench for three years behind Brett Favre before getting his chance to shine. Just the presence of Manziel on this roster would provide hope for this mediocre franchise.
Young players such as DeMarco Murray and Dez Bryant aren't saddled with all of the Cowboys' December failures of the past. Manziel would show up without any of that baggage. Some will question his leadership skills based on how he's behaved off the field. But a lot of that stuff seemed irrelevant this past season as he put up remarkable numbers on the field. He is a fiery leader who doesn't mind yelling at teammates on the sideline. That doesn't seem like the most negative thing in the world to me.
I also happen to know that Jerry's closest friend and former employee, Larry Lacewell, is an enormous fan of Manziel's. He told me last week that he had a "man-crush" on Manziel. Normally Jones would be turning to Lacewell for advice at this time of the year. But Lacewell's track record's a bit shaky right now because he's the man who pushed for Monte Kiffin to be the Cowboys' defensive coordinator. Still, the thought of the Dallas Cowboys featuring one of the greatest college players of all time has to be enticing to Jones. Manziel would immediately be compared to another former Heisman trophy winning quarterback who played for the Cowboys about 40 years ago.
I don't think the Cowboys have enough firepower to move into the top-5 in this draft, but if Johnny "falls" below that area, Jerry has to be ready to strike. As I've said several times recently, if you'll move into the top-10 to select a cornerback (Mo Claiborne), why not be willing to do the same thing for a franchise quarterback?
Manziel is the most fascinating prospect in the past two decades. It's time for Jerry to indulge himself.
Live a little, sir.