Jerry Jones: Cowboys' record won't determine Garrett's future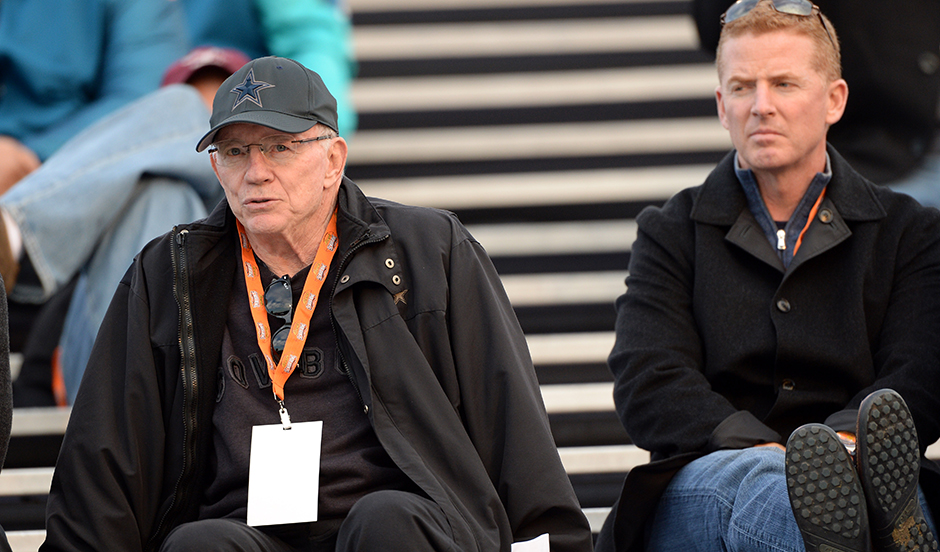 After leading the Dallas Cowboys to three consecutive eight-win seasons, it would seem that nine wins in 2014 could lock up a new deal for head coach Jason Garrett.
Many thought Cowboys owner and general manager Jerry Jones would fire Garrett after last season's .500 finish, but Jones decided to let Garrett finish out his contract.
Jones says he has a way of evaluating Garrett's performance this season and a particular win total isn't necessarily part of the equation.
"Jason as we're all aware of doesn't have a contract into the future. He does not have that." Jones said Wednesday during a Texas Lottery press conference in Austin, according to The Associated Press. "But his record, the record is not in and of itself, is not an Armageddon issue with him. Is our arrow moving up? Are we progressing with the players we've got?
"We've got a lot of young players, not necessarily rookies, but a lot of young players who are involved. How some of those players come through for us is going to be significant, how they are coached and how they are prepared to play has a lot (to do) with my evaluation with Jason as we look ahead. It's not just (the wins)."
While an 8-8 record and losses in win-or-go-home Week 17 games each of the last three seasons has been a disappointment, this year's team might be fortunate to break even.
FOX SPORTS
DAILY
COWBOYS

EDITION
Plenty of question marks surround what was the worst defense in franchise history in 2013 and the health of Tony Romo's surgically-repaired back. Even the normally optimistic Jones had fans pumping the brakes during a recent kickoff luncheon, saying the Cowboys have their "backs up against the wall" and are facing "an uphill battle this year."
So what are his expectations for this season?
"Well, some of the very best successes I've been involved in were where you had something to prove as far as motivation's concerned," Jones said. "Secondly, where you were able to sneak up on 'em. Now, we'll sneak up on 'em.
"I do think we've got real motivation. We're a better defense than we were playing at the end of last year. … I'm very positive, but I do know we've got a real challenge."