Jaguars take shot at Texas' two big NFL video boards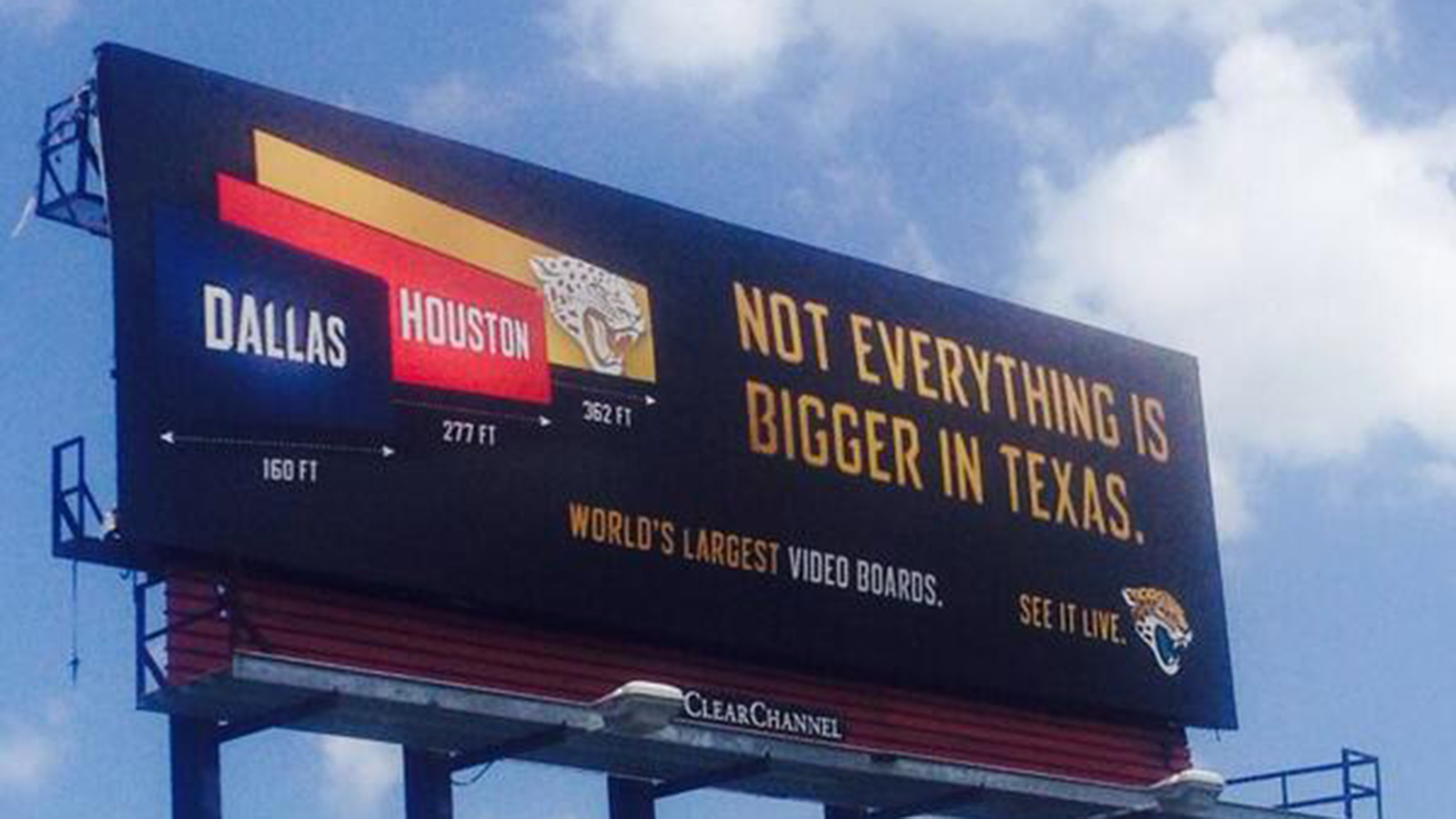 In the continuing contest of NFL teams trying to outdo one another, the Jacksonville Jaguars can now boast that their EverBank Field has the largest video board in sports, at 362 feet wide.
The @jaguars now have the largest video board in sports. http://t.co/vB29IeSQfh (Pic via @Mohammed_Raoof) pic.twitter.com/k1AYoSDQmF

— Sporting News (@sportingnews) June 29, 2014
The Jags didn't waste any time gloating about the new screen in comparison to the two giant screens housed at Texas' two pro-football stadiums in Houston and Dallas. Witness this highway billboard:
@KevinPeffer @JAGSGIRL904 @DUVAL_DOOM @MoviePaul @DomWorld_Peace @CaneSwagger01 @bonnieupright pic.twitter.com/md6Q8UoJK3

— junglejim (@JungleJim77) June 29, 2014
Prior to the 2013 season, the Texans unveiled the NFL's then-largest video board (227 feet) at recently renamed NRG Stadium, ousting the 60-yard-wide (180 feet) screens hanging over the field at the Cowboys' home, AT&T Stadium, as the largest since the building opened in 2009.
While the billboard failed to mention it, the Jaguars' new scoreboard also dwarfs another Texas big screen, the "Big Hoss" at Texas Motor Speedway, introduced during the Duck Commander 500 earlier this year.
Despite the Lone Star State's best efforts, apparently not everything is bigger in Texas, as the Jaguars' billboard notes.
At least the Cowboys and Texans can still boast they haven't had to cover nearly 10,000 seats with tarps to avoid the NFL's television blackout policy.
Follow Shawn Ramsey on Twitter: @ShawnPRamsey