Is Petty the right QB for Cowboys to learn behind Romo?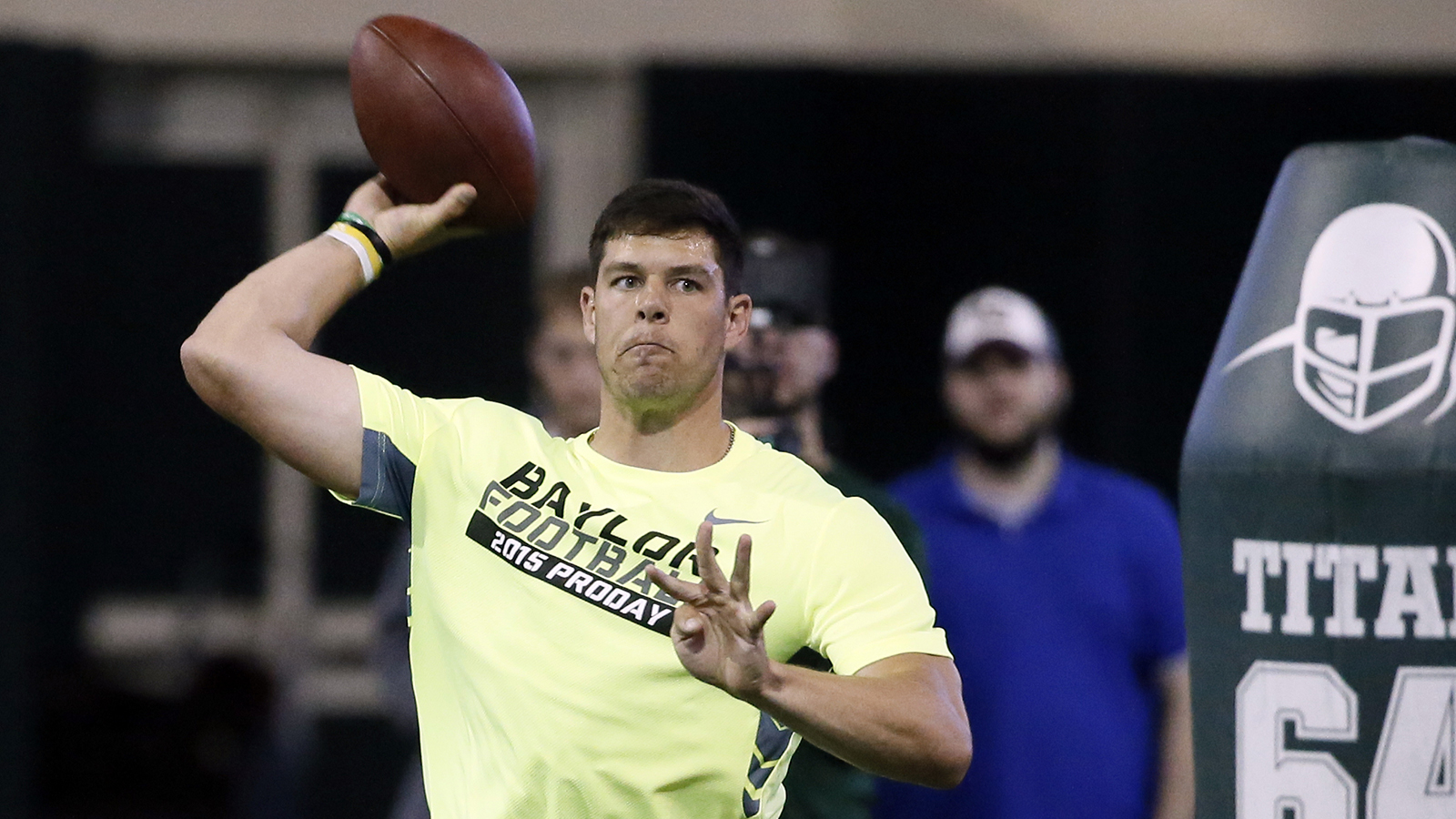 The Dallas Cowboys finally have an interest in drafting and developing a quarterback to someday replace Tony Romo. The problem is that many scouts believe there's a significant dropoff after Jameis Winston and Marcus Mariota.
"The rest of the guys look like backups to me," said one longtime AFC scout.
That may be a popular view, but it hasn't kept the Cowboys from taking a long look at Baylor's Bryce Petty. Of the four scouts around the league I spoke to for this column, they all believed Petty needed to serve as a backup for at least two seasons. Baylor's system didn't require Petty to learn many protections and he needs time to become comfortable playing under center. The Cowboys hope to get at least two or three more seasons from Romo, so Petty wouldn't be thrown in the fire.
"His mechanics are really good and he has a quick-ass release," said a veteran NFC scout. "He has a compact motion that almost reminds me of (Troy) Aikman's. And he has great velocity on the ball."
What worried this scout more than anything was Petty's lack of accuracy in some games. And it didn't help that he sailed a few throws on out routes at the combine. One scout said that Petty had a stronger arm than Mariota's and a quicker release than both of the consensus top two prospects. It does baffle scouts that Petty can have a 36-inch vertical and 10 1/2-foot broad jump, but only runs a 4.85 40-yard dash.
The Cowboys seem to favor Petty over Oregon State's Sean Mannion (6-6, 229) and Colorado State's Garret Grayson, although they are interested in all three players. Jason Garrett is going to have some inside knowledge on Mannion because his brother John was his offensive coordinator. Mannion played in a pro-style offense and he's in the best position to help someone immediately. He's not nearly the athlete of a Petty or Brett Hundley, but he's a more polished player.
What we know is that Jerry Jones wanted to take Johnny Manziel in last year's draft. He dodged a bullet in that situation, but he's still keen on identifying Romo's future replacement.
"We do have to look to the future relative to quarterback," Jones told reporters recently. "It's starting a time frame where a guy could come in and be a good backup.
"Look at how Romo evolved into the guy he is today. He did a little time with the clip board."
Romo took over as the starter six games into his fourth season. Now, we wait to see who will take over for him.
For now, Petty's the best bet.
MORE FROM FOX SPORTS SOUTHWEST:
– Ranking NFL quarterback salaries
– Oldest player on every NBA team
– College football's highest paid coaches in 2014