Inside the Saints draft strategy with GM Mickey Loomis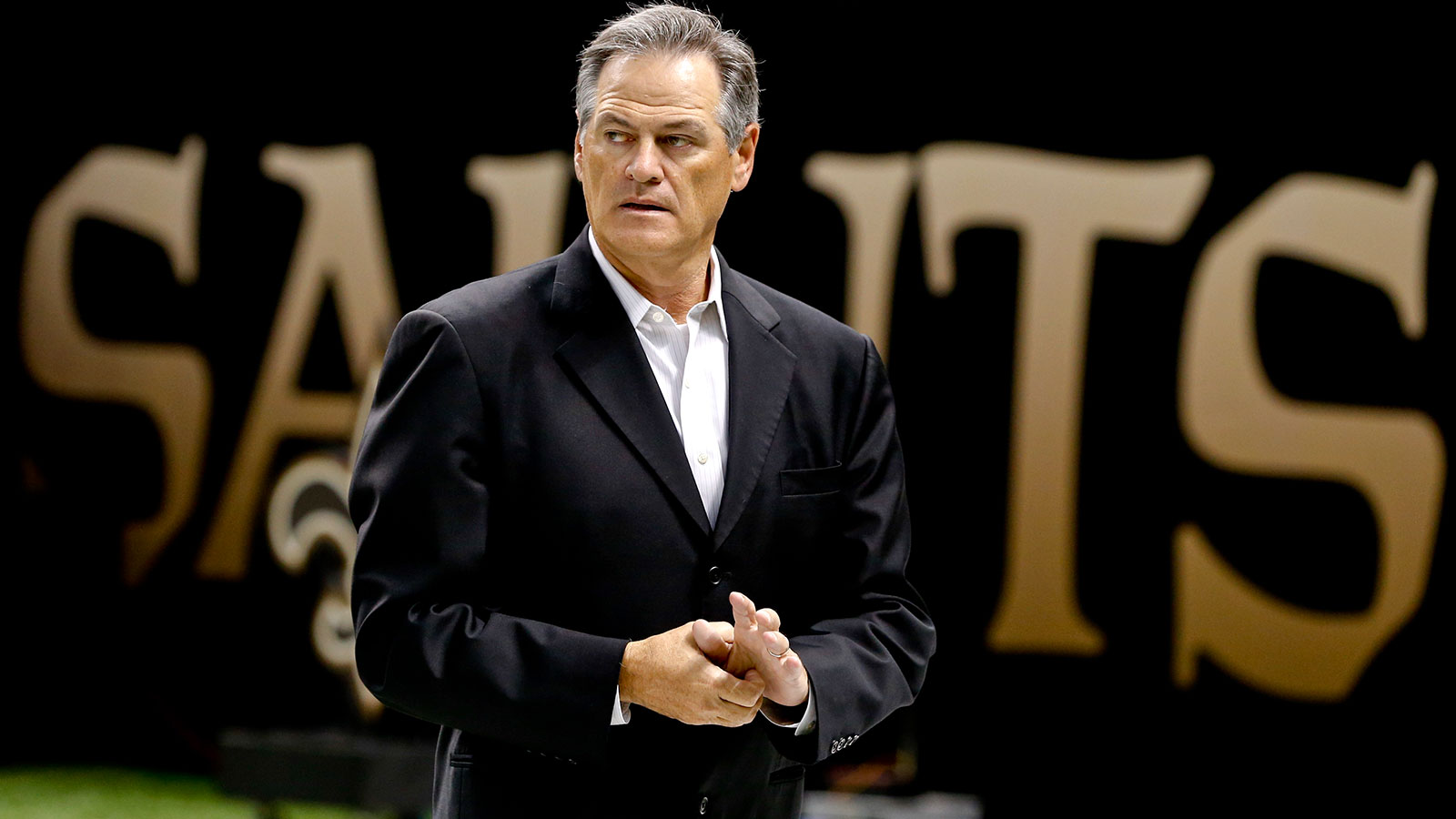 As is customary, Saints general manager Mickey Loomis is holding most of his Draft Day cards close to the vest, but he is admitting the Black and Gold is mulling over the possibility of acquiring an heir apparent for Drew Brees.
New Orleans' offense, with Brees at the helm, has long been the Saints' strength. It's now quite the veteran group, shall we say, but Loomis contends that gives him no pause.
"I'm not concerned about the age of our offense. I'm concerned about the performance of our offense, and it's been pretty darn good," Loomis said in his pre-Draft Day media address. "If you're asking me if I'm going to trade out our offense for a younger one, no, I'm not."
However the Saints are looking at bringing in younger pieces and grooming them for the future. Loomis says he's pleased with what backup quarterbacks Luke McCown and Ryan Griffin have shown, but he is certainly keeping an eye on a quarterback-rich draft that could produce an eventual successor to 35-year-old Brees.
"We pay attention to that because you want to have someone in the wings who could step up and play for you," Loomis said. "I wouldn't say it's at the forefront of our minds, and yet we do recognize Drew's age. But if you talk to Drew, he's going to play a lot longer, so that's encouraging."
New Orleans parted ways this off season with veteran center Brian De La Puente. Undrafted free agent Tim Lelito is a possible replacement after logging a year of NFL experience with the Saints after his time at Grand Valley State, but Loomis says the center position is a task an intelligent and mentally quick rookie could also handle, given the pieces around him.
"With two veteran guards in Jahri (Evans) and Ben (Grubbs), that makes it easier on a center," Loomis said. "With a quarterback like Drew who does a lot of the identifications and makes a lot of the calls, that makes it easier on a center, so it's definitely possible. It's probably easier with our team than with some others."
In all likelihood, the Saints will probably address more pressing roster holes before looking at center and backup quarterback.
The departure of Lance Moore and the age of Marques Colston could equate to an early play for a wide receiver for the Black and Gold, preferably one that can also return kicks and punts, given the exit of Darren Sproles.
Keep in mind, the Black and Gold should get some competition depth back at that position in training camp, now that Joe Morgan and Nick Toon are healthy. They'll be hungry to make an impact and prove themselves after being sidelined with injuries. The Saints have also invited back practice squad receiver Andy Tanner for another shot at a roster spot.
Defense will also be a priority: the need for more depth at cornerback and linebacker could be what the Saints address before anything else.
"We've had a successful offense and we've struggled on defense at times," Loomis said. "Obviously when you're going into the Draft and you've had one side of the ball that's struggled versus the other side, you look to that side of the ball."
It would also be hard for the Black and Gold to pass up a promising pass rusher to complement Cam Jordan and Junior Galette.
In the end, the Saints will likely adhere to their policy of selecting the best player available. Loomis and his staff are confident they've done their homework, both behind the scenes and in person.
The Saints used 29 out of 30 allowed pre-Draft visits and interviewed 60 players at the NFL Combine.