Ibaka return, Thunder changes could turn tide of West Finals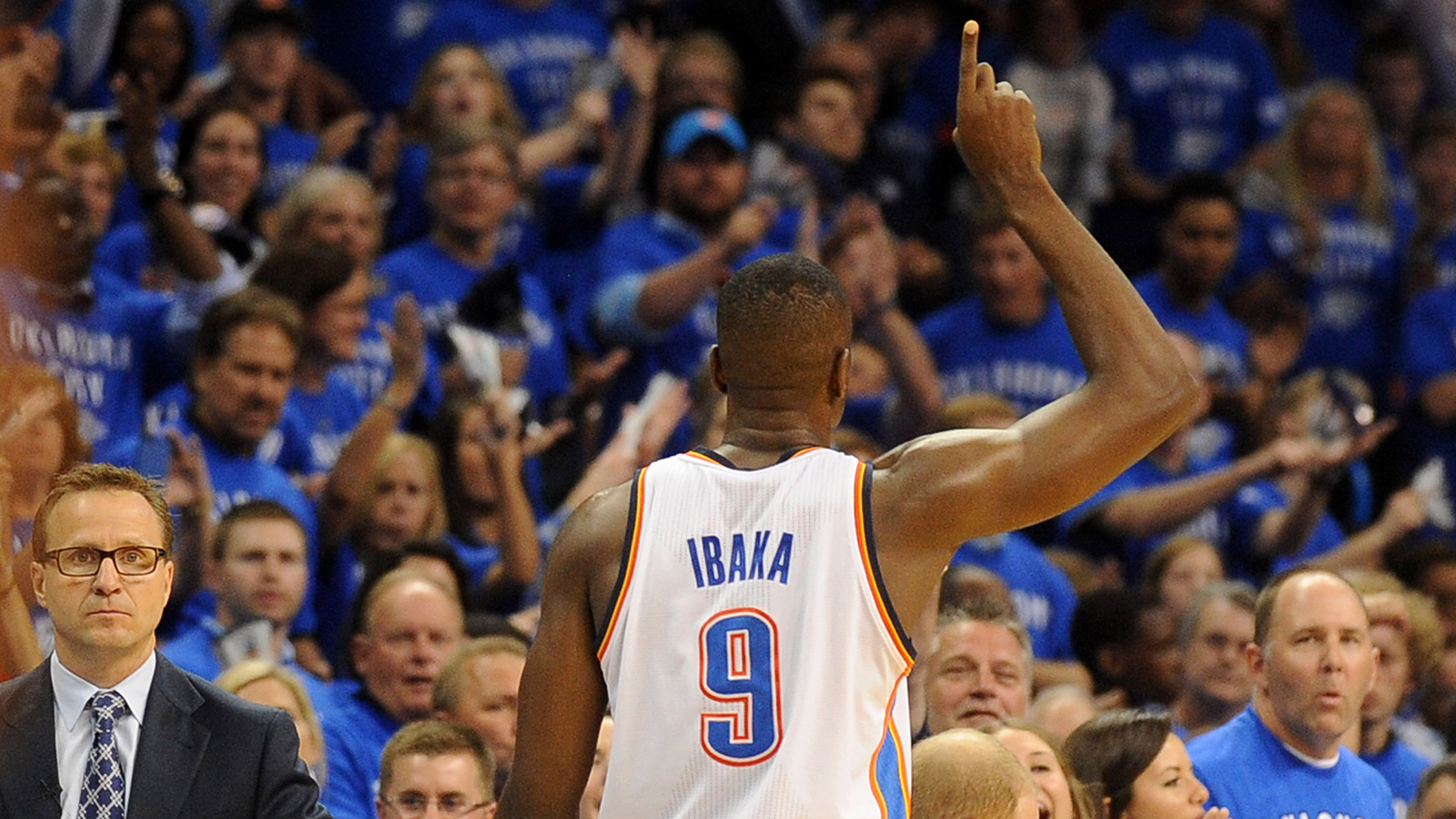 OKLAHOMA CITY – No one knew what Serge Ibaka would bring Sunday night.
A good Ibaka would have been a huge lift for the Thunder, but a great Ibaka was a big part of why OKC won Game 3.
The 15-point, seven rebound performance was a surprise, by pretty much all accounts, but the biggest surprise came on the sideline from the guy holding a clipboard.
What OKC coach Scott Brooks did was no-less shocking than anything Ibaka did, including when Ibaka made his first five shots of the game, blocked four shots while on a gimpy leg and changed the game and possibly the course of the series. The Thunder won and cut the Spurs lead to 2-1.
Ibaka did what he was capable of doing but what Brooks did was out of character.
No one loves routine more than Brooks loves routine. He's an ode to predictable, from his never-ending collection of brown and navy suits to his pre and post-game meetings where he opens every session talking about defense and speaks freely and regularly about how it's important to play "team basketball."
There's no mystery to Brooks. He loves his experienced players and holds onto them like a grudge, never letting them go. Derek Fisher is going to get minutes, no matter if Fisher is playing well or not. Same goes for Caron Butler.
But sometimes a good change of pace is refreshing.
For the first time since February when Brooks benched Kendrick Perkins early in the first quarter, Brooks experimented, and just like that February game when the Thunder beat Miami, in Miami, his changes worked.
So when Reggie Jackson moved into the starting lineup in place of Thabo Sefolosa and Jeremy Lamb came off the bench in favor of Nick Collison. It was only natural to be surprised.
Especially since the moves worked.
In the biggest game of the season, and the most-important since Game 6 of the first round against Memphis, Brooks made changes that could have easily have been described as desperate by wound up being definitive.
The decision, if unsuccessful, would have left the Thunder vulnerable. If Jackson didn't play well, OKC would have had nearly nowhere to turn to on the bench.
Instead, Jackson played well, going for 15 points, Lamb, kicked in 16 minutes, his most-important minutes of the postseason, and scored six points and of course Ibaka played 29 minutes and made 6-of-7 shots.
"Just attack more, just gave us another guy that can penetrate and make plays," Kevin Durant said of Jackson.
So much criticism falls on Brooks for differing to superstars Durant and Russell Westbrook and letting the duo just do what they do, but some of the credit has to go in the general direction of Brooks for at least giving the impression he's flexible to change.
Benching Sefolosha happened in the Memphis series, but the move Brooks made before Game 3, sending Sefolosha back to the bench, seemed more permanent. The move to start Jackson felt the same way. Lamb playing was just a surprise and no Nick Collison was certainly unexpected.
"I know we have a good team that we have to be ready to play," Brooks said. I have confidence in all the guys. I have confidence in the different styles that we play."
Maybe this will inspire confidence in Brooks. Durant and Westbrook are a bail-out. The two are good enough to win games on their own, and often times they do.
But now, heading into Game 4, with a new infusion, a bit of the unexpected and some successful changes, Brooks has shown he wants to make this more than just Durant and Westbrook.
Follow Andrew Gilman on Twitter: @andrewgilmanOK