Hypothetical in-game scenarios for the Oklahoma Sooners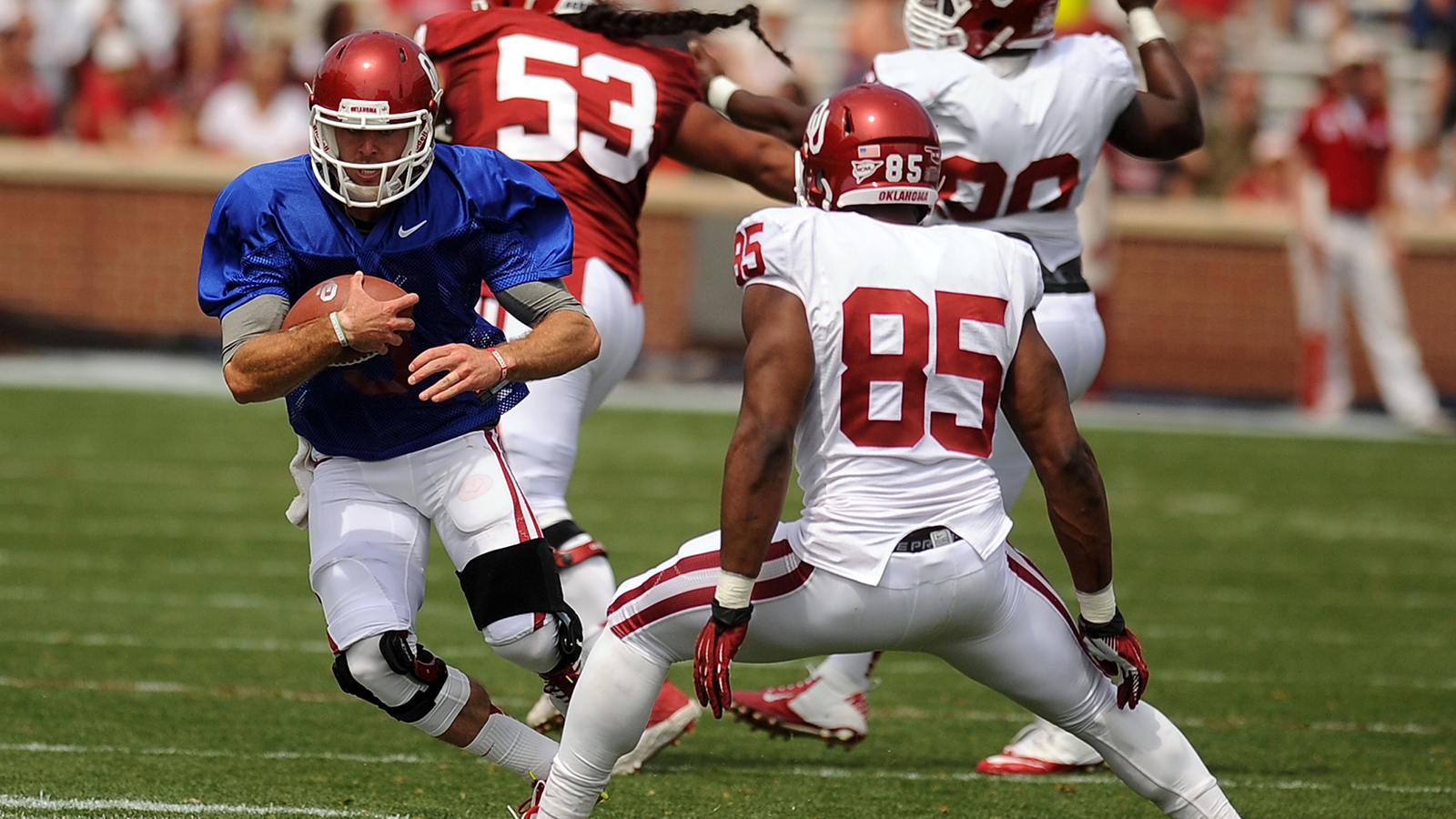 Starting today, we'll take a look at some different in-game scenarios that will happen this season for the Oklahoma football team.
And you can play along.
OK, here's the situation …
OU vs. Texas in the Cotton Bowl and the Sooners are trailing 21-20 in the third quarter. OU has the ball at its own 40 yard-line, 3rd down and three to go.
What should the Sooners do?
1. Hand the ball up the middle to running back Keith Ford
Ford heads into the season looking like he could be the team's No. 1 back. He's an effective downhill runner who should be able to get 3 yards any time he wants. He showed himself to be a bruising back last August in camp when he ran over defensive tackle Jordan Phillips in one of the team's first practices.
Ford started the year well and looked as though he could have become the team's feature back, but then he started fumbling. Ford fumbled against Texas last season and then he fumbled the next week at Kansas. He was pretty much banished to the bench after that, not factoring into any games late in the season until he got a few carries in the Sugar Bowl against Alabama.
So, do you trust Ford in this spot? He's been effective and unreliable all in the same season.
2. Roll quarterback Trevor Knight out for a short pass/run option?
Remember, this is what Knight was supposed to excel in a season ago. He's a run/pass threat good on his feet and with a quick-strike arm.
A year later, Knight has to be more seasoned. He earned the starting job as he helped OU get wins over Kansas State, Oklahoma State and then Alabama. He's now wiser, understands the offense better and has confidence.
But Knight also has shown he's not exactly bullet proof. Knight was hurt in the second game of the season against West Virginia, missed a few games and then was hurt again at Oklahoma State. Rolling him out sounds good, but what happens when a Longhorn linebacker lines up Knight and pops him hard? Does Knight stay in the game, does he slide too early to avoid being hit – something you know OU coaches are repeatedly going to tell Knight throughout August practice this year and beyond. Meanwhile, throwing on the run is always risky, especially for a team that only has one established receiver and no tight end who has really contributed as of yet.
3. Bubble screen pass to Sterling Shepard
Sam Bradford was exceptional at putting the ball in the perfect spot to get his receivers going in the right direction. Landry Jones was really good at it, too.
Now we get to see if Trevor Knight can throw a simple pass, but put it on the hands so Shepard doesn't have to contort his body or get turned around before heading upfield.
Shepard is OU's best bet at receiver. He's the leading receiver returning from last year and sensational in the slot. And third-and-three is a perfect chance for Knight to find Shepard and do it in a low-risk situation.
But can Knight make the throw with the ease Bradford and Jones did? First of all, both Bradford and Jones were taller than 6-feet, Knight is significantly shorter who will have to move more out of the pocket, or at the minimum, shift himself to be able to get some separation from the Texas defensive linemen who could be blitzing, arms raised.
So, what do you think? Type your comments below or send me a message on Twitter to @andrewgilmanOK