How the season will play out for the Sooners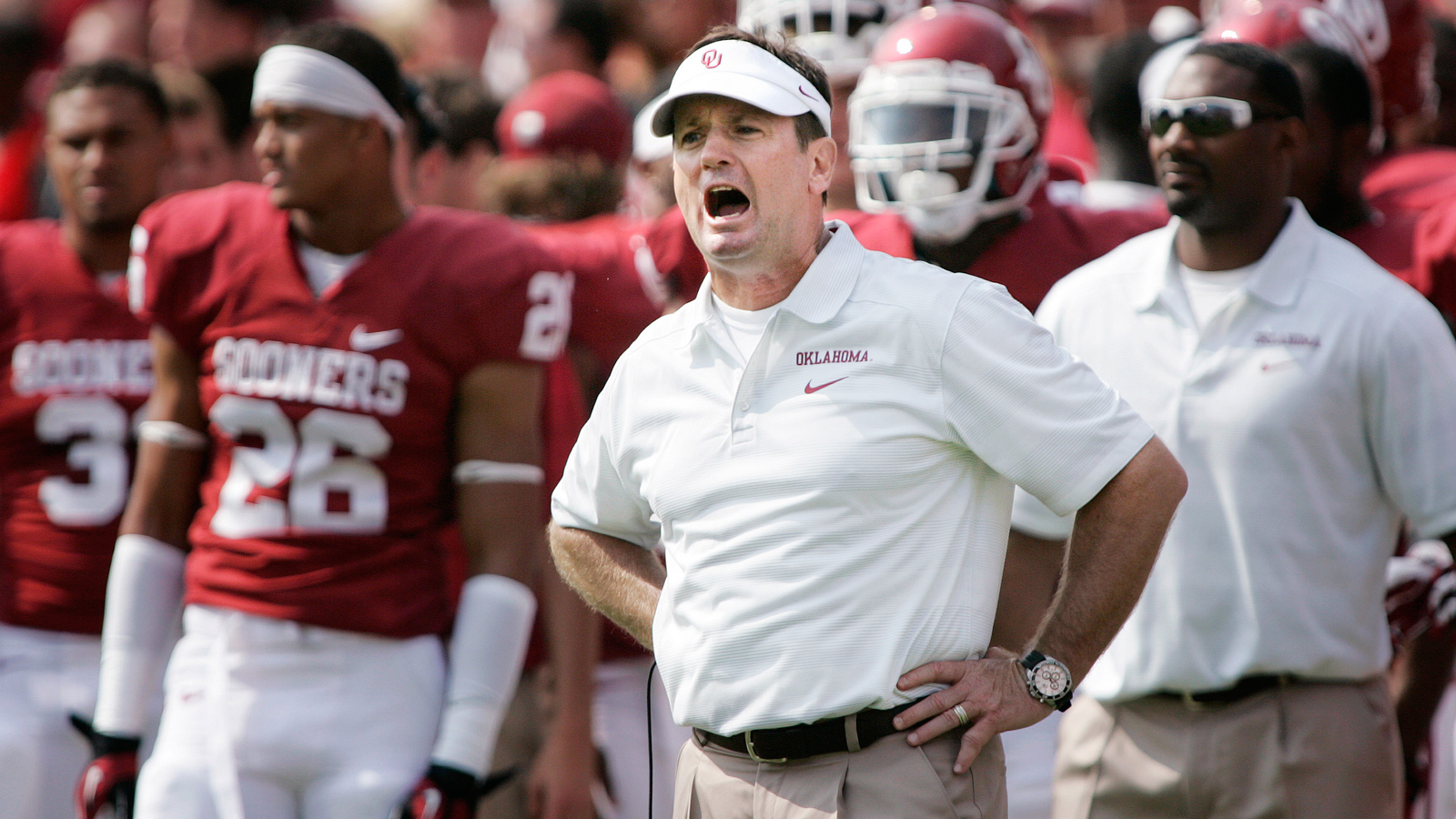 The season starts Saturday and the Sooners are one of the teams favored to make it to the four-team playoff.
Here's a look at how the Sooners will fare from August to December:
Saturday vs. Louisiana Tech
How it will play out: This one goes as planned. The Sooners come in as a heavy favorite and finish off the Bulldogs in Norman accomplishing everything they wanted to.
Quarteback Trevor Knight is solid in his 2014 debut and Keith Ford and Alex Ross each go for more than 100 yards rushing as Oklahoma establishes both in the backfield.
Issue at linebacker? Not in this one as Jordan Evans looks sharp and leads the team with 10 tackles. Eric Striker and Geneo Grissom both have a sack and Julian Wilson and Ahmad Thomas both have an interception.
OU leads 28-3 at halftime and the reserves finish off the fourth quarter, including quarterback Cody Thomas, who gets in on the action with a touchdown pass, in a worry free season opener.
The score: Oklahoma, 42-10
Sept. 6 at Tulsa
How it will play out: The Sooners decide this will be the game Knight throws it downfield. A lot. Knight throws for more than 300 yards, has three TD passes and completes attempts to seven receivers, getting OU's relatively inexperienced ball catchers some much-needed confidence.
Ross, a Jenks., Okla., product, who had just three carries a season ago, returns to his home area, starts and has 125 yards rushing and a touchdown in his best performance as a Sooner.
The defense, billed as the strength of the team heading into the season, proves it against Tulsa, which doesn't manage a first down until 6 minutes are left in the second quarter. By then it's already 24-0 and OU can relax in its first road game of the season.
The score: Oklahoma, 44-9
Sept. 13 vs. Tennessee
How it will play out: The Sooners lost to Notre Dame the last time a big-name non-conference opponent came to town. It doesn't happen again. Playing more like the team that whipped Miami and Florida State in Norman, OU gives up a quick touchdown but responds with 27 points in a row and heads into halftime with a 27-7 lead.
Make it two wins in two tries for coach Bob Stoops against the SEC, dating back to last season's Sugar Bowl win over Alabama, but this one doesn't have near the fanfare. Not only is Tennessess, a bottom half SEC team, but the Vols have already scuffled around, losing at home in their opener to Utah State.
It's not OU's fault Tennessee stinks. All the Sooners can do is hope the NCAA playoff committee gives OU credit for trying to play a solid, big name team when it evaluates the Sooners later in the season. That's why Oklahoma plays its starters late into the game and showcases Kinght. Gotta get those highlights, right?
The score: OU, 56-17
Sept. 20 at West Virginia
How it will play out: It was about this time a season ago when Oklahoma State headed to West Virginia and then got beat. Got to figure the Mountaineers are up for this one, too.
And you have to figure the Sooners won't be their sharpest, especially after their showcase game a week before at home against Tennessee.
And that's what happens. Knight is sluggish, Ford and Ross are, too, and the Sooners have many of the same issues they had last year at home against West Virginia – a game Knight was injured in.
A 10-7 Sooner lead at halftime doesn't hold as West Virginia picks off Knight and returns it for a touchdown early in the third quarter and takes a 14-10 lead.
No, Knight isn't replaced, but yes, Blake Bell figures into the result. He carries it once on third-and-short from OU's 31-yard line for a first down and then catches a pass for 8 yards on another third down. OU scores on the drive, takes a 17-14 lead and gets enough help from its defense in the fourth quarter.
The score: OU, 23-14
Oct. 4 at TCU
How it will play out: TCU doesn't have much offense, can't pass it well enough to score effectively, but for the second game in a row it's the Sooners who look stagnant on offense.
No, Knight won't be replaced, as the Sooners went through enough quarterback shifting a season ago, but Knight struggles enough that there's some grumblings. Is Cody Thomas the kind of guy you want to put into a road Big 12 Conference game? Too much risk. There's time for him to play later.
Luckily the running game bails the Sooners out – and so does the defense. Charles Tapper forces a fumble and has a pair of sacks as TCU turns it over four times – three coming inside its own 30 yard line.
Oklahoma doesn't exactly capitalize, but kicker Michael Hunnicutt does his part, making four field goals. It's enough. Sooners win again.
The score: OU, 26, TCU 7
Oct. 11 vs. Texas (in Dallas)
How it will play out: Former OU coach Barry Switzer said he never had to worry about his team being ready to play against Nebraska or Texas, but for some reason it sure looked like the Sooners weren't ready last year.
That won't be the case this year. A season ago, Bell struggled at quarterback and the Sooners were embarrassed after coming into the Cotton Bowl as a huge favorite. This time around Bell has a rushing touchdown, a receiving touchdown and finishes his Sooner Cotton Bowl career with his best game.
Meanwhile, Trevor Knight shines in Dallas, running for more than 100 yards and throwing for a pair of touchdowns. This one is never close. OU leads 14-3 after the first quarter, 21-3 at halftime and 35-10 before Thomas replaces Knight midway through the fourth quarter. But just because the reserves come in doesn't mean the Sooners don't score.
Thomas tosses a fourth quarter touchdown pass and Samaje Perine runs for another.
Great finish for Bell but a bad start for Longhorn coach Charlie Strong.
The score: OU, 49-17
Oct. 18 vs. Kansas State
How it will play out: The last time the Wildcats came to Norman, Collin Klein was the better quarterback and the Kansas State defense was impressive, sacking Landry Jones at the goal line and turning it into a touchdown. And the last two times the Sooners have played at Kansas State, they turned their season around.
Last year, it was Knight's break-out and break-through game. The contest where the Sooners finally got set at quarterback. Before that, three seasons ago, Manhattan, Kan., is when the the Sooners debuted the Belldozer.
No change of offenses here this year. It's just a game where the Sooners show up as the better team and play like it, too in their home Big 12 Conference debut.
Kansas State is always game, but so is Stoops for this one. Typically, it's Kansas State that wants to run out the clock, but this time it's OU that slows the game down and runs the ball effectively and efficiently, dominating time of possession and the Wildcats.
It's a top-25 meeting, the first of what will be games against top-25 teams three times in four games. The Sooners are up for this one.
The score: OU, 28-13
Nov. 1 at Iowa State
How it will play out: When the initial Big 12 schedule was released this was a game that was pegged for a possible Thursday night. The best thing about that from OU's standpoint is that it got moved. Instead of a national television audience watching the Sooners in primetime and the Iowa State fan base getting itself in a frenzy to face a top-five team, the game got shifted to Saturday.
And instead of primetime, it's a morning kickoff. And instead of a frenzy, it's nothing special in Ames, Iowa. OU has struggled at times on the road this season, but Iowa State doesn't have to keep up with the Sooners.
A 7-7 game after the first quarter is when the drama ends. OU scores three times in the second quarter and leads 24-7 at the break. It's over after three quarters and the Sooners stay unbeaten.
The score: OU, 37-10
Nov. 8 vs. Baylor
How it will play out: This is the game the Sooners have been waiting on this game for a year after getting blown out in Waco, Texas, in 2013. The nation has been waiting on this one, too as it will determine the Big 12 leader as well as determine a front-runner for one of the four teams that will make the playoff.
The good news for OU is the game is in Norman and it's the rowdiest crowd in town in years, enough to help slow down the high-powered Baylor offense.
Just like a season ago at Kansas State, then Oklahoma State and then against Alabama, OU plays its best against its best competition.
Sure, Baylor scores, but so do the Sooners. Both teams have no issues early as Knight gets the Sooners into the endzone twice in the first quarter. It's 14-14 after the first quarter and then 24-21 OU at halftime.
That's when the teams separate. Unlike the Sooners, Baylor doesn't have the kind of defense to sustain itself, and while in the Big 12, defense is seemingly optional, Baylor never figures out how to stop OU, while the Sooners make just enough stops.
A Hatari Byrd interception in the third quarter comes when Striker forces an errant Bryce Petty pass and the Sooners extend their lead to 31-21. Petty does pass for 350 yards, but the Baylor defense gives up more than 500 to the Sooners. Knight isn't the flashiest quarterback on the field, but he's the winning one. Knight runs for 100, passes for 250 and accounts for four touchdowns. OU stays unbeaten and Baylor's shot at the playoff is all but over.
The score: OU, 45-31
Nov. 15 at Texas Tech
How it will play out: Yikes, a trip to Lubbock, Texas, is not what the Sooners need a week after playing their marquee game of the season. Not only is it a game against a top-25 team, but it's another night game and this one is in front of the most-hostile crowd the Sooners will see all season.
Good OU teams have lost in Lubbock before and the Red Raiders will be waiting this time, too. Knight isn't sharp. The offensive line seems out of sync, due to the crowd noise and a pair of first-half fumbles, both coming on the exchange from Knight to Ford, cause big problems.
The game is tied at 3-3 at the end of the first quarter, but the two fumbles mean a pair of extra possessions for the Red Raiders and they take advantage of them, scoring twice more and leading 13-6 at halftime.
More panic to start the third quarter? Knight is replaced at quarterback (OU says it was because Knight showed signs of the flu) to start the third quarter and Thomas comes in for his first meaningful minutes of the season. It's too tough a spot. Trying to catch Tech off-guard, OU decides to run play-action on its first play of the second half. It doesn't work. Tech intercepts the pass and returns it for a touchdown.
Knight comes back in by the fourth quarter and leads the Sooners on a comeback, getting to the Tech 23 yard-line with less than a minute to go and the Sooners down four points, but Knight's pass to Sterling Shepard in the endzone is knocked away and the Sooners leave Lubbock a loser.
The score: Texas Tech, 27-23
Nov. 22 vs. Kansas
How it will play out: Time to rally for the Sooners. No excuses offered by the Sooners, but clearly Knight is feeling better and the Sooners aren't challenged at any point. OU plays like it has to make a statement and looks like the kind team that belongs in college football's top four.
No drama. No worries.
The score: OU, 55-7
Dec. 6 vs. Oklahoma State
How it will play out: One last chance for the Sooners to show they belong and a last chance to win the Big 12, too. A victory against OSU would put the Sooners at the top of the conference and give OU a certain edge over Baylor in the minds of the selection committee.
And OU plays like it needs to win, too. Bell has beaten Oklahoma State twice in his career at quarterback, but this time it comes from the tight end spot. He catches a first quarter pass from Trevor Knight and gives OU a 7-0 lead 5 minutes into the game. OSU never gets closer the rest of the game.
Everything works for the Sooners in Norman. They close out an unbeaten season at home and head into the postseason 11-1 after three carriers rush for more than 100 yards and Shepard looks like Jalen Saunders, returning a punt for a touchdown midway through the third quarter.
The OU defense is sterling as well. Consistent all season, the defensive line comes up with four sacks and forces a fumble.
The past two seasons, OU has won it in the final moments against OSU. This year, the game is decided much sooner.
The score: OU, 41-11
Follow Andrew Gilman on Twitter: @andrewgilmanOK