Healthy Dunbar ready to add to Dallas backfield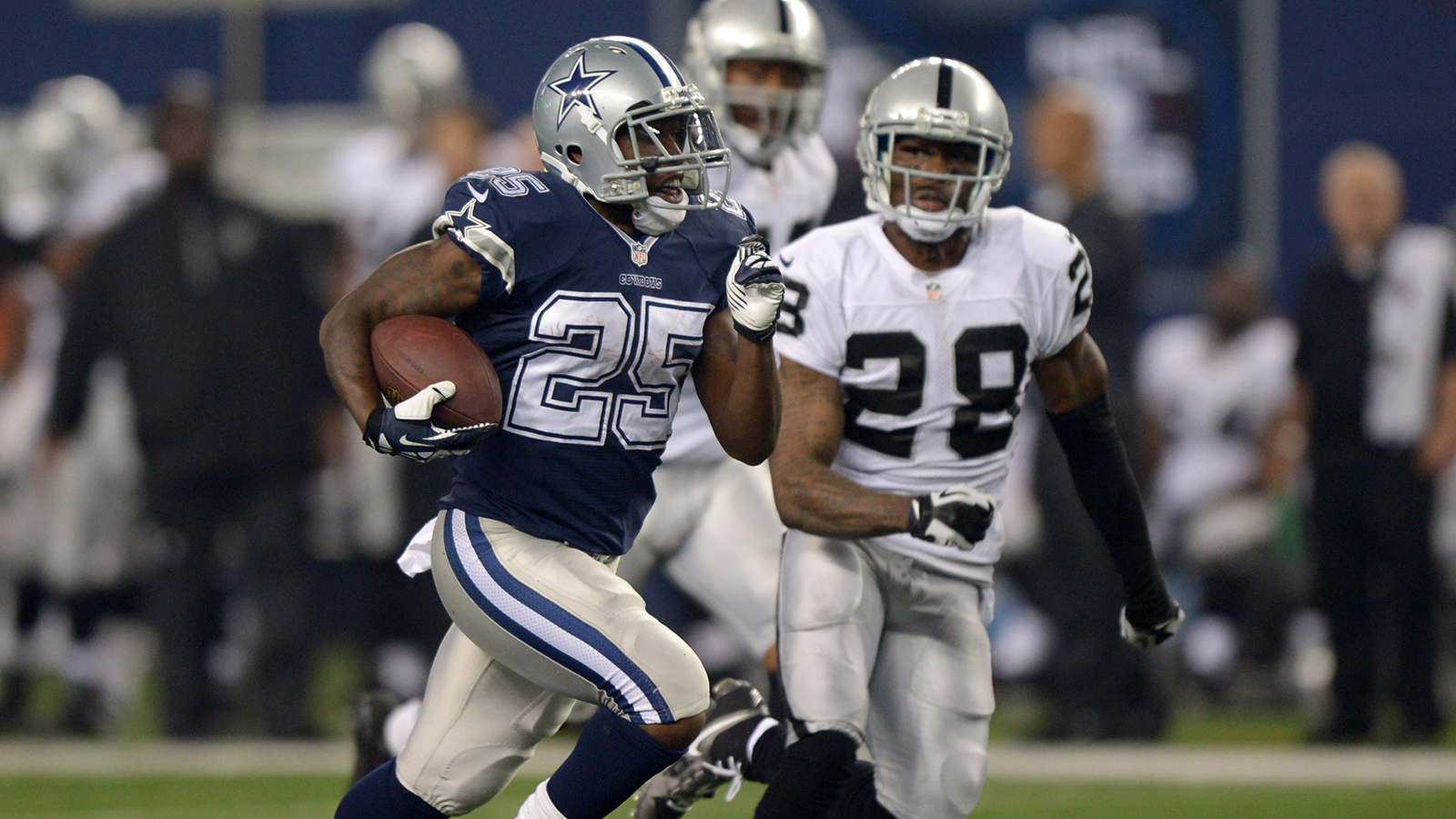 IRVING, Texas – It's awful hard not to like Lance Dunbar and respect what he's been able to accomplish in his first two seasons in the NFL with the Dallas Cowboys.
Sure, Dunbar, a product of Haltom City High School and North Texas, missed nearly half of last season with a season-ending knee injury, but the 24-year-old running back has carved out a nice niche for himself with America's Team in parts of the past two seasons.
After being undrafted in 2012, Dunbar landed a spot on Dallas' practice squad and was called up to the 53-man roster that October. He stuck on the 53 to begin last season and had found a nice role for himself in the backfield before his knee injury ended his season prematurely.
However, he's now completely healthy and ready to see how he can contribute to the 'Boys in 2014.
"I kind of put those things in the past. It's a whole new year. I can't live off the past," Dunbar said last week during mandatory minicamp. "I've been feeling pretty good, not having any problems, no soreness or anything. I feel 100 percent."
As a rookie, he finished with 75 yards rushing on 21 carries with six receptions for 12 yards. Those numbers grew to 150 yards on 30 carries last year with seven catches for 59 yards.
But with Dunbar, it's not all about numbers because this is also a guy who makes much of his contributions on special teams, whether it's as a gunner or occasional kick returner.
In fact, Cowboys running backs coach Gary Brown, who spent eight years in the league with several different teams, including the Houston Oilers, sees plenty to like about the 5-foot-8 runner heading into year three of his pro career.
"Well, he's a guy that's going to be a complete weapon. We can line him up anywhere on the team-tailback spot, at the wide receiver spot, in the slot. He has tremendous hands and he's just not a specialty guy. He could play tailback if you need him to go out there and give you 15 or 20 carries. He's that type of kid," Brown said. "He brings a whole different dimension, a whole different vibe in our room as far as what he does and we're looking forward to using him as a weapon as well."
Such versatility is nothing new for Dunbar, who relocated with his family to the Metroplex after Hurricane Katrina forced the New Orleans native from the Big Easy.
And when though his small size kept anyone from drafting him two springs ago, this Mean Green product knows there are plenty of ways he can contribute where his size actually works in his favor instead of against him.
"It's always good (to be versatile)," Dunbar said. "The more you can do, the more you can help this team and they like guys who can do more. You can't be one dimensional and for me to be able to do a lot of things, it can benefit me and the team at the same time, which is always good. My coach growing up used to always tell me that the more you can do, the better it is for you. The more you can do, the easier it is for you to make an NFL team and that was the truth."
Brown is among Dunbar's biggest fans at Valley Ranch as not only does the former Penn State standout back like his versatility, but the former NFL running back even compared him to a guy who has carved out a nice career for himself, much of which was spent with Dunbar's hometown team, the New Orleans Saints.
"Everybody would like to have a guy like Dunbar. You look at the (Darren) Sproles type guy. You look at guys around the league like (Danny) Woodhead from San Diego. They all have them," Brown said. "Not everybody has them but we all want them. Once you find one, you've got to find things for him to do and you've got to make sure that he's involved in the gameplan."
Besides a strong work ethic and sheer determination, another reason why Dunbar has been so successful thus far in Dallas is because he has taken his cues from the current No. 1 running back on the Cowboy roster in DeMarco Murray, someone this UNT product is not only elated to call his mentor, but also a friend.
"We got a great group, a great leader, DeMarco. He's same as me. He's as versatile as me. He's a complete back, one of the best backs in the league. He's our leader. He's our guy who we follow behind," Dunbar said. "He always tells us we're a good group to lead this team, so we work hard every day to try to make each other better to lead this team."
So, with the Cowboys currently on a bit of a break before training camp starts in Oxnard, California in about a month, Dunbar knows just how vital making the most of his down time will be for him and his teammates to they can head to camp on the right note.
"Yeah, we're going to need this break because we've got training camp coming up. So, it's going to do us some justice to get our bodies back healthy and spend some time with our families. Then you get back to work," he said.
Hard work is something Lance Dunbar is clearly not afraid of and now that he's healthy, it will be interesting to see how he contributes to the Cowboys this fall, because if his track record tells us anything, he will find a way to make an impact, whether it's on special teams or out of the backfield. That's just the sort of player and person he is.