Gundy, Pinkel redefined 'destination jobs'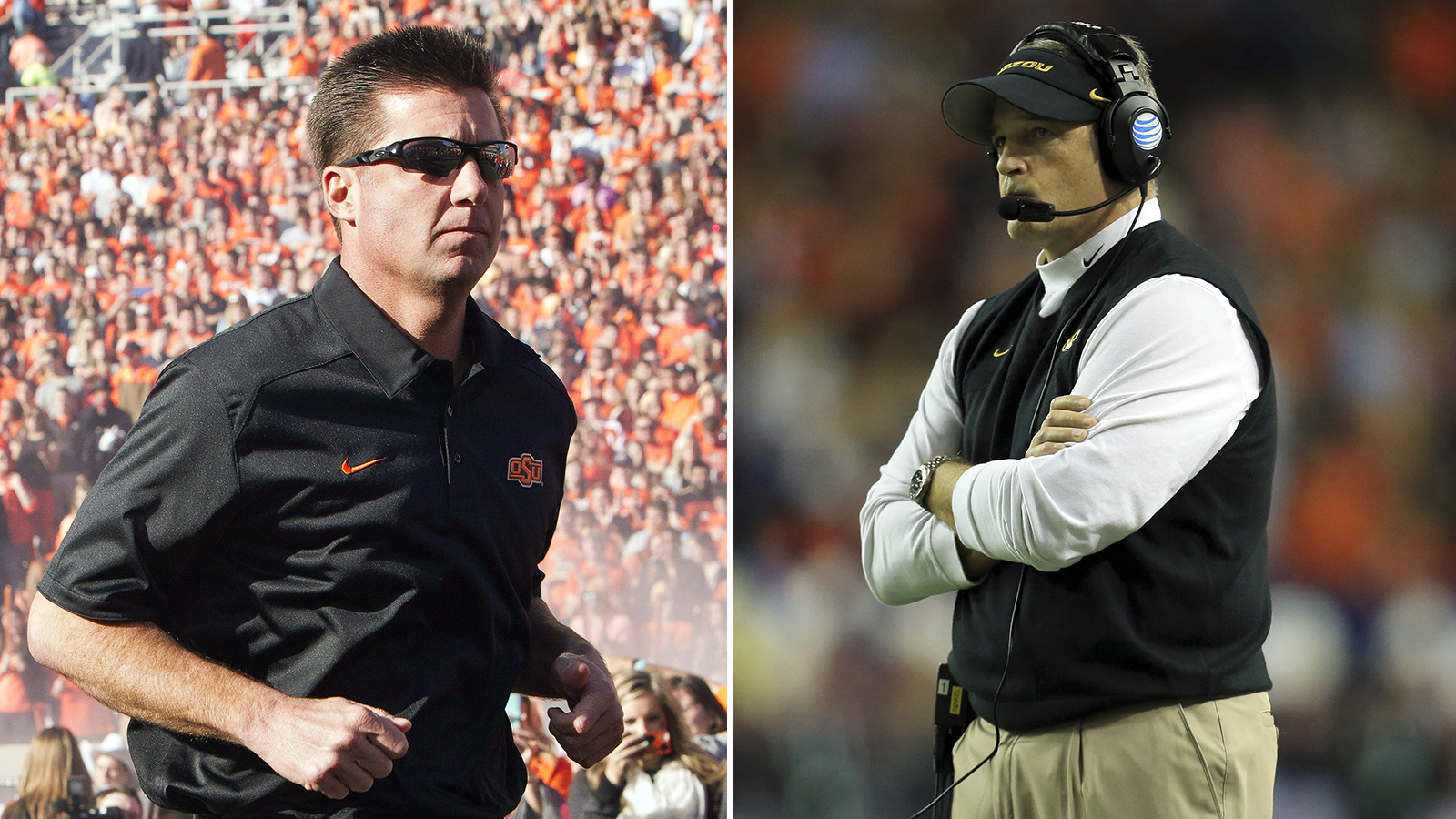 ARLINGTON, Texas — When Mike Gundy took over for Les Miles at Oklahoma State in 2005, the Cowboys hadn't enjoyed a 10-win season in 17 years.
When Gary Pinkel came to Missouri in 2001 after a decade as Toledo's head coach, the Tigers had logged two winning seasons since 1984.
Stillwater and Columbia were places you could win tickets to bigger jobs, not places to compete for championships.
Gundy and Pinkel will meet on Friday at the AT&T Cotton Bowl in charge of programs that each has turned into their own so-called "destination jobs."
Gundy turned down possible opportunites at Tennessee and Arkansas last year, and Pinkel told Fox Sports Southwest this week he could have left Missouri on three different occasions during his tenure.
Giving themselves reasons to stay wasn't easy.
—
Pinkel won 10 games in 2000 at Toledo, but returned a team capable of winning a MAC title the following year. Wait it out, and a "big" job would await. Colleagues told him going to Missouri was crazy. He "could do better" and taking the job was a sure path to eventual unemployment.
"(I believed) If I had the right guy–and I did in (athletic director) Mike Alden–to be able to stick with me when times got tough, If I had somebody to believe in what we were doing, that we could build a program," Pinkel said.
Tough times arrived at the end of Pinkel's first season, when Michigan State rolled to a 31-0 halftime lead and a 55-7 win in the finale of a 4-7 campaign.
"I never had players quit on me before," Pinkel said. "At halftime, my guys cashed it in."
They were lethargic as the Spartans ran around and through them on the way to an easy win.
Pinkel went home, sat on his bed and sobbed. Maybe his colleagues were right.
"I was emotionally wrecked," he said. Throughout his first year, he'd see players quietly complaining to training staff or food service about how "this place stinks" and "coaches are messing things up," Pinkel said. It had to change.
His solution was to ramp up the offseason program to levels he hasn't exceeded since. If they were going to quit on him, it would be in January, February or March, not during the season. He had to counter beating down his team physically with building them up mentally.
"The first thing and most difficult thing in building a program is changing the attitude of people," he said. "You have to break that whole thing down and teach them how to win and teach them confidence and teach them to have a positive attitude and stay positive."
By Year 3, Pinkel gave Missouri its third winning season since 1984, but he needed Alden in his corner when the program dipped to 5-6 in 2004. Alden's faith was rewarded with 55 wins, three division titles and two Big 12 title game appearances over the next six years.
"When I came here we weren't sitting around twiddling our thumbs," he said. "We had a plan in place and we locked right in that sucker and we just stayed right with it until we slowly started changing attitudes and we did it."
—
Oklahoma State hadn't won big since Gundy was Oklahoma State's quarterback. The Cowboys won 10 games in 1987 and 1988, which included a Heisman Trophy for Gundy's teammate, Barry Sanders. He wanted OSU to reach those heights again, but challenges in doing so awaited. Gundy kicked eight players (six starters) off the team shortly after his arrival, and instituted long-term contracts for assistant coaches, a rarity in college football at the time.
"Nobody ever talked about winning championships," Gundy said.
He started talking big and reaching to emphasize Oklahoma State's brand in the state of Texas, something that had to happen for the Cowboys to reach the lofty goals about which he often spoke. The Cowboys now have 71 players from the state of Texas, including the team's leading rusher (Desmond Roland), leader in receptions (Josh Stewart) and leading tackler (Caleb Lavey). The Cowboys equaled or surpassed their win total in each of Gundy's first seven seasons, culminating in a 12-win Big 12 title campaign in 2011. OSU has won 50 games in the past five seasons.
"I don't think I was smart enough to take my eyes off the goal and realize how hard it was," Gundy said, "or it could have been distracting and we'd never have gotten it accomplished."
—
Both Missouri and Oklahoma State are enjoying periods unequaled because of a pair of coaches who believed each program was big enough for them.
Talk to players and coaches within the program, and a familiar refrain emerges: The foundation for each never changed.
It started with accountability for players and coaches alike inside the program, along with higher standards of behavior and what the word "success" meant.
"It's like the old book of Matthew, right? If you build your house on a rock, when the storms come it stands," Missouri defensive coordinator Dave Steckel said. "Put it in the sand and it's going to wash it away."
Treating stars the same as walk-ons and talking about big goals early on helped establish that foundation at both places.
The lifeblood of any program, however, is the people wearing pads on Saturdays. More than anything, Gundy and Pinkel have given their programs upgrades in that area. Pinkel has developed a knack for finding gems on the recruiting trail like Danario Alexander and Sean Weatherspoon, who developed from two-star recruits into All-Americans. He's still doing it.
"When I came here, I was a two-star recruit and 220 pounds," said defensive end Michael Sam, who was named the SEC's Defensive Player of the Year last month. "Now, I'm 260 pounds and an All-American."
Developing players like Sam has helped Pinkel and Mizzou haul in top-tier recruits like receiver Dorial Green-Beckham, who was the nation's No. 1 recruit in 2012 and led the Tigers in receptions and receiving touchdowns this season.
Oklahoma State's facilities were aided by more than $400 million in donations from superbooster T. Boone Pickens, making sure when players are on campus, they're spending time in a state-of-the-art weight room and locker room.
"He's very consistent. He's kind of unflappable. He's got a routine down that the lpayers aren't surprised. The players hear his message from Day 1," Oklahoma State defensive coordinator Glenn Spencer said. "He doesn't get shook when everybody around him says we failed. He doesn't get to elated when everybody around him tells you you're awesome. He's surrounded himself with good people and the bottom line is it's all about acquiring talent."
In recent years, Gundy has significantly scaled back the amount of time players and coaches spend at the team facility. Practice times are shorter and the team hits less to keep players fresh. Sunday, Monday and Tuesdays are always long days from about 7 a.m. to 10 p.m., but later in the week, he'll encourage his assistants to get out of the office and be with family and get their minds off football. By Wednesday, coaches are out of the office by 7 or 8 p.m., and as early as possible on Thursday. Spencer says Gundy's "looking for efficiency."
"This guy gets it. He's going to allow me to be a husband and a father? … The best coach I can be for these kids if I'm coming to work happy and they see me being a good husband and a father," Spencer said. "If your 10-year-old has a baseball game, (Mike and your kid will) get ticked off if you don't go to his game. I've been around guys that say, 'You want to see your wife and kids more, put a picture on your desk."
Pinkel's teams' academic prowess have also become a benchmark of the program. He boasted of Missouri's Academic Progress Rating, which leads the SEC, several times this week. The Tigers' mark of 982 is also top 10 nationally and indicates the program graduates a higher percentage of players than almost any program in America.
"He wants people to graduate. When I came here, I wasn't really a 'school' kind of guy," linebacker Donovan Bonner said. "He turned me into a 'school' guy."
Missouri offensive coordinator Josh Henson, a former Oklahoma State player and coach, has worked with both coaches.
"You see his intensity on the sidelines, but you go in the locker room after the game and he's dancing," Henson said of Gundy. "You see that connection he has to his team and his kids."
After working with Gundy on Les Miles' coaching staff at Oklahoma State, Henson moved with Miles to LSU and joined Pinkel's staff in 2009 as the co-offensive line coach before being promoted to offensive coordinator and play caller before the 2013 season.
"He has a checklist for everything," Henson said of Pinkel. "For every day, month and season. Kids know what to expect. He's methodical about the management."
When he arrived at Mizzou, he was stunned by the players' politeness. Nearly all of them introduced themselves when he arrived at the facilities and started inquiring about his family.
The two coaches have different strengths, and have produced indisputable results. Pinkel and Gundy have had success on the field, but both cherish their impacts elsewhere even more.
"We bring guys in from all walks of life and you've got guys sitting over there laughing with each other who would have never crossed paths without college football," Gundy said. "College football breaks down barriers and I get to see that and I get the biggest kick out of that."
Why chase a "destination job" when you can just make your own?