Graham Harrell the latest Leach QB disciple called to install Air Raid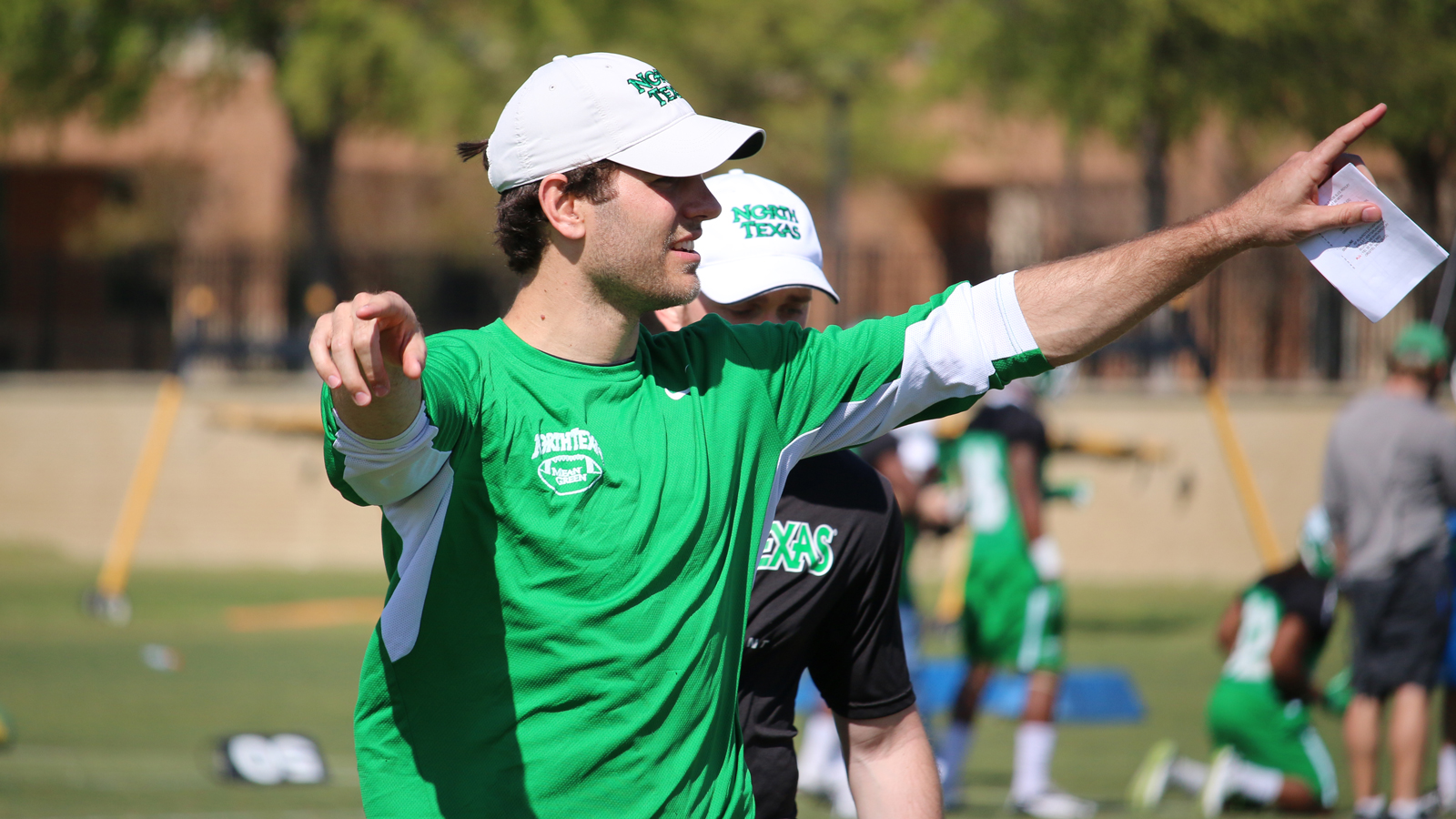 DENTON, Texas — The Mike Leach coaching tree keeps growing.
The offensive innovator has his fingerprints all over college football with a dozen of his former players and assistant coaches taking his philosophy to other programs.
The latest branch of Leach's tree has reached North Texas.
Seth Littrell, who played running back during Leach's lone season as offensive coordinator at Oklahoma in 1999, heads into his first year as head coach of the Mean Green. And he's brought one of Leach's greatest players with him to Denton to install the offense.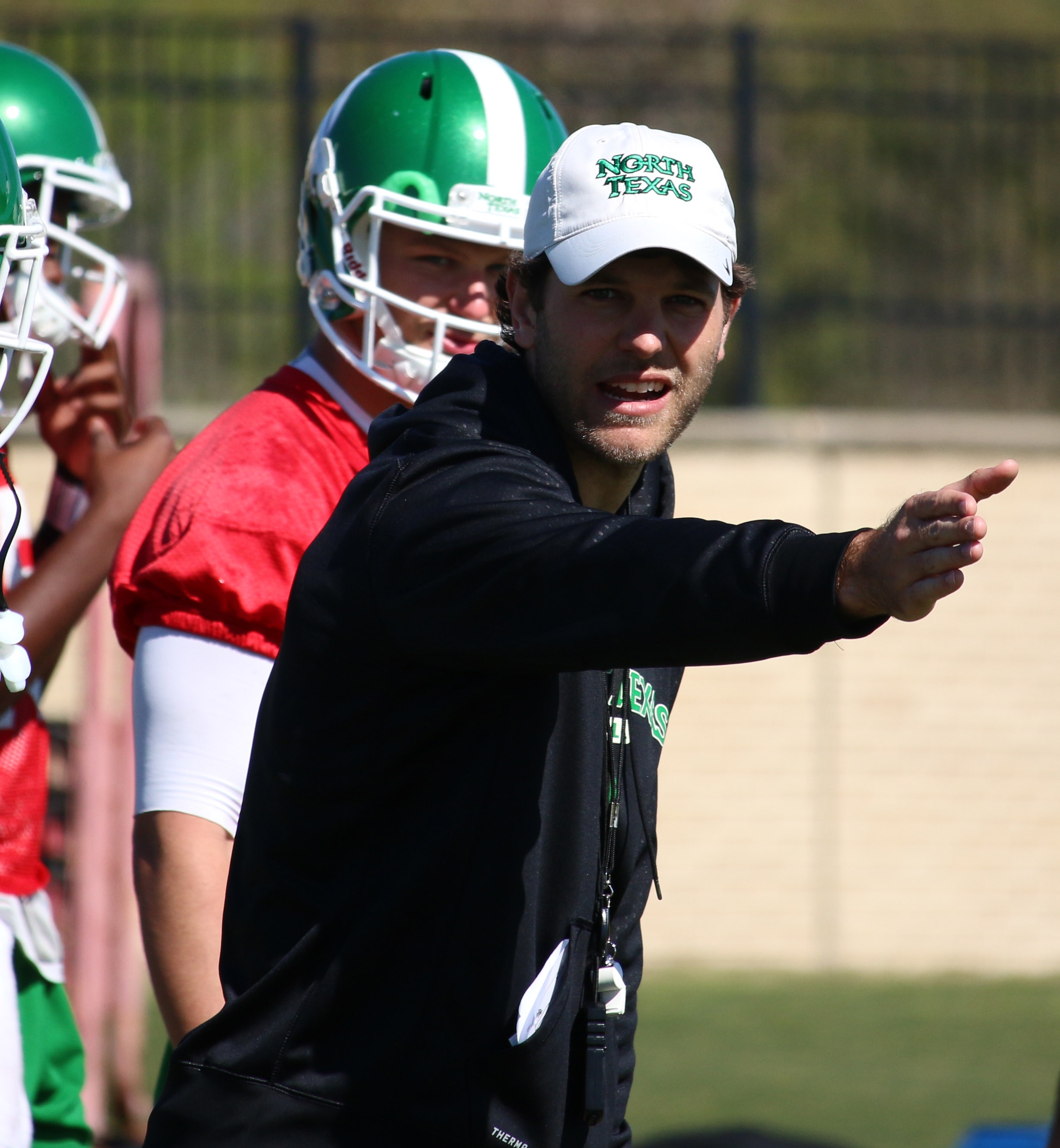 Harrell was one of the best quarterbacks to ever play in the spread offense at the high school and college level.
At Ennis High School from 2000-03, Harrell set the Texas state high school records for single-season passing yards (4,825) and single-season passing touchdowns (67) as a senior. He finished his high school career as the Texas career leader in passing yards (12,534) and passing touchdowns (167).
"When I was in high school, we were about the only team out there running the spread offense," Harrell said. "Ennis, Southlake Carroll and Denton Ryan were kind of ahead of the curve when it comes to running the spread."
All of Harrell's high school records have since been broken, and he attributes that to Leach's influence on the game during his tenure at Texas Tech.
"He changed the whole game of football," Harrell said. "Now if you go watch a high school football game, nobody takes snaps from under center anymore. In college it's the same way. Hardly anyone takes a snap under center anymore."
The spread offense has also spread across college football.
Kliff Kingsbury took the Air Raid to Houston and Texas A&M before bringing it back to Lubbock. Sonny Cumbie has helped turn TCU into one of the best offenses in the country. Oklahoma won the Big 12 title in Lincoln Riley's first season as offensive coordinator.
Those are just of few of Leach's disciples.
"[Leach's] approach to the offense is a reason why so many guys have left him and gone on to be successful," Harrell said. "The way he approaches football is different than anyone else running the spread."
And now Harrell is bringing his version of the Air Raid to North Texas.
"It will be very similar [to Leach]," Harrell said. "We're going to play an exciting brand of football. It's going to be a brand of football people are going to enjoy watching and be a part of.
"I'll probably try to tweak in some way. But I still believe in the way Leach does it."
Before coming to North Texas, Harrell spent two seasons learning as an assistant under Leach at Washington State.
"Those two seasons were huge for me," Harrell said. "As a player you see the finished product, but seeing how you get there was huge for my development as a coach."
Harrell didn't want to leave the coach whose had a huge impact on his life, but the opportunity and the chance being back home in Texas was too good to pass.
"He wasn't thrilled at first," Harrell said. "Leaving him was the toughest part about taking this job.
"I still coached the bowl game with him. So I was still with him a couple of weeks after I decided to come. I had two weeks of him telling me corky stuff. During the bowl game on the headsets we were talking, and he would be funny saying, 'you're going to learn soon enough about this or that.' We joked about a lot of things."
Washington State isn't on any future UNT schedules, but would Harrell like to go head-to-head with his former boss?
"It would be a fun game to play against him," he said. "It would be a bittersweet win, but it wouldn't be fun to see coach Leach lose a game."
But before that day comes, Harrell and the coaching staff have a lot of work to do in building North Texas into a winning program again.
"The most important part of this job is changing the culture," he said. "When you win some games and get a lot of people excited, you create a place where everyone wants to be. In college football, you want to be great academically, go to bowl games and win bowl games.
"We've got kids who can win games, but we just have to make them believe it. Mindset is bigger than talent. They've bought into our message."