Fresh faces on FOX Sports Southwest Rangers Fan Express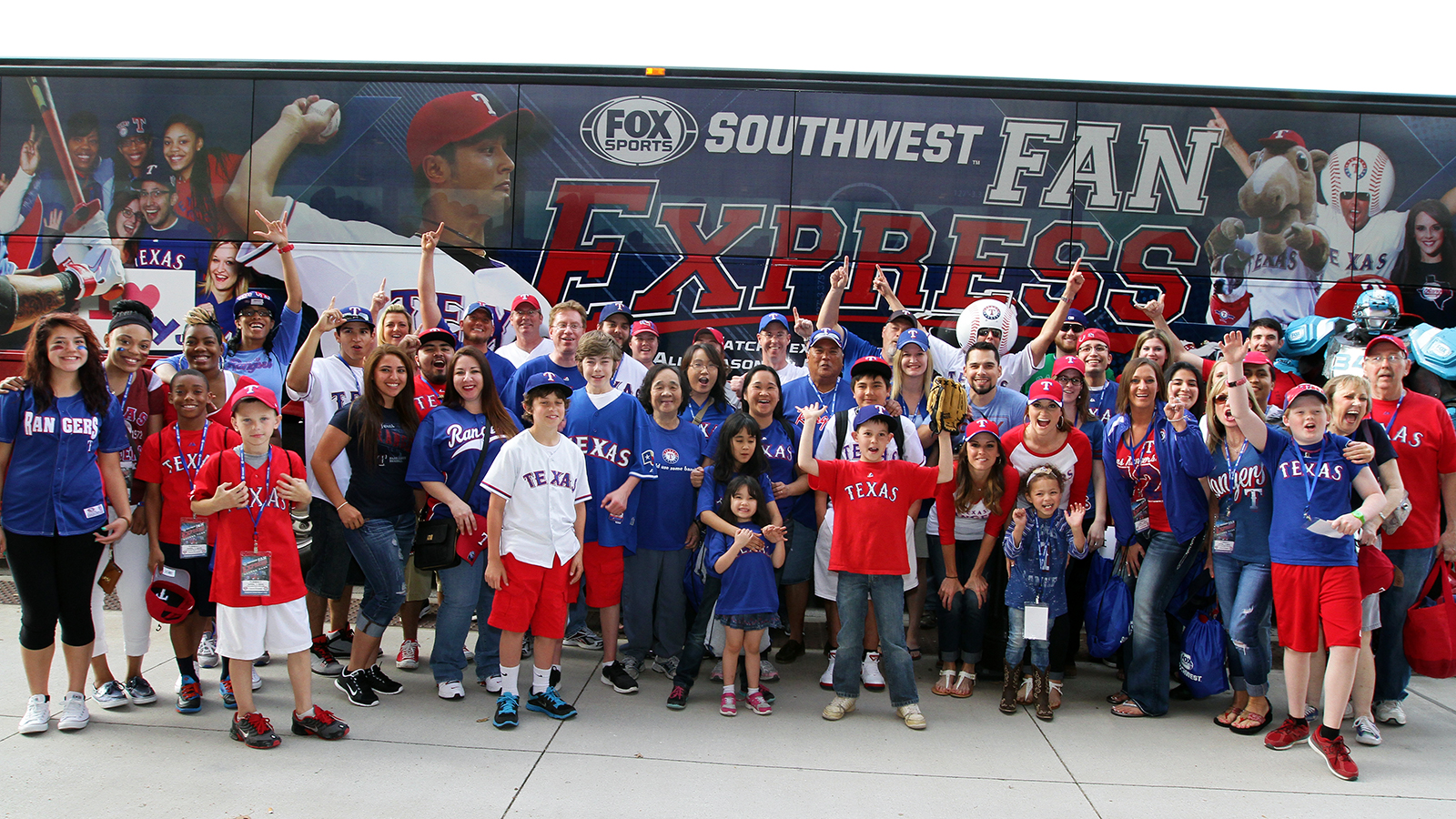 ARLINGTON, Texas — The Texas Rangers are back in action and the FOX Sports Southwest Rangers Fan Express is ready to bring the best fans in baseball to Globe Life Park in Arlington.
The VIP luxury coach got a major makeover during the offseason with the help of some of Rangers' biggest supporters.
After more than 200 auditions at Rangers Fanfest in January, 28 were selected to have their spirit displayed on the bus all season long.
The lucky group of fans got their first look at the new and improved Fan Express before heading to the ballpark to see the Rangers beat the Phillies on Tuesday. FOX Sports Southwest gave them a VIP experience aboard the bus and their own replica of the Fan Express to take home.
Getting to ride on the Fan Express is a treat, but being a part of it throughout the season is what makes it special for these fans.
"I love the whole thing," said Gregg Wilson, of Dallas. "It doesn't get any better than that. You're a fan and you get to see yourself in an environment like that. It's just cool if you're a fan and you get to be on some place at every game for everyone else to see. So even if I'm not at the game, I feel like I'm showing my support."
Jaidan Johnson, 6, of White Oak, Texas, didn't find out she was going to be featured on the Fan Express until it was unveiled on Tuesday.
"She didn't know until the bus came," her mother, Jamie Steele, said. "We just wanted to surprise her."
And Jaidan was thrilled to see her face on the side of the Fan Express.
"Best day ever," she said.
This young fan has had her share of struggles throughout her life already, but her love for the Rangers has remained strong.
"She's a liver transplant patient and a cancer patient," Steele said. "She loves the Rangers. All her friends from the children's hospital are going to flip out when they see [the Fan Express].
Rangers fans of all ages are dedicated to seeing their team win.
Jenna Yates, of Mansfield, Texas, loves the atmosphere and experience of Globe Life Park in Arlington, but also says she pays attention to every aspect of the game.
Same for 13-year-old Ian Cortez, who plays baseball not far from the home of the Rangers in Arlington.
He was excited to tell his friends and teammates he was going to be on the Fan Express.
"They all said 'you're a lucky kid,'" Cortez said.
The FOX Sports Southwest Girls always go along for the ride on the Fan Express, and they say it's the fans that make it great.
"The best part of the Fan Express is getting to meet new fans every time," Liddy said. "They're big Rangers fans, and we love fans who are excited about our Rangers. It's so fun to get to come on the Fan Express and pick them up and go to the game with them."
Eddie Horn has driven the Fan Express more than 100,000 miles since FOX Sports Southwest started it in 2011 to connect with Rangers fans.
"What I really enjoy is picking up the people from all over the state, surrounding areas and bringing them to the game," he said. "Seeing their faces once they get to the ballpark is what I get out of it."
Horn has traveled across the state from Texarkana to Lubbock, but it's not just Texas. The Fan Express has also made its way to spring training in Surprise, Ariz. and exhibition games in Las Vegas. Fans in Arkansas, Oklahoma, and Louisiana are just as passionate about the Rangers, and the Fan Express has been there to bring them to Arlington.
"Of all I've seen and all the trips I've been on, I've never see one person leave unhappy," he said.