Four keys in Rockets-Mavericks playoff series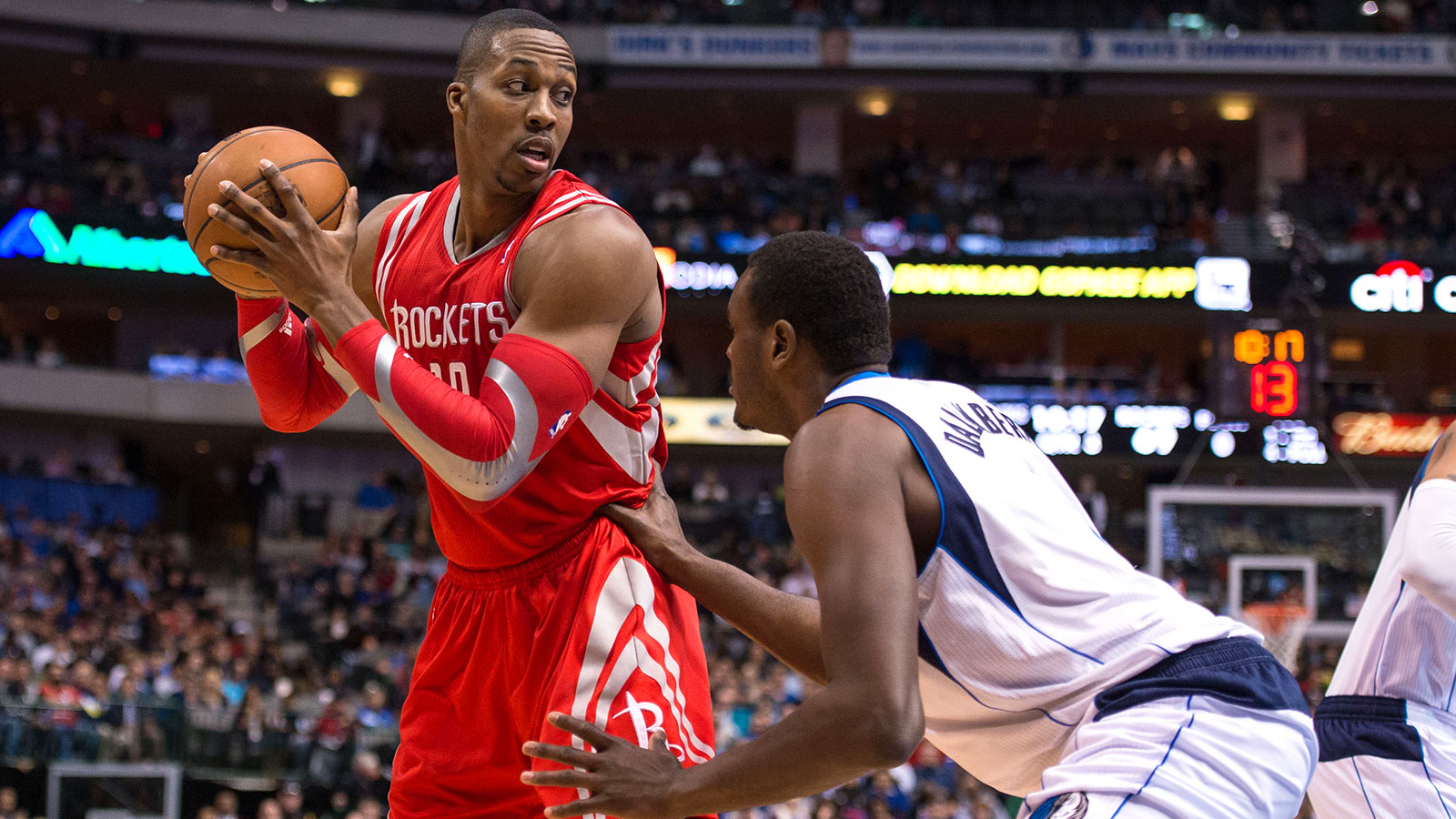 DALLAS — On Saturday night at Toyota Center in Houston, the Houston Rockets and Dallas Mavericks begin their first-round series in the NBA Playoffs, a best-of-seven affair which promises to be simultaneously entertaining to fans of both teams but also an all-out war.
And as is the case with every playoff series, there are several factors which will determine who prevails and advances to the next round. Here's a look at those factors.
Cleaning the Glass
Totaling up rebounds from the four regular-season games between the Rockets and Mavs, Houston held a one-carom edge (188-187). But that number is a bit misleading.
Dallas outrebounded Houston in the first three meetings of the season, games where the Rockets were without big man Dwight Howard. But with Howard in the lineup on April 2 at American Airlines Center, Houston was plus-14 (55-41) on the boards in a 108-101 win against the Mavs.
Tyson Chandler has been an absolute beast on the glass all year for Dallas, averaging 11.5 boards per game during the regular season, and offseason acquisition Al-Farouq Aminu has also done his part (4.6 RPG), but the Mavs simply need more quality board work if they are to get past the Rockets.
This was a point Mavs head coach Rick Carlisle emphasized on Thursday afternoon.
"Well, rebounding is a big challenge. It's been a big challenge for us all year, so we're going to have to a better job than we've done during the year top to bottom," Carlisle said. "We're going to get our perimeter guys involved as possible. A team like Houston that shoots that many threes, also generates a lot of long rebounds and they do a great job of scooping up long rebounds and then regenerating them for more threes. Limiting them to one shot is going to be a critical part of this series without question."
Seconds, Anyone?
Another stat to watch in this series is just how much of an impact each team's bench has. For the four games between the Rockets and Mavs during the regular season, Houston held a slight edge in bench scoring, 143-135.
The Rockets' second unit outscored the Mavs' second unit in three of those four games. Houston's bench is a group that features Josh Smith (12.4 PPG) along with a pair of former Mavericks in Corey Brewer (11.5 PPG) and Jason Terry (7 PPG), both members of Dallas' 2011 NBA championship squad.
But the Dallas bench isn't exactly a pushover, a unit that features backup point guard Devin Harris (8.8 PPG), J.J. Barea (7.5), Charlie Villanueva (6.3), Richard Jefferson (5.8) and Aminu (5.6), has been pretty consistently solid for much of the year.
Again, Carlisle knows that how much his bench is able to contribute on a regular basis in this series could also go a long way in determining which team advances.
"Well, we like our team," Carlisle said. "We have a strong belief in our team. We're a roster built on strength in numbers. And their roster is built much the same way. Their roster is a little bit different, having Harden on the outside and Howard on the inside. Our better players are just a little bit different than their better players."
Limit Damage from Long Range
The Rockets took more three-point shots (32.7 per game) than any other team in the NBA during the regular season. Houston also made more shots from distance (11.4 per game) than any other team in the Association.
But it's not like the Mavs didn't take their fair share of shots from downtown. Dallas was eighth in the league with 25.4 three-point attempts per game and tied for seventh in the NBA with 8.9 three-pointers made per game.
Carlisle knows that limiting the damage Houston can do from distance is a tall order, but far from impossible.
"We just got to work at doing a better job. In a series, in a playoff series, you have a chance to focus in on that a little bit more, but it's going to be difficult. They do the best job in basketball of generating open looks at the three-point line, and they do it multiple ways," Carlisle said. "It's one of the real monumental challenges for us in this series, but we feel like we can do a better job and that's going to be our goal."
One thing which makes that challenge so formidable is the fact that the Rockets can generate open looks from long range in a number of different ways, six or seven to be exact according to Carlisle.
"They have a couple of great players (in Harden and Howard). They drive and kick the heck out of it. They're great in transition and they just move and play off of each other extremely well, so our awareness of personnel's going to be really key," Carlisle said. "We're going to have to get back in transition a lot better than we did at times during the regular season and we're going to have to run them off the line. And when you do that, they drive the heck out of it. You get yourself into a lot of scramble situations and those are where ultimately a series like this is won or lost."
Chandler Parsons' Level of Impact for the Mavs
Former Rocket Chandler Parsons missed the final six games of the regular season for the Mavs with right knee soreness. But after suffering a setback in his rehab earlier this week, Parsons now appears to be a full go for Game 1 on Saturday night.
"He's doing better. He trending the right way," Carlisle said on Thursday. "It hasn't been an NBA game yet where there's a lot of unpredictable movements. You can simulate an NBA game as much as you want to on the bike or the treadmill or running on the court with nobody around, but it's not the same as chasing James Harden and Trevor Ariza around. That's just a fact."
However, Carlisle added that he continues to be optimistic that his team's third-leading scorer from the regular season will be able to play and have an impact against his ex-employer.
"So again, I'm optimistic. We don't know anything for sure but the hope is to have him available for Game 1 and in terms of the number of minutes, I don't know that either. We'll just have to see," Carlisle said. "I'm going to have to do a good job of getting him in and out as he gets tired."
Parsons' best performance against Houston this season was his 21-point showing in a 99-94 loss at Toyota Center on Jan. 28. But if Dallas is to have a puncher's chance in what figures to be a pretty wide-open series, then CP will have to be fully recovered and firing on all cylinders for the Mavs to even have a shot at pulling off the big upset.
Parsons and Devin Harris (turf toe) both went through a full practice on Friday without issue, a good sign heading into the start of the playoffs on Saturday evening in the Bayou City.