Emotions likely to run high for Saints running backs in Detroit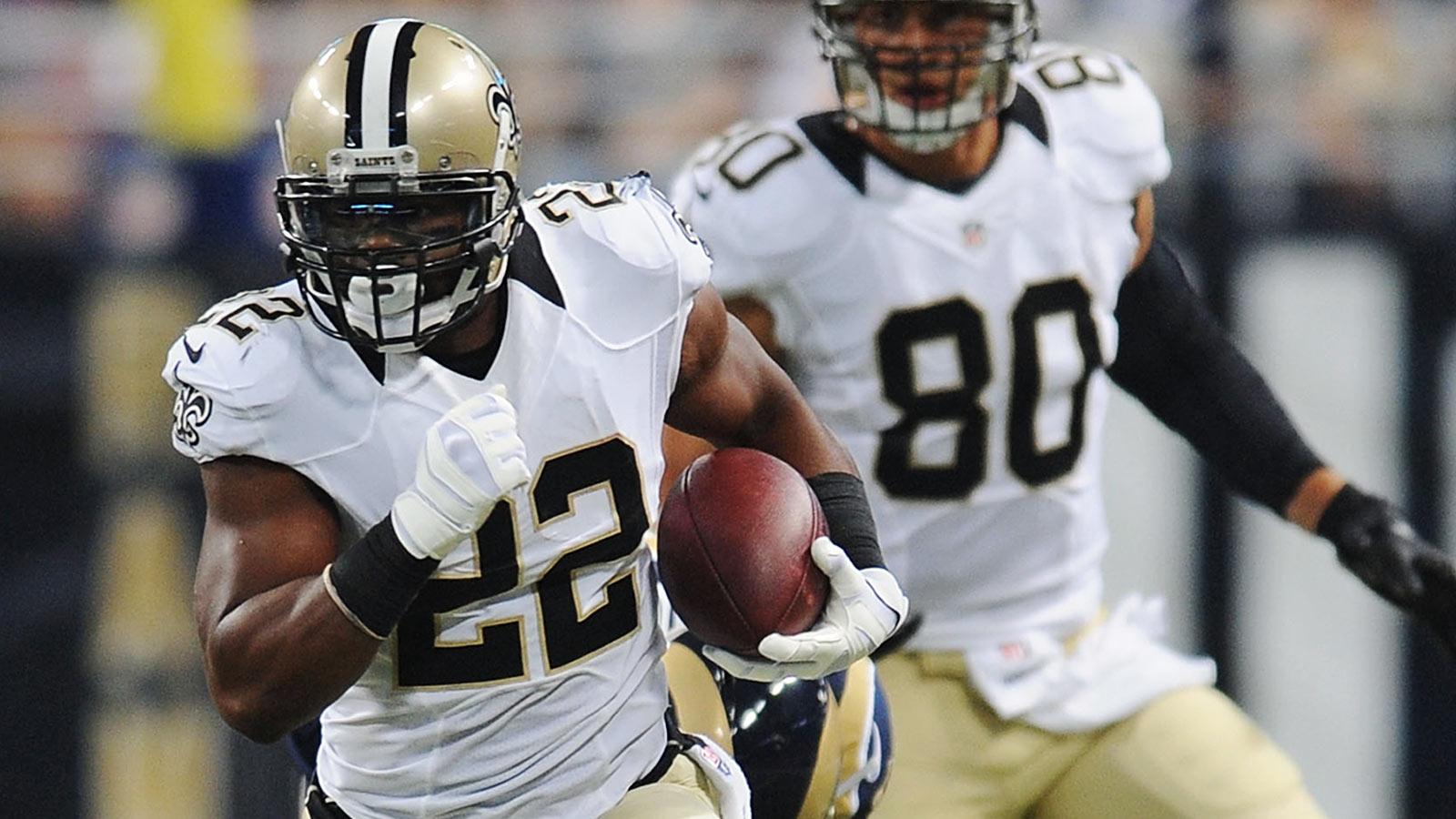 There will be no shortage of motivation on the ground Sunday when the Saints travel to Ford Field to take on the Detroit Lions.
It will be a reunion of sorts, and the chance for three key running backs to prove their worth to some of the groups who have meant the most in their personal and professional lives.
REGGIE BUSH:
For the Lions Reggie Bush, this will be the first time he plays the Saints since they drafted first-rounder Mark Ingram from Alabama and parted ways with him in 2011. After the Ingram pick, Bush infamously tweeted out: "It's been fun New Orleans." Shortly thereafter, the Saints traded Bush to the Miami Dolphins.
Five years prior to that though, in 2006, Reggie Bush was THE guy: the first round pick out of USC that was heralded as "Saint Reggie" in a city still mightily struggling to overcome the devastation of Hurricane Katrina. Bush might not have ever lived up to his saintly nickname in on-the-field production, but he was a key reason the Superdome finally sold out and a contributing force in the Black and Gold's Super Bowl win.
Teammates such as Drew Brees fondly recall the moment Bush arrived in the Crescent City after surprisingly dropping to the #2 pick in the first round. New Orleans was a place in desperate need of hope and something positive to be excited about: Bush was the perfect gift.
"I'm not sure if there has been a player where there was as much hype and excitement for coming out in the draft as Reggie Bush," Brees said. "Maybe you could argue Johnny Football (Manziel) this year, but he was the man. I think it was a foregone conclusion that he was going to Houston. They had the first pick, they were drafting Reggie Bush, so I don't think there was any discussion or debate amongst anywhere else. And then all of a sudden as the draft approached, it appeared that he might not go number one, and if he is there at number two you can't pass up on a guy like that. Sean and I have had conversations about this, about just him being in the room and realizing that moment when it happened that Reggie Bush just fell in our lap. Are you kidding me? Not only the type of player that he was, all of the things that he could do on the field, but I think what this city needed was somebody like that to be drafted here and the excitement that that brought, lifting everyone's spirits and giving them hope. That was huge, and obviously he was a huge part of that 2006 season and his entire time with us."
Brees is a fan of what Bush is still doing on the field today.
"He is probably one of the best athletes I've ever seen play the game," Brees said. "He is one of those guys that you tell your kids about as far as his athleticism."
Saints head coach Sean Payton describes Bush as "instrumental" in building up both the team and the city.
"Ernie Accorsi (Former New York Giants general manager) of course said it once, when you win a World Championship, at that moment it validates every selection and decision in signing that brings you to that point, (Bush) being included obviously," Payton said. "He was very good in that game and in the years that he spent with us, he was very instrumental in what we became. From the minute he was drafted, for those people that were here at that time that was a significant step for us. Very shortly thereafter, we sold out (on a season ticket basis) for the first time and so you would have had to have been here to recognize the importance of that selection and then the steps that began to take place leading up to that season."
From 2006-2010, Bush rushed for 17 touchdowns and carried 524 times for 2090 yards, an average of 4 yards per carry. He hauled in 12 touchdowns and posted 294 receptions for 2,142 yards, an average of 7.3 yards.
Bush has been nursing a bad ankle this season. He sat out of the Lions win last Sunday against the Minnesota Vikings. In the games he did play in for the Lions this season, Bush has rushed for 161 yards and a touchdown, as well as coming up with 20 pass completions for 142 yards.
JOIQUE BELL:
The former part-time security guard at Ford Field may have been an undrafted free agent out of Wayne State, but Joique Bell is now showing all those teams whose practice squads he spent time on exactly what they missed. The Bills, Eagles, Colts and Saints may not have given Bell the opportunity he wanted, but the Lions have put him to good use. In 2013, Bell and Bush became the first running back tandem in NFL history to both register 500+ rushing yards and 500+ receiving yards in the same season.
Bell never played in a regular season game for the Saints and admitted to local media this week that he's had this game circled on his calendar for some time.
MARK INGRAM:
Yes, Ingram is in a contract year with the Saints. Yes, he wants to come back this week from his broken thumb looking stronger than ever to quiet the naysayers. Yes, playing on the same field as the guy you were drafted to replace (Bush) must provide an extra jolt of urgency.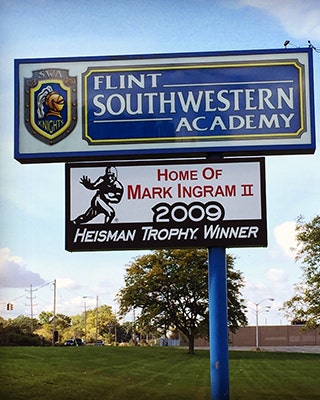 This is also as close as Ingram will get to playing a home game. His dad, Mark Ingram Sr, starred at Michigan State. Football fans around Michigan remember both father and son. Ingram Jr graduated from Southwestern Academy in Flint, just a little more than an hour's drive from Detroit. Ingram's old high school still bears his name on the sign out front. A bulletin board proudly bears the label: "Mark's Corner" and is covered in newspaper clippings about Ingram.
Ingram is ready to prove to the Saints and the NFL world that he's a durable force who can be counted on, but he'd also love to shine in person for those in Michigan. After all, Ingram was just back here last week, handing out uniforms to area schools around Flint, including Southwestern Academy. Ingram surprised the student body by appearing at the Homecoming Pep Rally with new uniforms in hand.
"I feel like these kids have been working hard and they deserve to reap the benefits of some of that," Ingram told the website MLive last week. "I'm proud to be able to be able to give back and make them a little more fresh out there. Everybody knows that's what it's all about."
In all, the Lions roster now boast seven former Saints players, coaches and staff members: Bush, Bell, Offensive Coordinator Joe Lombardi (former Saints quarterbacks coach), fullback Jed Collins, safety Isa Abdul-Quddus, Special Teams Coordinator John Bonamego (also special teams coordinator with the Saints) and athletic trainer Dean Kleinschmidt (Saints athletic training staff).