Thunder end Spurs' 19-game win streak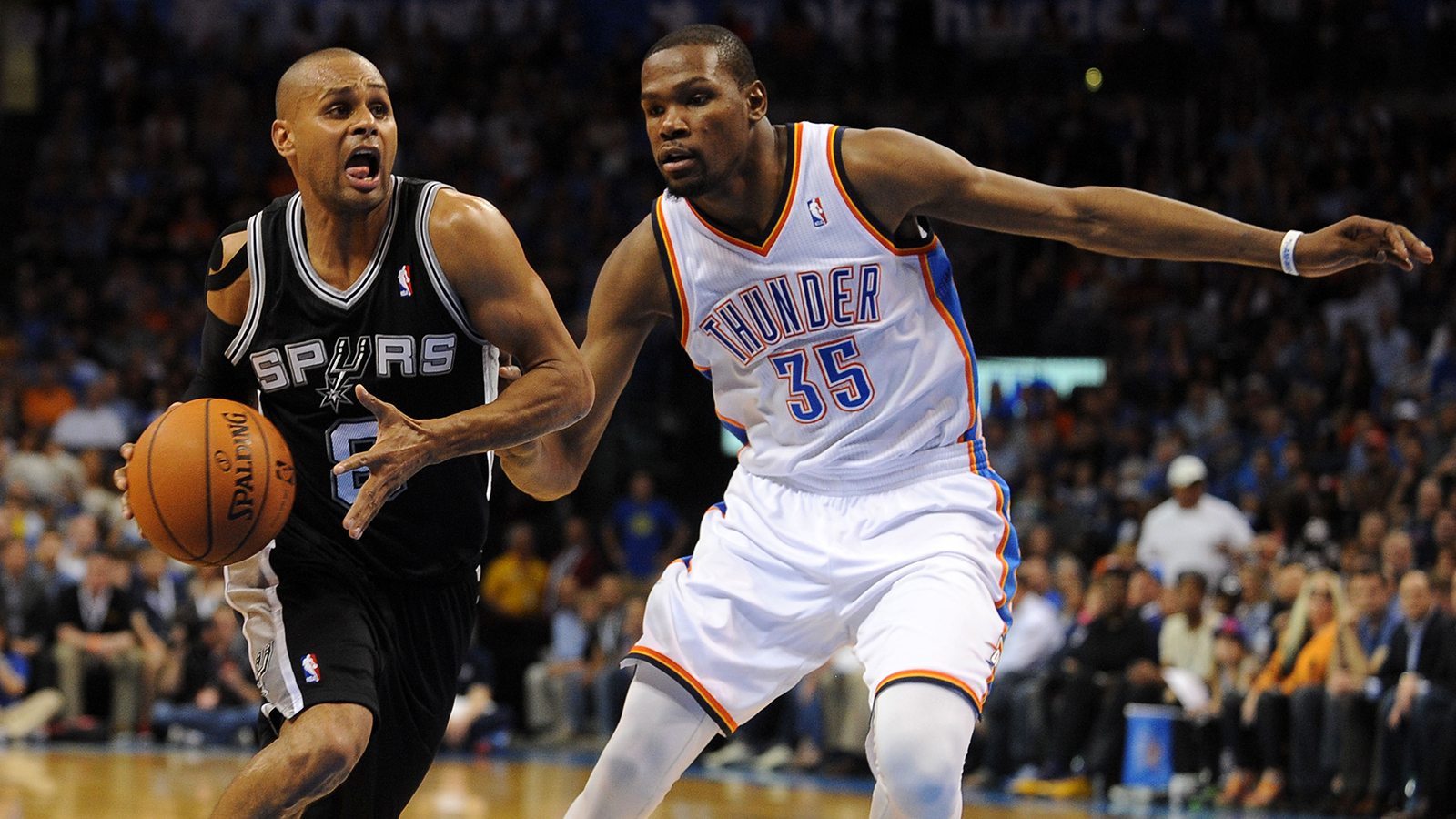 OKLAHOMA CITY – Russell Westbrook jumped higher than ever, stole the ball and dunked with so much power you had to wonder how Westbrook could have ever could have been hurt.
Kevin Durant was cheered as he surpassed the 25-point mark, making it 39 games in a row. When he got that 25th and 26th point at the free throw line, the crowd at Chesapeake Arena exploded like he made a game-winning, last-second shot.
After the game, Reggie Jackson just smiled in the lockerroom. While a mob of reporters crowded Westbrook, and then Durant, Jackson was off to the side, nearly whispering, after the Thunder's 106-94 victory Thursday night.
But Jackson was right in the middle of this win. Right in the middle of all four wins this season against the Western Conference's best team.
Right in the middle of a season where he has gone from the bench, to a starting spot, back to the bench again, lauded and criticized.
"It's just been a tough career," Jackson said, shaking off the question on whether this year has been hard on him. "But I think I'm enjoying the new me."
The "New me," was his old self against the Spurs. While Durant got the attention and Westbrook got the crowd appreciation vote, Jackson dominated again.
This time it was a six-for-eight, 14 point game where he made both of his 3-pointers, all three of his free throws, four assists and just one turnover in 30 minutes.
And this season it's been an average of 21 points per game, on 36-of-53 shooting against the Spurs, including 8-of-11 on 3-pointers.
All this coming after Jackson has sat out the past two games with a back sprain.
"We're happy we were able to come in here and get him on track again," Spurs coach Greg Popovich said of Jackson. "We're nice guys, what the hell. He's kicked our butt every time. He's got a lot of confidence against us."
That hasn't been the case with everyone else, though. Jackson has started 33 games this year, all of which have come with Westbrook out. He's shot just 42.6 percent as a starter, but been a 44.9 percent shooter off the bench, where he's looked more comfortable, sure of himself and his role.
"He's a tough cover and provides a lot of energy," Spurs guard Patty Mills said. "Just great. His ability to shoot and attack the rim, and he can find players as well. He's really tough. Strong. Long. He's a key for them."
No one on the team, other than Durant and Westbrook is as as good at creating his own shot and getting to the rim as Jackson is, but no one who plays as many minutes as the dips in confidence that Jackson has either.
So, the Spurs came in winners of 19 in a row. OK, well, the Thunder ended that win streak, just like they ended San Antonio's 11-game win streak earlier this year and the Spurs' 20-game win streak two seasons ago in the playoffs.
"I have a new-found confidence," Jackson said. "I hit a spurt where I was down on every play. I was beating myself up on every play and I was down on myself. Now, I'm just trying to enjoy the game."
Jackson who is quiet and reserved after losses and much the same after wins, even let a smile slip on Thursday.

"I don't know what it is," Jackson said of playing against the Spurs. "Maybe fate. I guess all four times I've been blessed enough to have great games. Just young, dumb and athletic. I guess we're trying to get a little smarter."
The Thunder would be most smart to leave Jackson in a first-off-the-bench role, yet when they play Friday night against Houston, Jackson will be starting and Westbrook will be sitting. Westbrook has not played in both games when OKC plays back-to-back nights. That means, another moving part and change for Jackson.
But that won't be the case during the playoffs. Teams don't play back-to-back games. Westbrook won't be limited. For that matter, neither will Jackson.
In the middle of the fourth quarter, after a timeout, Kevin Durant was sitting at the scorer's table waiting to check in. His eyes were fixed on the video board – a highlight of Jackson stealing the ball, taking it down the court and laying it up and in. Durant watched the entire highlight, nodded his head and smiled, too. Durant has been hard on Jackson, often times pointing at him on the court and being visibly upset.
Not Thursday. The Thunder beat the Spurs, made it four in a row over San Antonio and 10 times in the last 12 games. Jackson was so good – again – it was hard to imagine he ever struggled.
"Up and down," Jackson said describing his year, his carer. "From day one as a rookie. Now I'm just going out and enjoying each and every moment."
Follow Andrew Gilman on Twitter: @andrewgilmanOK