Durant studying Nowitzki's game for added success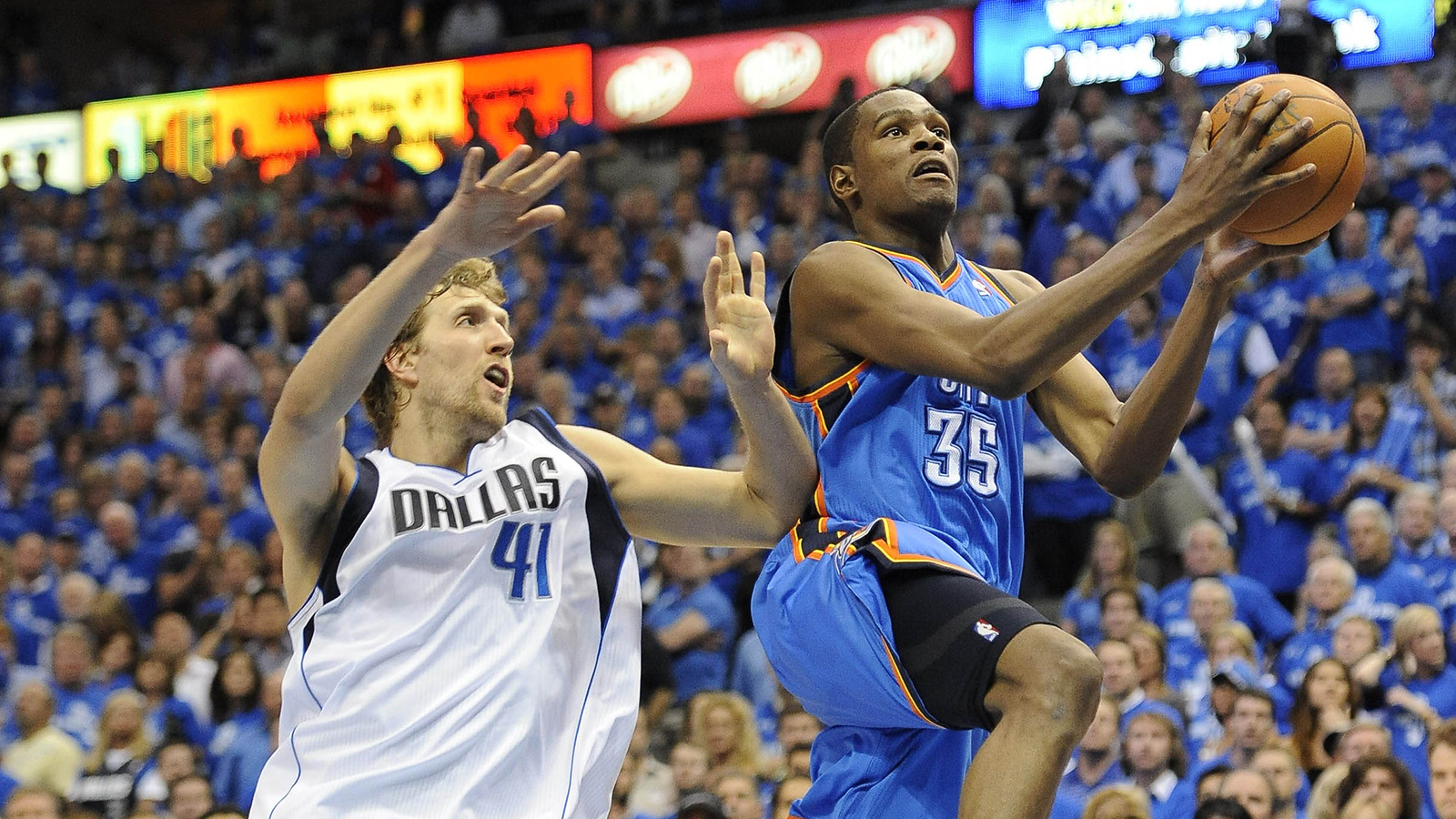 Imitation is said to be the sincerest form of flattery, so Dirk Nowitzki must feel pretty good about one of the current best in the game in Kevin Durant copying his game.
According to Marc Stein at ESPN, Durant has been privately training with Adam Harrington, who briefly played alongside Nowitzki with the Dallas Mavericks more than 10 years ago and has studied the coaching techniques of Nowitzki's longtime mentor, Holger Geschwindner. Durant says it isn't just Nowitzki's signature one-legged shot he's attempting to mimic; it is his overall game as one of the few seven-footers in the league that is able to use his size to gain a scoring advantage.
"It's a lot more than just trying to copy the one-legger," Durant told Stein. "Dirk's got a lot of moves I'm trying to steal."
Nowitzki, of course, is certainly among the elite himself in the NBA as a 16-year veteran who has won a league MVP in 2007 and a Finals MVP when the Mavericks won the title in 2011.
Despite often facing off against one another on the court and potentially meeting once again in the first round of the playoffs, Durant considers Nowitzki one of his favorite current players.
"It's probably a tie between him and Kobe," Durant said.
While Durant said he doesn't know Nowitzki on a personal level, that hasn't stopped him from admiring his work.
"I don't know him so well, but I've always like the way he goes about his business," Durant said. "And I've learned a lot from him by just studying the techniques."
As the regular season wraps up, Durant seems be the favorite to win his first league MVP while becoming the just the fourth player in history –€" the first since Michael Jordan 25 years ago –€" to average at least 32 points, seven rebounds and five assists for an entire season, thanks, in part anyways, to Nowitzki.
Follow Shawn Ramsey on Twitter: @ShawnPRamsey