Durant scores career-high 54, Thunder beat Warriors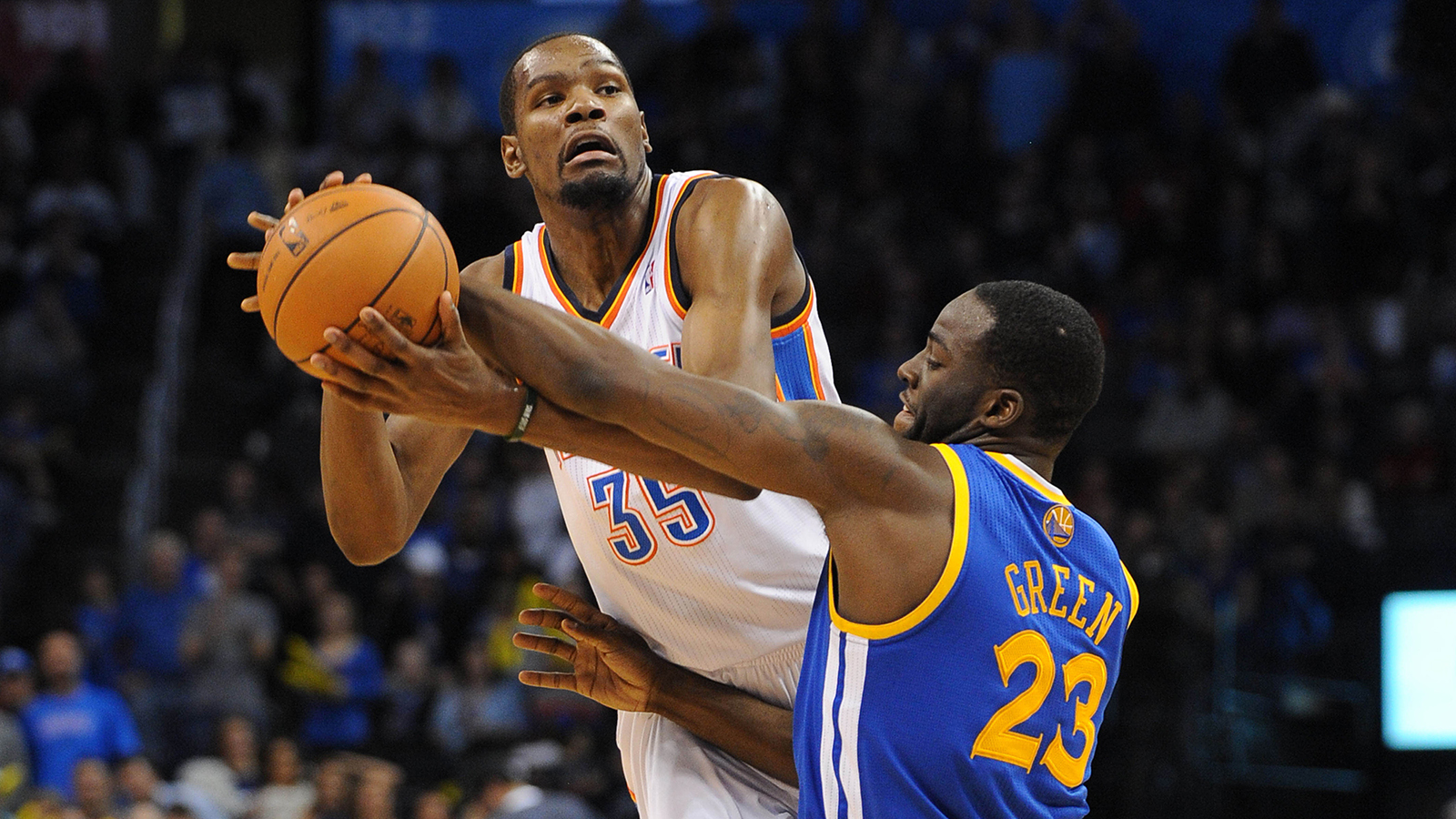 OKLAHOMA CITY — Somewhere not too long ago, and it's not that hard to remember, when the Thunder were struggling against Milwaukee and losing three road games in a row, they went from the best team in the NBA to a "Whatever Happened To" kinda story.
That fast.
Like less-than-a-week-kind-of-fast. Russell Westbrook went out with an injury but it was the rest of the team that was limping around in losses to Utah and Denver and Memphis that sent the team to a 5-5 record since Christmas Day.
But as quickly as everything looked like it had come undone, the Thunder needed just a day to do some serious fixing.
That's what Kevin Durant can do for a team, a crowd, a coach and the general sour temperament surrounding what was the best team in the NBA.
"Everyone is just following him now," said newly acquired guard and longtime friend Royal Ivey.
Here's why:
Durant scored a career-high 54 points Friday night in the 127-121 win over Golden State. He did it one game after the Thunder rallied past Houston with their most-inspired play of the season, allowing 73 first-half points, but only 19 in the second half in a road win.
What looked to be gone and lost with the Westbrook injury was made good again in the last 24-plus hours, and a lot of it is because Durant is playing the best basketball of his career in a spot that's got to be the most difficult.
"Some nights I have to put it up, I have to score," he said Friday after going 19-of-28 from the floor and 11-of-13 from the free throw line. "Some nights I have to do other things. Tonight my teammates found me and I hit a few shots. I just try to do the best I can. It's far from just me."
Durant now has a six-game streak of 30 or more points. Remember, Westbrook has been out for 10 games in a row, leaving the team to Durant and Durant alone. Other teams know it. Durant knows it. His own teammates know it, too. While there have been performances worthy of documentation from the rest of the team, it's more than clear that if Durant doesn't do it, it just doesn't get done.
"Just seeing the ball go through the rim got me going," Durant said of Friday's performance. "I look at the bench and that gave me a push and then I look at the fans."
And the fans, for the first time this season, picked up on what could be Durant's first MVP year. The lone fan who has been chanting "MVP, MVP" during the last few home games got some help Friday. The cheers started slowly in the third quarter and then by the end of the game as Durant neared, then tied, then passed his previous high of 52 points, the chants were loud and clear enough he noticed what we have been seeing all along.
"It's kind of hard not to hear," he said. "It's premature. It's still early in the season. I try not to think about that kind of stuff. As a player you'd love to win the MVP award. I can't think about that. I can't take my focus off the team."
He's got it backward, though. The team can't take the focus off of Durant. From now until forever, that's the case. The more Durant, in more situations, the better the Thunder will be. And that goes for when Westbrook comes back, too. Westbrook can score and distribute and take over the league, but it's Durant who will ultimately decide how this team performs.
"They do a great job of putting him in a position where he doesn't have to overextend himself," Golden State's Andre Iguodala said. "Reggie Jackson has done a great job. Their bigs set picks for him. Serge (Ibaka) hit a few shots. That opened it up for KD as well. They let him play to his strength. That's why they are one of the top teams in the league."
The Thunder are 30-10 on the season, but 2-0 in the last two days. Everyone can just exhale now.
"It's two different nights, of course," Durant said. "But momentum is key in this league. You get a good win like last night and you feel good about yourself today. Guys just came out and played hard from the beginning."
So did Durant. He didn't wait. Durant had 15 points on seven-of-eight shooting in the first quarter and had 29 at halftime on 11-of-14 shooting. Ten more points in the third quarter led the way to 15 more in the fourth.
"You can play great defense and he can have numbers," Golden State coach Mark Jackson said. "He hit some incredible shots. Some tough shots. Give him credit."
And like Durant said, some nights he has to put it up.
The more the better.
Follow Andrew Gilman on Twitter: @andrewgilmanOK