Durant's big night helps Thunder beat Pistons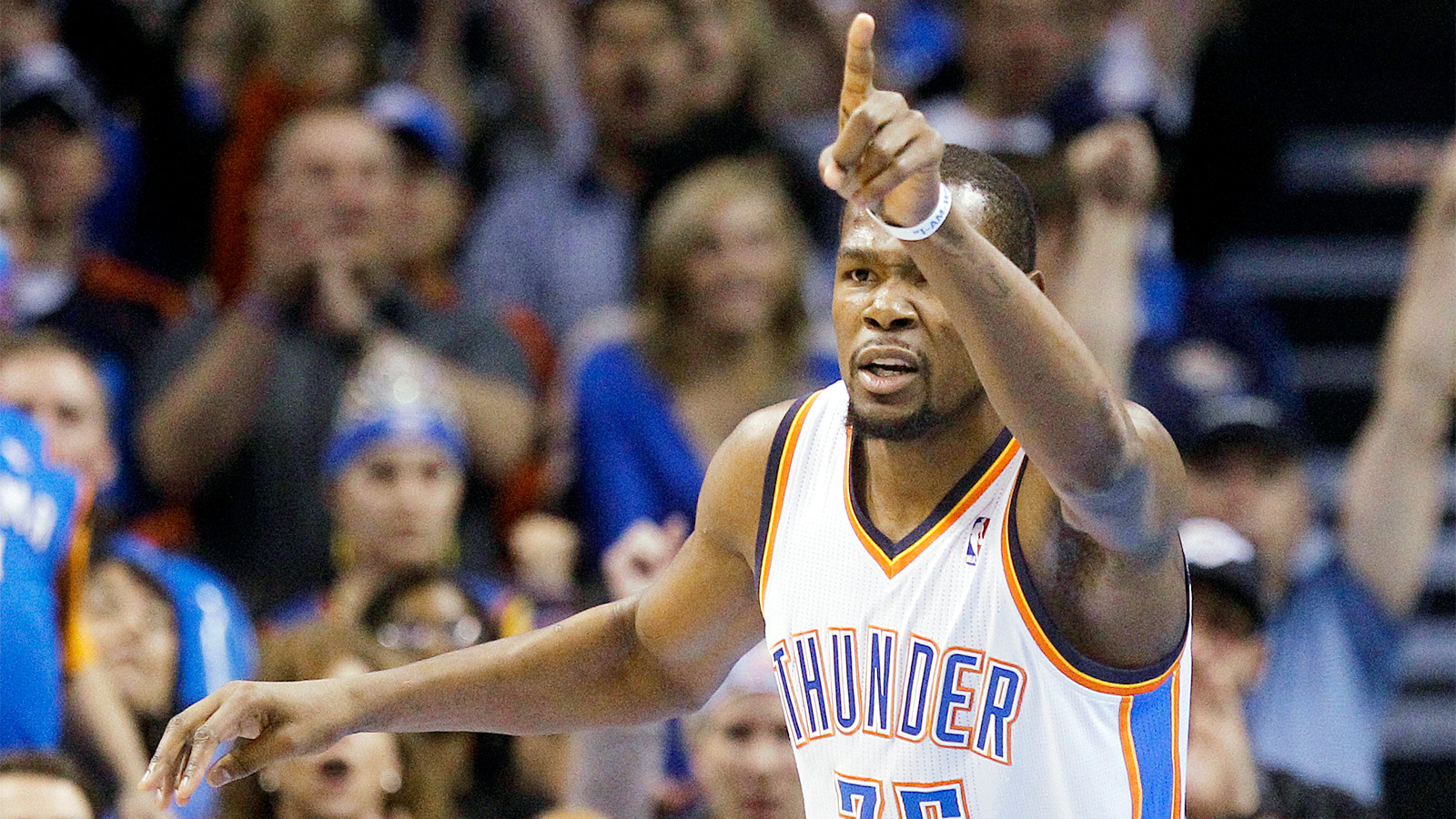 OKLAHOMA CITY – Let us worry not about how the Thunder might fare in the first round of the playoffs, whether they deserve the No. 2 seed or are playing inspired or apathetic.
For now, we should all just enjoy this last day of the regular season win over the mighty, mighty Detroit Pistons.
Bring on the playoffs, right? More like, bring on the mystery.
Wednesday, Oklahoma City beat Detroit 112-111, getting the winning basket on a dunk from Kevin Durant with 16.5 seconds left and then surviving when Brandon Jennings missed a prayer 30-footer at the buzzer.
The result means the No. 2 seed in the Western Conference is all Oklahoma City's. The Thunder will play at 8:30 p.m. Saturday against the Grizzlies in Oklahoma City in Game 1 of the playoffs.
And Wednesday's result also made clear what we've known since the All-Star break: Oklahoma City is dangerous and damaged. Flawed and fabulous, often times in the very same game. That was the case Wednesday against lowly Detroit, which finished the season 29-53 and came into the game without a road win over a team better than .500 since mid January.
Yet, it was the Thunder that played like it was looking forward to ping-pong balls not the playoffs, an attitude of indifference that has hung over the team for the better part of two weeks.
"We're playing good enough," Russell Westbrook said. "New season now. Sixteen wins. That's all that matters."
Who really knows what "good enough" is. Good enough was barely enough to beat Detroit.
Is "good enough" like when the Thunder went 8-7 in April of 2012 and went on to the NBA Finals, or is it a 5-4 record this April where the Thunder were dazzling and dreary? Winning at the Clippers then losing at New Orleans?
All season, coach Scott Brooks has said he wants his team to be healthy and playing its best basketball heading into the playoffs. Well, the Thunder are as healthy as they've been. Westbrook will no longer be limited by minutes, Thabo Sefolosha has returned from injury as has Kendrick Perkins.
But believing the Thunder are playing their best basketball is hard to fathom, wrap your mind around, accept or even buy.
So, does it even matter who the Thunder play in the first round or if they have home-court advantage? Are they going to be the one that couldn't beat a New Orleans team that was playing for nothing, or the team that allowed Detroit to shot 50.6 percent, giving up 30 points to Kentavious Caldwell-Pope, whose career high coming in was 18 points?
Or maybe the Thunder will be the kind of team that outscored Detroit 33-24 in the fourth quarter, closing the game on a 6-1 run in the final 2:07 and making all the plays, including forcing a turnover with 18.9 seconds to go before Durant's game-winning drive and dunk. As good as the Thunder were in the last moments, they were on the way to shooting 23 3-pointers, making only five an getting dominated by Greg Monroe and Andre Drummond, who combined to score 44 points.
Monroe and Drummond are fine players. They aren't Zach Randolph and Marc Gasol and the Pistons are not the Grizzlies. Good enough against Detroit is good enough to be bounced out of the playoffs against Memphis.
"We're playing good basketball," Brooks said. "Winning in this league isn't easy. We've had a good year. We went through some adjustments and we got through them. We're healthy. Our guys stepped up and figured it out. Give them credit."
Yes, the Thunder have won 59 games this year, often times looking like a championship team. Yes, they have the soon-to-be MVP in Durant, but what they don't have is any urgency heading into the playoffs.
Instead of getting to rest Durant and Westbrook in this final game of the regular season, the Thunder leaned on them. Winning at New Orleans would have made things easy, instead Wednesday, Durant played 45 minutes, shot it 30 times and finished with 42 points. He started the fourth quarter. Durant almost never starts the fourth quarter. Westbrook played 34 minutes. He made just 5-of-15 shots.
"A lot of good things took place," Brooks said about the season."Good improvement and growth. Everyone pitched in and gave us a chance With that being said, I'm not thrilled with the way we played tonight, but we made winning plays down the stretch."
A lot of good with the bad.
That's what you get with the Thunder these days.
Follow Andrew Gilman on Twitter: @andrewgilmanOK