Durant: Fisher would 'do a great job' as Knicks coach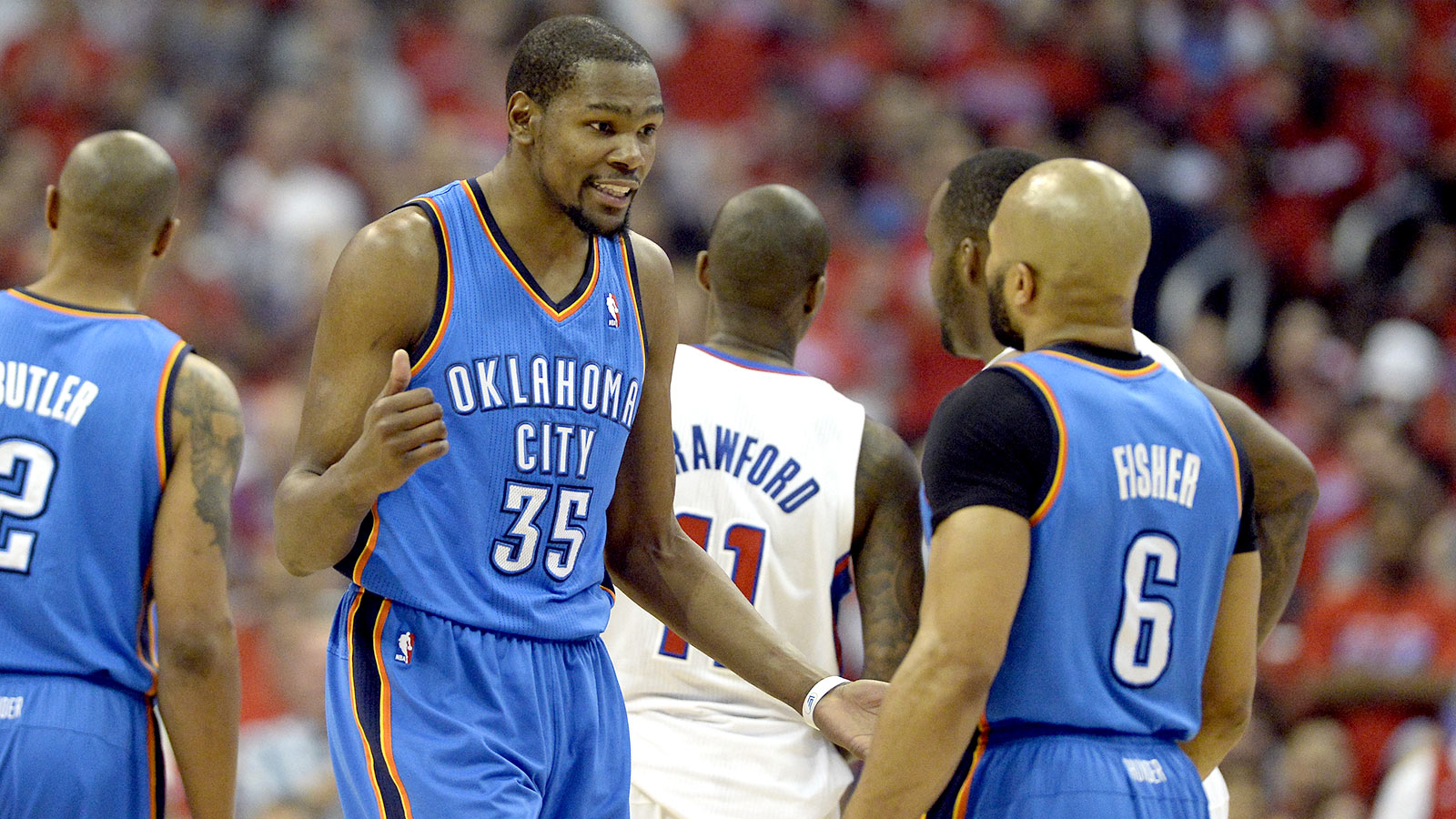 The New York Knicks are reportedly interested in making Oklahoma City Thunder veteran Derek Fisher the team's new head coach next season, and Kevin Durant believes he has the ability to be great in the position.
"Without a doubt. He's a smart guy, smart mind," Durant told the New York Post. "He's a great motivator, great speaker and can really relate to a lot of guys and demands that respect from everybody. He's a great locker-room guy. I'm sure he'll do a great job."
Steve Kerr reportedly spurned the Knicks, instead signing with the Golden State Warriors last week, but team president Phil Jackson could benefit more from a recruiting aspect if Fisher does indeed become New York's new head coach. With such a big endorsement from Durant, the Knicks could become favorites to land the Thunder star when he becomes a free agent in 2016, if Fisher is already in place.
Fisher stated during training camp that this season would be his last, and the veteran reiterated his feelings, despite leaving the window open he could play another year.
"That's how I felt in training camp," Fisher said. "I didn't sign a contract [to retire] and etch it in stone. But that's how I feel. That's still how I feel. My mind hasn't really changed."
Along with Durant's comments, Thunder teammate Nick Collison also believes Fisher was born to coach one day.
"I'm sure he's thinking about it in the back of his mind, but he's great for us on the court and off the court," Collison said. "If that's the field he chooses, I think he'll be great. He's unique, one of a kind. The only guy I ever played with who can address the team in a way as a leader. He's able to address the team moreso than anybody I played with and he backs it up on the court, too."
If Fisher does indeed become next Knicks head coach, he would be the second prominent NBA player in two offseasons to immediately land a head-coaching job after retiring, with Jason Kidd doing the same prior to the 2013-14 season to become the coach of the Brooklyn Nets.
Follow Shawn Ramsey on Twitter: @ShawnPRamsey