Does Cowboys RB Murray excel against 4-3 defenses?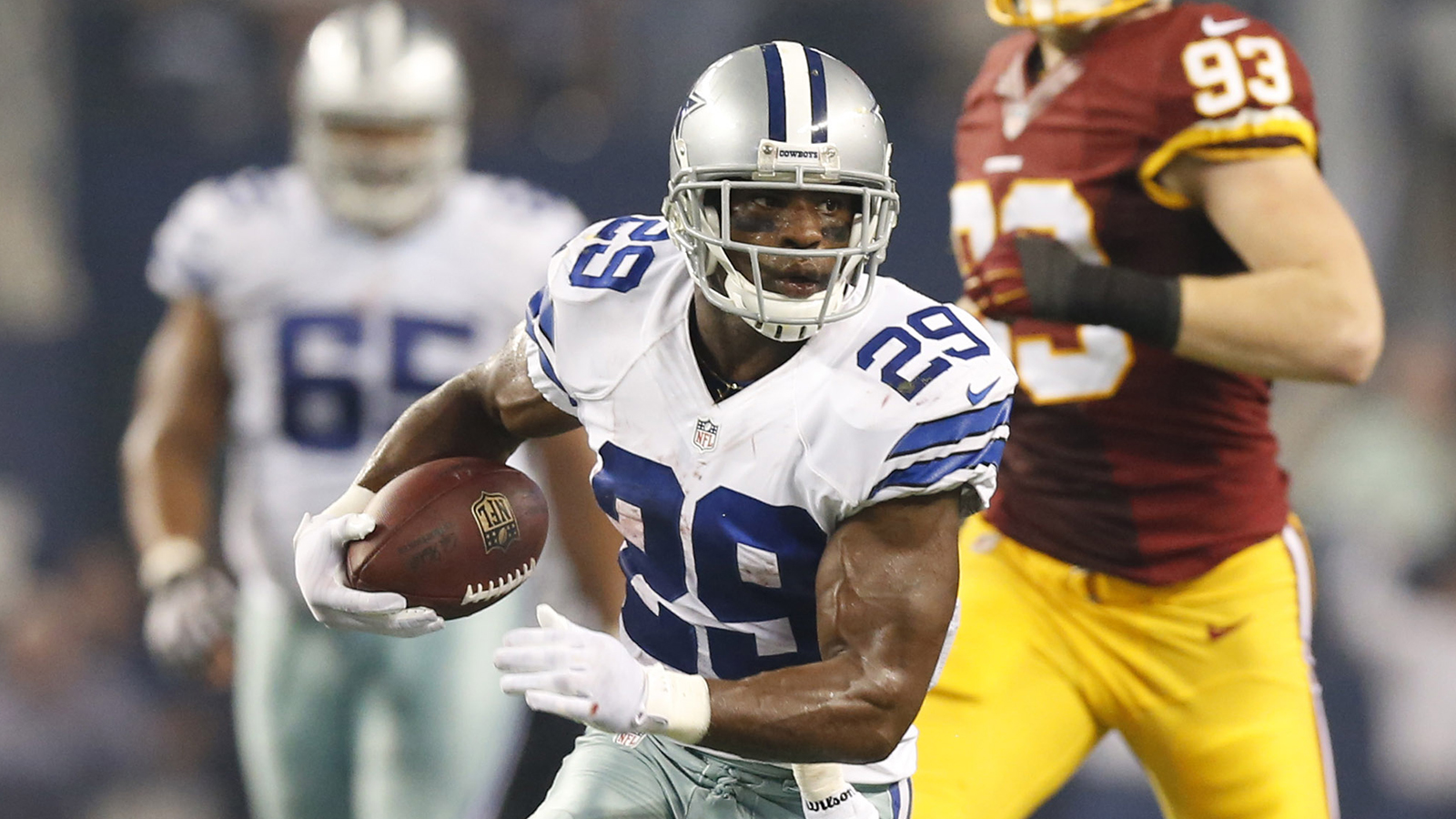 LONDON — As the Dallas Cowboys gear up to face the Jacksonville Jaguars Sunday in Wembley Stadium, a stat that jumps off the stat sheet is how well Dallas running back DeMarco Murray has fared against 4-3 fronts, the type Jacksonville has employed since its inaugural season in 1995.
In the 22 games Murray has started against 4-3 fronts, Murray has 5.19 yards per carry. Nine out of Murray's 15 100-yard games came against 4-3 defenses, and even Murray's career-high, franchise record of 253 yards came against a 4-3.
"I don't really have an answer for that," said Murray. "You can probably answer that better than I can."
Passing game coordinator, and this year's play-caller, Scott Linehan states Murray has had success against 3-4 defenses. Week 2 against Tennessee, when Murray rushed for a season-high 167 yards, comes to mind.
Even center Travis Frederick thinks Murray's 5.18 yards per carry is more of a coincidence and not something schematic.
"I think it really just depends on the defense," said Frederick. "And the defense we've had the most success just happen to be 4-3. But we've also had success against 3-4 defenses."
However, Murray's career yards per carry against 3-4 fronts is 4.10, a 1.18-yard decrease. Out of his 22 career rushing touchdowns, only nine of them have occurred against 3-4 defenses. And until 2014, Murray only scored five touchdowns in three seasons against 3-4's.
Guard Mackenzy Bernadeau, who has started 28 games for the Cowboys since 2012, says Murray's success against 4-3 fronts is a mix of a various elements.
FOX SPORTS
DAILY
COWBOYS

EDITION
"Can't really pinpoint it on one thing. Sometimes we get better looks when we play a 4-3. And also sometimes we play better as a team. It's a mix of a lot of things.
"I didn't even know he had [5.18 yards] average against that defense."
Head coach Jason Garrett believes the blocking up front, starting with the offensive line and trickling through the tight ends, receivers, and fullback, are responsible for Murray's success against 4-3's.
"We have a good scheme," Garrett said. "And I think we believe in the running game. A lot of things contribute to it.
"He's a good football player. He's played very well up to this point this year. It's very much of a collective effort."
Jacksonville employs a 4-3, and they surrender 123.4 yards per game. Their yards per carry as a defense is 4.2, ranking 19th in the league. With the Cowboys also potentially getting their starting guard, Ron Leary, and starting right tackle, Doug Free, back on Sunday, the moment could be ripe for Murray to flourish yet again against a 4-3 defense.