Dirk thinks Spurs' win is great news for Mavs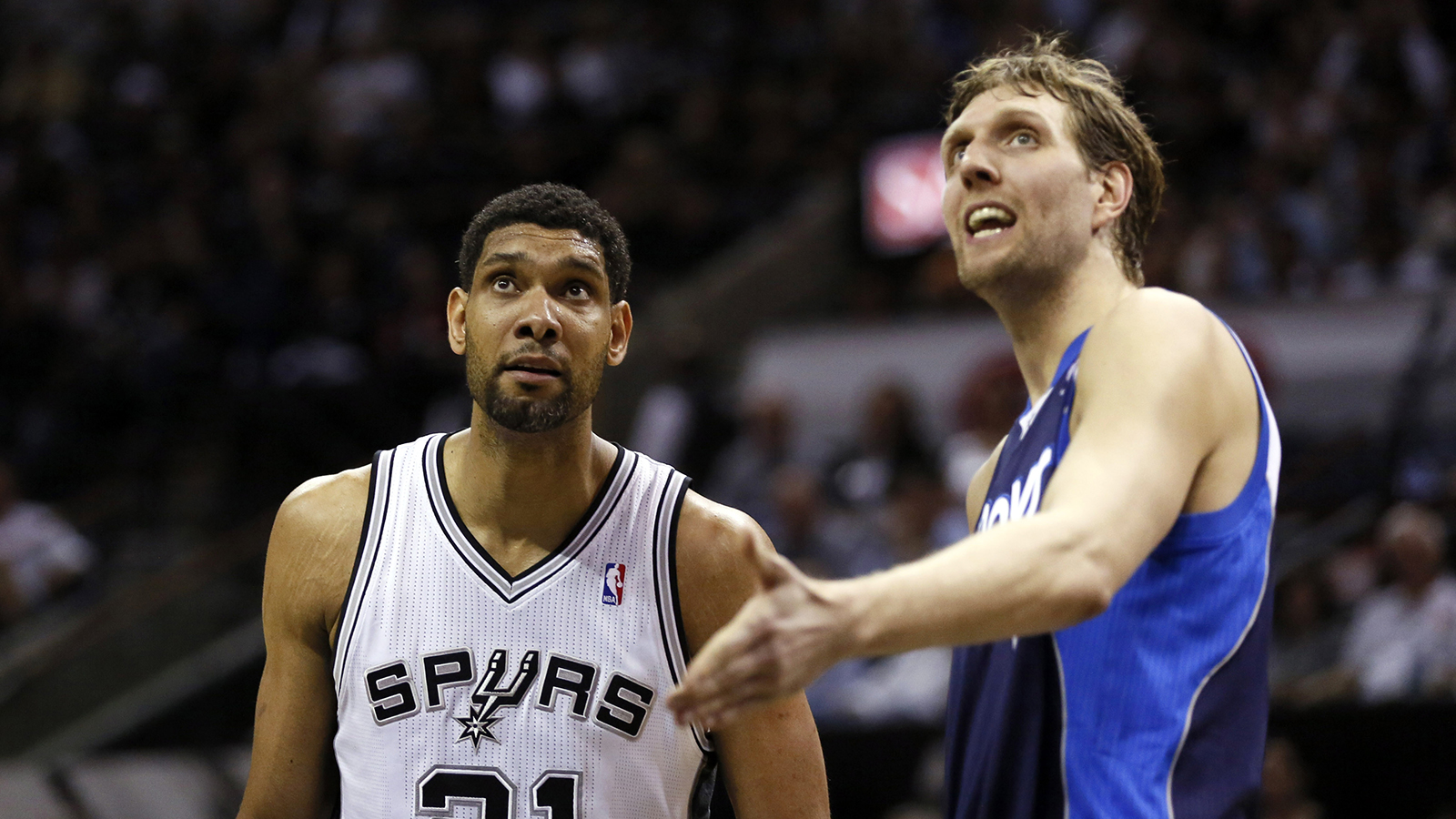 If only the Miami Heat could've played more like the Dallas Mavericks in the NBA Finals. That sounds like a bit of a reach … until you go back and look at what just happened.
The San Antonio Spurs were pushed to the brink by the No. 8-seeded Mavs. They weren't focused early in the series and they had to hold onto dear life before finally destroying the Mavs in Game 7 in San Antonio. Watching how the Spurs ran over everyone except Dallas has given our local team a shot of confidence. Dirk Nowitzki, perhaps the least aggressive free agent in NBA history, talked about his team's role in perhaps fueling a title run for the Spurs when he joined us on 103.3 FM ESPN's "The Afternoon Show with Cowlishaw and Mosley" on Tuesday.
"Maybe we'll take some of the credit that we got them hot," Nowitzki said of the Spurs. "We got them playing well. It was a good series, but Game 7 was a little disappointing."
Nowitzki was in no mood to dwell on the positives in the aftermath of Game 7, but it's obvious he's had time to gain a little perspective on what took place. I know first-hand how disgusted he'd been the two previous seasons by the Mavs' failed attempts to land the so-called big fish. Even before that 2012 series against Oklahoma City was officially over, Dirk told me that if the Mavs didn't land a star in free agency, it was obvious they should've found a way to keep more of the title team together. But after playing a full season without any significant time lost to injury, Nowitzki has sounds a lot more hopeful.
"I think we feel that we're not that far off," he said. "I feel like that with Jose [Calderon] and [Monta] Ellis, who had a phenomenal year for us, they really stabilized our backcourt. Moving away from the year where we had eight one-year deals, we moved away from that and brought some stability in. Those guys were great running the show for us.
"You can always get better. No argument there. It's a big summer again for us, but I really like the stuff that we did."
The tone of Nowitzki's interview was nearly as important as his words. This is not a man given to pumping sunshine in the offseason. Mark Cuban's unbridled optimism has never really rubbed off on Nowitzki. That's why I think his message is pretty remarkable. The 36-year-old (as of Thursday) believes the Mavs might have the nucleus to accomplish something meaningful in the near future. Of course, the problem is that teams such as the Spurs, Thunder and Clippers aren't going anywhere. The Mavs may have been one of the most improved teams in the league in 2013-14 … and it didn't really matter in the standings.
Nowitzki also admitted to learning some important lessons after winning the title in 2011. He relaxed in his offseason training, and eventually paid the price with both his conditioning and balky knees. He is emboldened by the fact that what he did last offseason paid off in a big way.
"I learned pretty much the hard way that after we won the championship that when you're older that you can't do anything for a month or two months and then just start up, because then it takes you a good two or three months to fully get back to 100 percent in shape," Nowitzki said. "I learned that the hard way.
"Now, what I do is go in about three or four times a week, just get a little workout in, cardio in, some lifting in. I haven't shot the ball since Game 7. You just have to keep a certain level of fitness in so by the time I do start working out with [Holger Geschwindner] in Germany, probably July or August, that the entry won't be hard at all."
As always, Nowitzki will also rely on Geschwinder to negotiate his next deal with the Mavs. This is one big fish that Cuban knows how to reel in when he hits free agency. Nowitzki's not the only player in the league who doesn't care to test the free-agency waters (see San Antonio), but it's still remarkable to hear his explanation.
"We all know that Cuban took care of me for a long time. He was loyal to me," Nowitzki said. "This deal is not going to be about squeezing out the last dollar. This is about being respected as a player that I still am, and that's about it. There's nothing more that we're trying to squeeze out. We'll just have to wait and see what the years and the final number are. I'm sure it'll be very respectable for both sides."
That's the sort of statement that would give any agent nightmares. Nowitzki has made a fortune in this league, and he's been worth every penny. This isn't some sort of charitable act; it's an act of gratitude that is mostly missing in our culture.
I also loved Nowitzki's response when I asked him about the prospect of Carmelo Anthony joining the Mavs via free agency. He was honest as ever.
"I was actually surprised that the Mavericks are one of [the teams he'd consider]," Nowitzki said. "I think if a great player is looking to switch organizations, you've got to have all eyes and ears open. We're always looking to get better. You've obviously got to take a hard look at a great player who is, offensively, a top three or four player in this league. He can score with the best of them.
"If that's really an option for him, the Mavericks definitely have to take a hard look and see if that's something that makes sense."
And in that one statement you see so much of what makes Nowitzki a unique superstar. He doesn't seem to have any clue why a prolific scorer such as Anthony might want to join up with the best foreign-born NBA player ever.
Nowitzki got over himself years ago. And the Mavs continue to benefit from his approach.