Dez Vs. DeMarco? No, that's not Cowboys' plan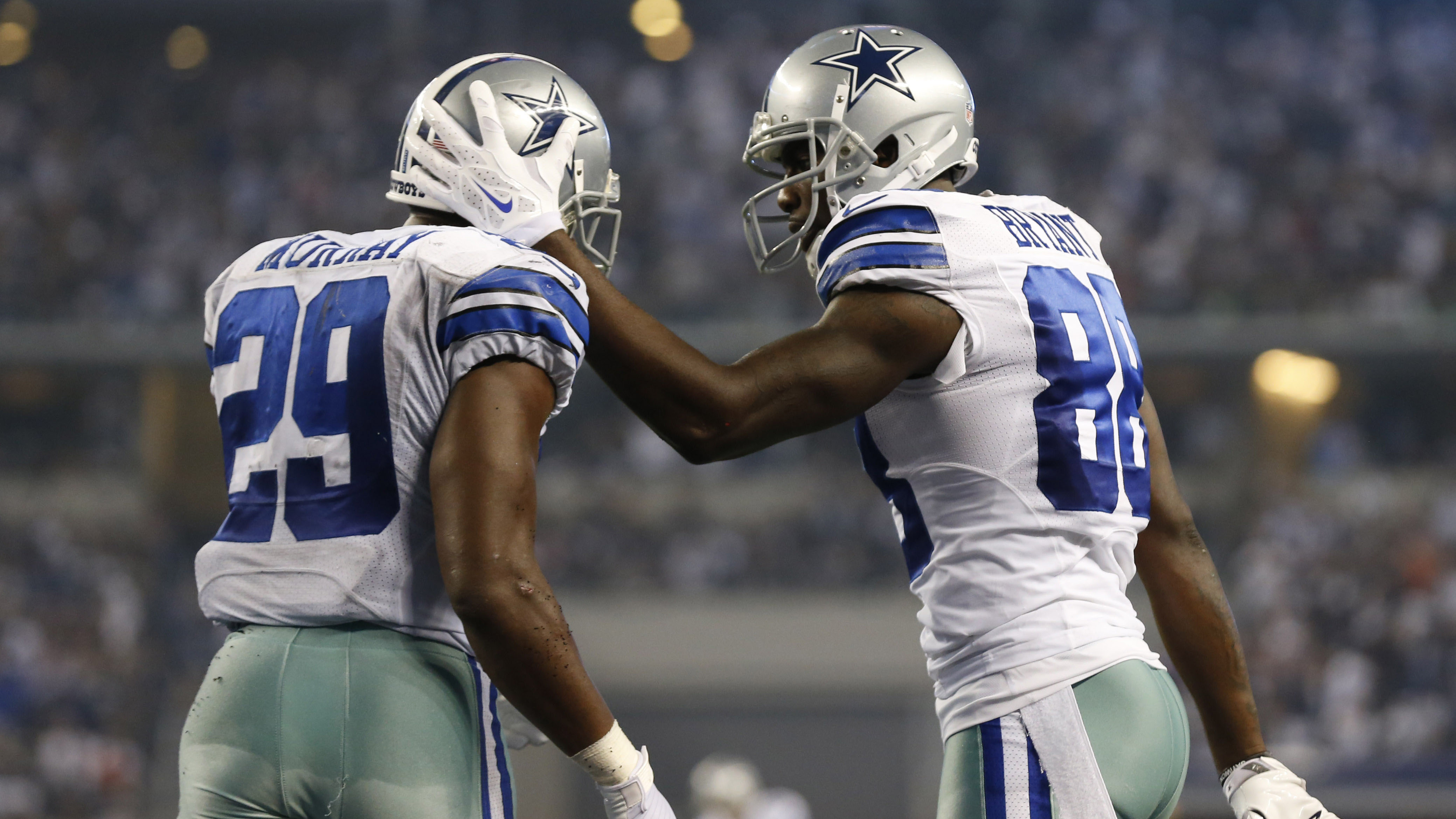 IRVING, Texas — The question was posed to Cowboys owner Jerry Jones in a way that created a logical fallacy, a "loaded question":
"Can the Cowboys sign both Dez and DeMarco?" Jerry was asked.
"Let me put it like this: It's going to be a challenge," Jones said of re-upping both of Dallas' biggest-name free agents. "But is it — you use the word `financially reasonable?' No. Is it possible? Yes."
Somehow, the question and the answer has crystallized into the perception that Dallas faces an either/or problem here.
But it's not either/or.
If you understand the finances and if you understand the Cowboys' desire to maintain its talent base while maintaining finance responsibility and financial flexibility … you understand what is about to happen here.
This isn't "Dez vs. DeMarco." There are 53-plus puzzle pieces to fit into a 2015 salary cap (expected to be around $145 mil) but Dez and DeMarco are two separate entities. It's a logical fallacy to think they are pitted against each other, or that it's either/or, or that it's black-and-white.
The Cowboys can absolutely afford both players. Not only that, they could "afford" to make both Bryant and Murray the highest-paid players at their positions. CowboysHQ.com performed a financial exercise that shows Dallas could carve out $49 million of room.
But "could" isn't "will." And "can" isn't "should." And one more thing: The plan — which features the retention of Dez with an eventually "Cowboy For Life" deal and also features some acceptance that Murray's desire for a market-value contract figures to see him in another uniform next year — isn't a "vote" for one and an "indictment" of the other.
Coach Jason Garrett raves about both. Wishes both to be back. Says in general, "We want to do everything we can to keep this group together, help this group get better and take that next step."
But Dallas' ballpark for Murray's salary fit is in the $4-mil-a-year range and that's half what (in some previous years, anyway) someone else might bid. So DeMarco will hit the market, a market that a few years ago might've paid him $8 million annual. … and still might. Or, maybe the market will be dry and Dallas will get lucky.
FOX SPORTS
DAILY
COWBOYS

EDITION
But the Cowboys aren't planning on that.
They are planning on Bryant, though. Dallas can use the franchise tag at about $12 mil to lock Dez in (an idea neither side loves) and then begin to negotiate a long-term deal with Bryant. That is the "financially reasonable" thing to do, and it, along with not overspending on DeMarco, follows the path of a watershed moment in Cowboys front-office history when last year Jones reluctantly parted ways with all-time great DeMarcus Ware.
Historically, Jerry "gets what he wants" by spending for it. Increasingly, he and the franchise get what they want and need by saving on it.
"You remember when that cap makes you 'poor' and you wake up and have those days when you don't have the money and don't have the flexibility," Jones said reflectively. "That dream was out the window, and there you were paying the bills on it."
That's a smarter way for Jerry to explain what is about to happen with Dez and DeMarco than allowing him to step into this logical-fallacy quicksand. The good news is that while what Jerry is saying isn't always clear, there is clarity in what the Cowboys are planning to do.
MORE FROM FOX SPORTS SOUTHWEST:
– Highest paid coaches in college football
– Ranking NFL quarterback salaries
– Oldest player on every NBA team