Here's why Mark Cuban's apology to the Rockets matters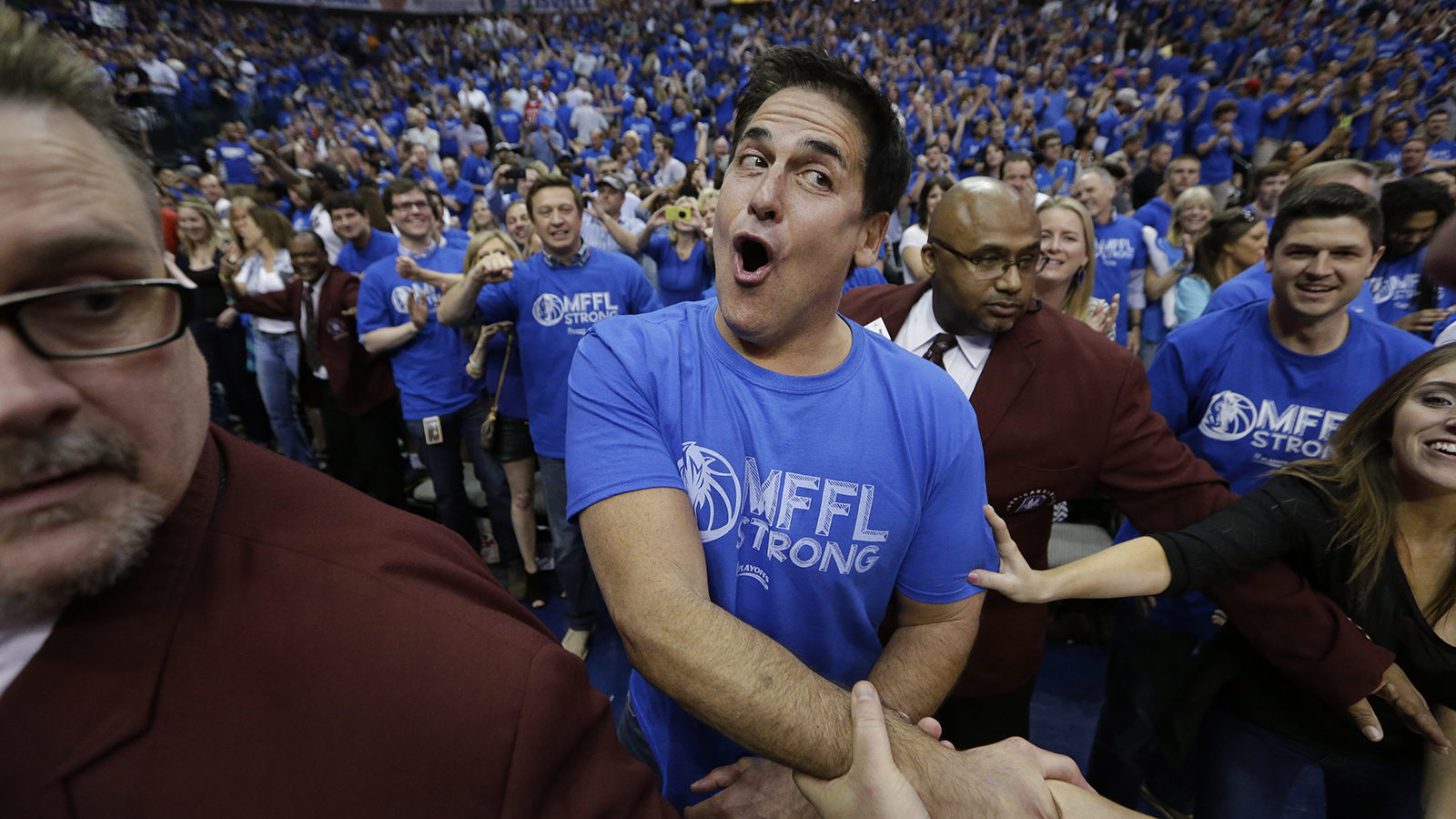 'Gotta admit,' Mark Cuban tweeted Sunday in the wake of the Rockets' stunning Game 7 win over the Clippers and advancement to the Western Conference Finals. 'I was wrong.'
The Mavs owner is not alone. Houston, we have an apology.
Maybe it is ill-advised. Certainly it is unorthodox. It is one thing for, say, FOX Sports Southwest to forecast an NBA playoff series by breaking down the X's and O's and then coming to the conclusion that, say, the Dallas Mavericks caught a break by drawing the Houston Rockets in Round 1.
It's another thing for the owner of the aforementioned Dallas Mavericks to do so.
"There's no more predictable team than the Rockets," Cuban said before the start of that series. "You know exactly what they're gonna do. But James Harden is so good. That's what analytics have begot. Right? Predictability. If you know what the percentages are, in the playoffs, you have time to counter them. Whether you're good enough to do it is another question. Because they are very talented, and James Harden, I think, is the MVP. Because that's not a very good team over there."
As you can see, in full context, this is nothing like Cuban calling the Lakers coach a "Bucket Boy" and nothing like Cuban referring to the Spurs as being hard by "that muddy, ugly-ass River Walk" and nothing like his other jousts pointed at the Rockets, rivals with Dallas in everything from Dwight Howard to signing Chandler Parsons to even signing GM's.
Some of that stuff is what Cuban considers fun. Lots of it is carnival-barking to raise awareness and sell tickets.
But his Mavs-Rockets series analysis? That was intended to be brainiac stuff. It was real, sincere, deep … and all wrong, from the fact that Houston crushed Dallas 4-1 in that series to the fact that Houston overcame a 3-1 hole to upset the Clippers in their seven-game series to now, the all-gravy advancement to the Western Conference Finals where the Warriors await.
And so you get this Tweet on Sunday evening:
Congrats to the Rockets. Gotta admit I was wrong. A lot.of guys stepped up. Congrats @dmorey

— Mark Cuban (@mcuban) May 17, 2015
As I've reported before, Cuban and Rockets boss Daryl Morey are not only rivals but also friends; this is the post-high-school version of the President of the Math Club battling with the President of the Science Club to see which can build the better homecoming float. So the apology is real, and real cool … but really required only because of the lack of context that left Cuban's full pre-series quote dangling alone like so …
"That's not a very good team over there."
Didn't we all sink our teeth into those eight words, almost headline-porning them into a more incendiary bumper sticker than it was intended to be? We were probably wrong to do that. We were clearly wrong to characterize the Rockets as "predictable" in the sense that all they do is shoot free throws and threes and that they are therefore stoppable. We were wrong to think Jet was too old, the bench too thin, Dwight too psychological fragile … heck, we were even wrong to characterize the Rockets as "only Harden," as Houston established in its tipping-point Game 6 win when it forged an incredible late-game comeback at L.A. while its MVP candidate sat the bench playing bearded cheerleader.
The Mavs-related fallout from this series is substantial. Houston might not go onto to handle the Warriors; they couldn't beat them in the regular season, and Golden State, besides all that firepower on offense, has the No. 1 defensive ranking during the season and in the playoffs and is holding postseason foes to below 30 percent on 3-pointers (taking away a Rockets bread-and-butter in a way Dallas did not). Nevertheless, the Mavs have every reason to believe they are outside the glass looking in, and up, at the Rockets. And the Warriors. And the Spurs. And the Grizzlies. And the Clippers. And here comes OKC and New Orleans and Portland and on and on we go in the impossibly tough West, where the best thing that could happen for Dallas is a free-agency flee that reduces the weaponry of some of those clubs.
Hope LaMarcus Aldridge is unhappy enough in Portland to consider returning to DFW to relax by the swimming pool he just built here for his mom. Hope Marc Gasol is desirous of a change of scenery from Memphis (and pray that he doesn't love the ugly-ass River scenery). Hope Texas native DeAndre Jordan is so bothered by the Clippers' disintegration that he wishes to come home, where his girlfriend shares his Lone Star ties and where he demonstrates his allegiance by being a Dez Bryant fan. (And sure, we want his sister as involved as need be.)
@JordanMFFL @fishsports not sure. All I actually know is her sister told me DJ said he always wanted to play for the mavs. And still does.

— MFFLZach (@ZMONEYMFFL) May 17, 2015
And yes, Mark Cuban, when you are done apologizing, I implore you to add the insanely passionate Bryant to your DeAndre Recruitment Team.
"There will be a lot of activity this summer, a lot of opportunity to get the team better," Mavs coach Rick Carlisle said. "We'll take a little time to catch our breath, and then we'll be real aggressive."
"Aggression" is now as necessary as ever in order to catch up. Of course, it'll take an admission that there is catching up to do, rather than any self-delusion that the Mavs (a 50-win team, admittedly) are "close enough." But before the aggression, an admission, a concession.
Houston, We Have An Apology.
MORE FROM FOX SPORTS SOUTHWEST:
– PHOTOS: Cowboys Cheerleaders Auditions
– Ranking NFL quarterback salaries
– Oldest player on every NBA team