Romo and Rodgers share respect, but only one has a ring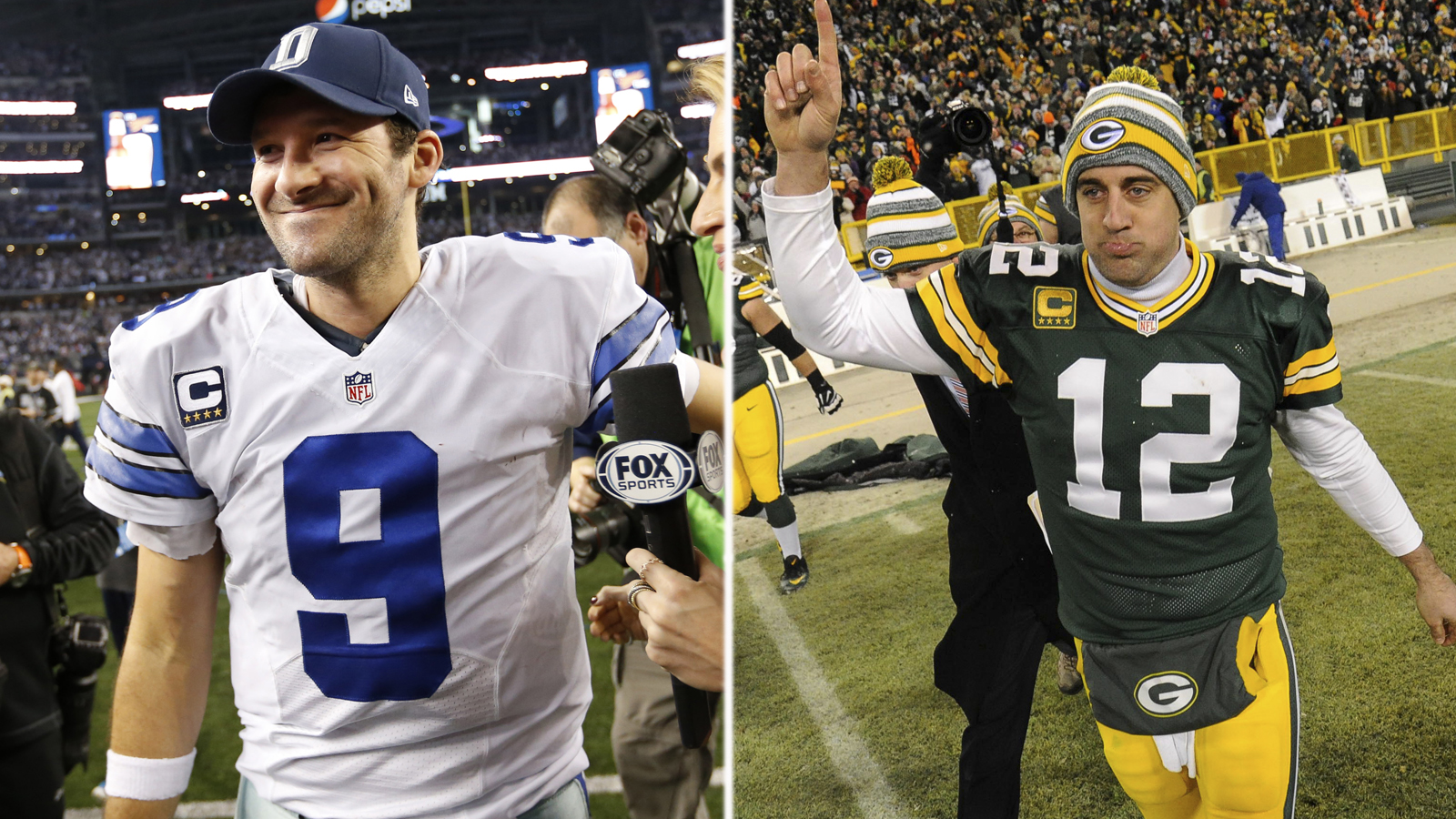 IRVING, Texas –€" This week, Cowboys quarterback Tony Romo and Packers quarterback Aaron Rodgers have expressed mutual admiration. But make no mistake, it's Romo who looks up to Rodgers.
That's because Rodgers has the one thing Romo lacks: a Super Bowl ring.
Rodgers got his ring in his third season as a full-time starter. Romo is in his 11th season and just won his second playoff game.
When they meet in Sunday's Divisional Playoff, Rodgers is the biggest thing standing between Romo and a first-ever appearance in the NFC Championship.
"He's as good a player as we have in the National Football League," Romo said. "I think he's shown that time and time again."
You wonder if there's a tinge of envy in Romo. It would be easy for Romo to picture himself in Rodgers' shoes. Rodgers is playing for the team Romo rooted for while growing up in Wisconsin. Rodgers won his Super Bowl in the Cowboys' Stadium.
More importantly, Rodgers' Super Bowl win gives him a force field against critics while Romo gets roasted for every mistake. This is despite the fact they have somewhat similar playing styles.
Both quarterbacks share a knack for escapability and being able to make passes on the run. Both have seen that part of their games limited this season because of injuries. For Romo, it's a bad back. For Rodgers, a nagging calf.
Yet both have done some of their best work this season in reaching this point.
"I've been watching Tony for a long time and enjoy turning the film on when we play a common opponent and watching what he does," Rodgers told Dallas media. "He does a lot of great things in the pocket. He's got great escapability. He had a phenomenal year this year with the touchdown to interception rate (34 to 9), passer rating (career-high 113.2), QBR (career-high 82.75) and stuff."
The statistic that separates Rodgers from Romo –€" really, what separates Rodgers from all other quarterbacks –€" is interceptions. But the contrast with Romo is especially stark.
Rodgers has had only two seasons with double-digit interceptions.
Romo has had only three seasons when he didn't throw double-digit interceptions –€" he threw nine picks in a season twice.
Rodgers' current streak of not throwing an interception at Lambeau Field has reached a ridiculous level. He hasn't thrown a pick at home since 2012, a record 477 consecutive passes without turning it over.
"He's been playing as well as anybody for a while," Romo said. "When he's at home, it's as high a level of football as you can play. It's not that he hasn't thrown intercetions, it's been years since he thrown an interception at home. That's an incredible statistic.
"I don't think you're going to be waiting for him to be throwing them in the game."
Has anyone ever said that about Romo? There have been times when defenses counted on Romo making a fatal error to lose the game.
No matter how well Romo plays he will carry that reputation with him until he breaks through and wins a championship. Rodgers knows what winning a ring does for quarterbacks.
"I know within the organization I felt a lot of support from the first day I was named the starter," Rodgers said. "But obviously you get a little bit more legitimacy from kind of the outside world when you win that championship."
The irony for Romo is that just as he seems to have figured things out –€" cutting down interceptions while still pulling out victories –€" his body is beginning to break down. Who knows how long Romo can play with his creaky back?
This may be Romo's best shot at a Super Bowl, and he has to do it with a back that requires injections and weekly rest for him to perform. It's something Rodgers can appreciate.
"You gain a lot of respect from [teammates] when you're playing through that kind of pain and having the kind of season that he had," Rodgers said. "It's tough to do what we do, but this is the time of year that's really exciting."
Follow Keith Whitmire on Twitter: @Keith_Whitmire
MORE FROM FOX SPORTS SOUTHWEST:
– Highest paid coaches in college football
– Ranking NFL quarterback salaries
– Oldest player on every NBA team