Cowboys fill an urgent need with CB Byron Jones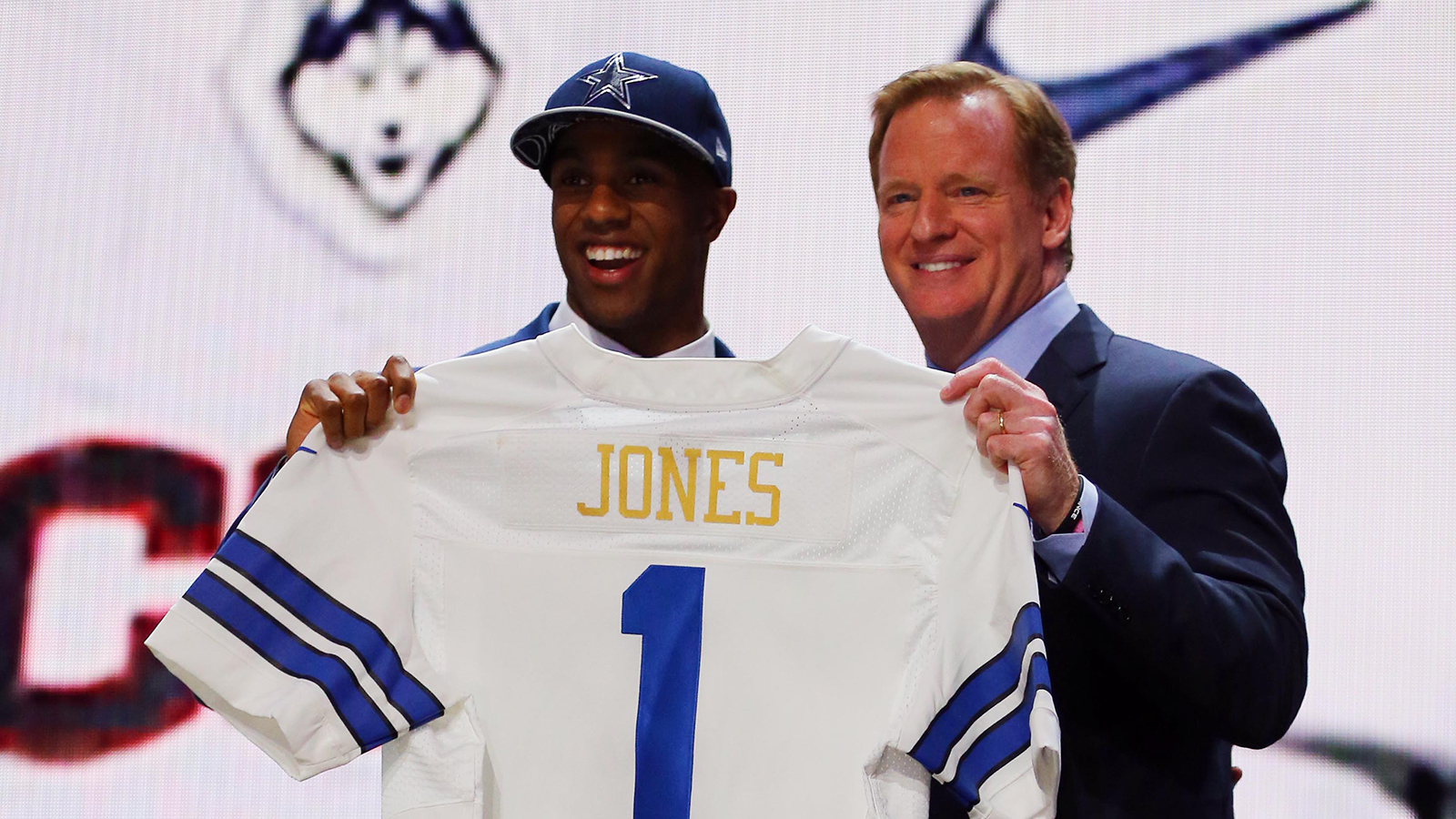 IRVING, Texas — Though they weren't ready to admit it, the Dallas Cowboys effectively closed the book on former first-round pick Morris Claiborne on Thursday. It's a huge stretch to think Claiborne will bounce back from a knee injury and claim a starting job.
And that's why Jerry Jones was on the phone with UConn cornerback Byron Jones congratulating him as the 27th pick. He's a talented player who played in a suspect football conference. A remarkable combine performance put him on the map, which isn't always a great thing. Jones started for two years at safety before playing his final two seasons at cornerback. He had eight career interceptions and had a big, physical presence at just a hair under 6-1 and 199 pounds.
He set a world record (seriously) with a 12-foot, 3-inch broad jump at the combine. He also had a 44-inch vertical. That earned him the dreaded "workout warrior" label in some circles (Mike Mamula anyone?). And as I polled scouts across the league late Thursday, many of them were skeptical of what he'd be able to bring to the field. Cowboys coach Jason Garrett has heard the criticism, and he was quick to offer a rebuke.
"It's not a workout warrior that we drafted," Garrett said.
Jones made some confusing statements about the Cowboys not feeling pressured to "strike well" at pass-rusher and running back. His point was that cornerback was more of an urgent need. But I think the Cowboys also have an urgent need for an edge rusher. When I asked why he felt comfortable with his current defensive ends, he brought up Greg Hardy and second-year man DeMarcus Lawrence. It feels like this team is in denial about Hardy's 10-game suspension based on recent comments from Jerry and Stephen Jones.
Jones the cornerback was thrilled to have landed with the Cowboys. He thought they were going to take another player, so he was genuinely surprised when his agent received a call from the Cowboys. Asked about the "workout warrior" label, Jones said "those people don't matter."
The Cowboys have a shaky record for drafting or signing cornerbacks in recent years, so Jones will hear from the doubters. He worked out with starting safety J.J. Wilcox in Florida leading up to his pro day and said that experience was invaluable.
FOX SPORTS
DAILY
COWBOYS

EDITION
Jones mentioned his admiration for Orlando Scandrick and Brandon Carr. But Claiborne's name didn't come up. I'd say that's who Jones is replacing, but that's probably being too kind to Claiborne.
Jerry admitted the Cowboys had Nebraska edge rusher Randy Gregory high on their board, but they didn't pull the trigger. Gregory wasn't taken in the first round after admitting that he failed a test for marijuana during the combine. Jones was a safer pick from a character standpoint.
"He's very athletic," a longtime NFC scout said of Jones. "A bit stiff in transition. Top character and makeup. Press corner that needs some time to develop, but a solid pick."
I thought Texas defensive tackle Malcolm Brown was a better player, but cornerback was definitely a need. Now, it's time to look for a running back Friday.
And he doesn't have to have the greatest combine numbers ever. The Cowboys already selected that guy.
MORE FROM FOX SPORTS SOUTHWEST:
– Ranking NFL quarterback salaries
– Oldest player on every NBA team
– College football's highest paid coaches in 2014