Dez Bryant: 'I would love' to play with Adrian Peterson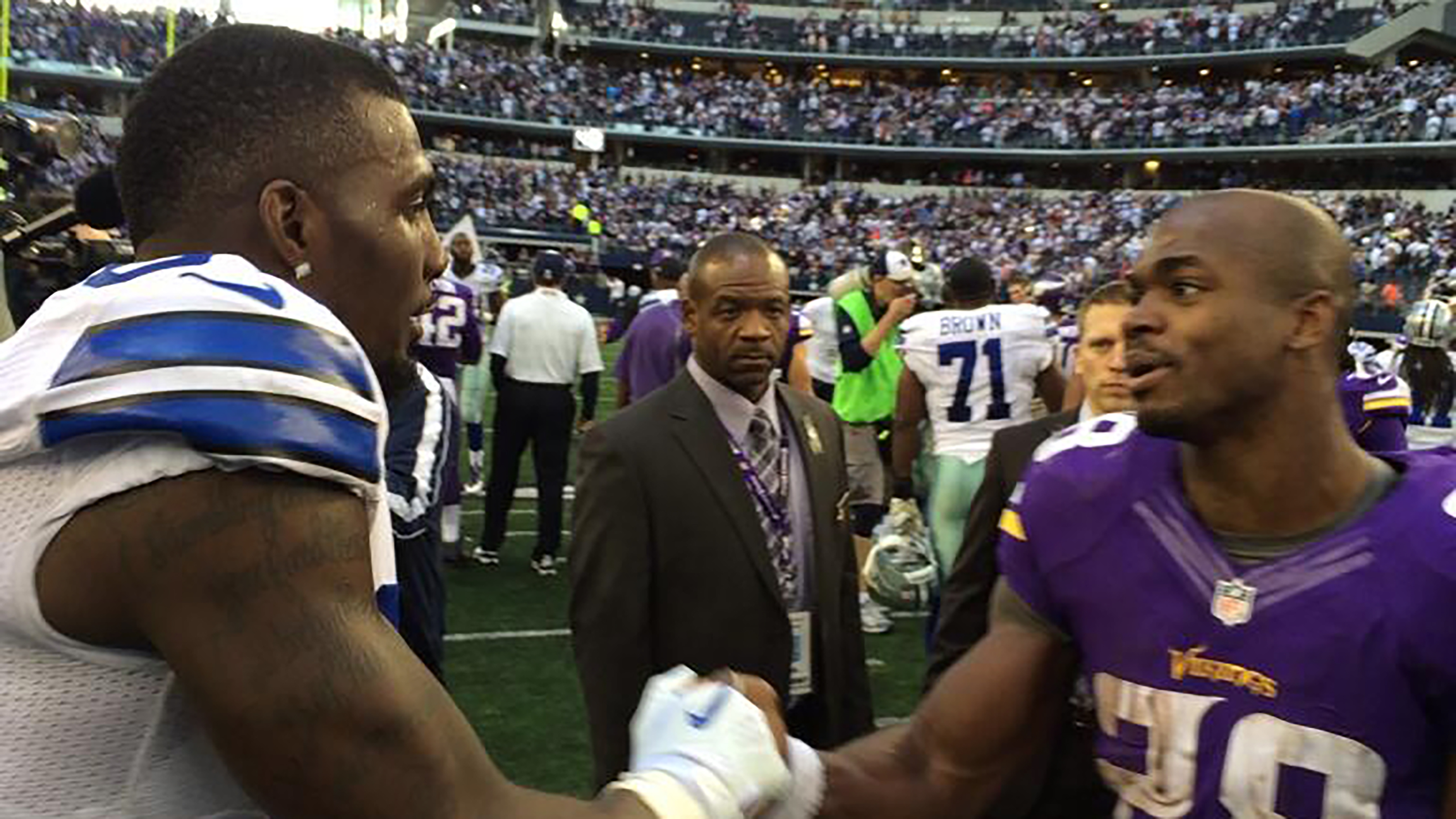 Dez Bryant has been the center of nonstop speculation during this busy Cowboys' offseason –€" but, aside from the occasional tweet, we haven't heard much from the man himself.
Bryant spoke up about a variety of topics Sunday night with TMZ Sports, however. The entertainment outlet caught up with the Cowboys' All-Pro receiver as he left The Palm in Beverly Hills, Calif. The main topic of the interview was Bryant's thoughts on playing with Adrian Peterson –€" whom the Cowboys have long been rumored to be interested in.
"Truthfully, if that could happen, I would love it," said Bryant about the possibility of trading for Peterson. "We're both from east Texas and we both believe in the same things – as much as he loves the game, I love the game the same way. I think it'd be something very special."
The Cowboys' interest in Peterson has been an ongoing saga since he was suspended last fall. It carried through free agency, despite the Vikings' repeated statements that they weren't interested in trading the perennial Pro Bowler.
"The Vikings not letting that happen, because if they did, the league would know what would happen," Bryant said.
The window for any potential movement with Peterson appears to have closed, as the Vikings were widely rumored to be interested in acquiring 2015 draft picks in a deal. The 2015 NFL Draft came and went last week without any true blockbuster trades.
As for Bryant, he said he's ready to focus on the future. TMZ reporters asked him for his thoughts on the infamous "catch" in the playoff loss to Green Bay –€" an incident he said he's ready to move past.
"I'm done with it –€" I'm away from the catch," he said. "I'm ready to move forward, I'm ready for this next year."
MORE FROM FOX SPORTS SOUTHWEST:
– PHOTOS: Cowboys Cheerleaders Auditions
– Ranking NFL quarterback salaries
– Oldest player on every NBA team
– College football's highest paid coaches in 2014