Dan Bailey's route to Dallas has been winding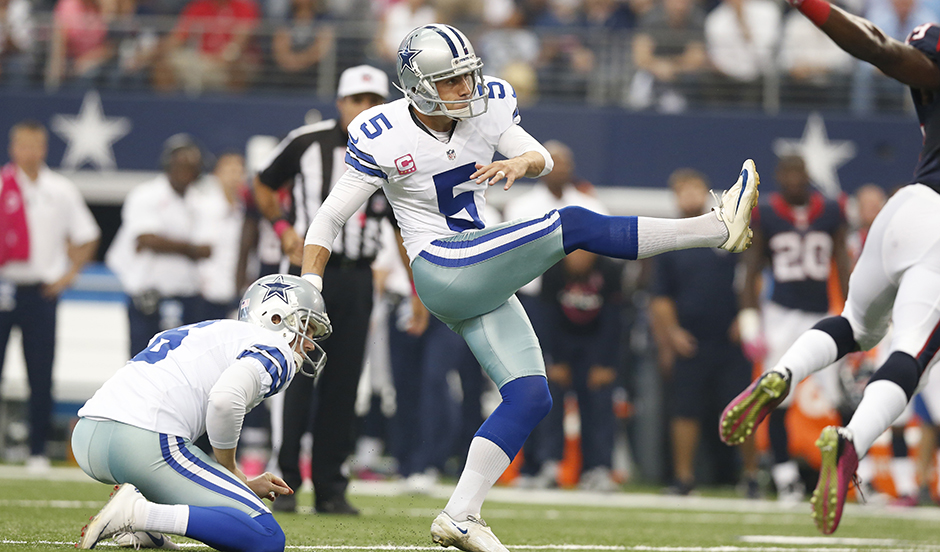 IRVING — It's really hard to call Dan Bailey an underdog anymore, that's just a label that doesn't fit someone who signed a seven-year contract extension prior to last season.
But the Dallas Cowboys kicker who is heading into year five of his NFL career in 2015, has definitely paid his dues and then some along the way.
It dates back to his days as a high school punter and kicker for Southwest Covenant School in Mustang, Oklahoma. The Oklahoma City area school played eight-man football, which is an experience in itself not only to play but also to watch.
Back then, Bailey envisioned himself one day kicking in the pros. The only problem was he didn't know how that dream would one day become a reality.
"To sit here and say that I expected to be here, I would be being true to myself. You always dream about things like that but that becoming reality was obviously the last thing in my mind," Bailey said. "Me playing eight-man football, half the time we didn't even play on a field that we could kick on. It's been a crazy journey. There's been a lot of ups and downs along the way, but it's been a lot of fun."
His next stop was Fayetteville, Arkansas to walk on for the Razorbacks, who were then coached by Houston Nutt. But after he lost the starting job with the Hogs, Bailey, who was on a full academic scholarship, was told he would have to pay his own way.
After leaving Fayetteville, he sat out a year before ending up at Oklahoma State.
It was clearly the right move.
Practically from the start, it was clear heading to Stillwater was somewhere he would thrive. He was a perfect 20-for-20 on extra points but was only 2-of-4 on field goals.
FOX SPORTS
DAILY
COWBOYS

EDITION
However, thanks to consistent and marked improvement in his final three seasons at O-State, Bailey won the Lou Groza Award in 2010 as the top kicker in the college game and finished his time at OSU on a high note.
Still, that next spring, he went undrafted but landed with the Cowboys, where he had to prove himself all over again.
Bailey admits it seems like only yesterday that he arrived at Valley Ranch as a rookie just trying to earn a spot on the Dallas 53-man roster, but in actuality it was nearly four years ago.
"Yeah, it just goes by like that really. Especially coming in on that lockout year, things just happened real quickly. I didn't have OTAs and minicamp and stuff like that," Bailey said during OTAs. "We went straight into training camp."
And in his four seasons in Big D since, not only has he developed a reputation as one of the most dependable and consistent kickers in the entire league, but he has also seen the Cowboy roster undergo its own sort of evolution.
"It's been a lot of fun. Even just seeing how the team's changed over the years, when I got here, we had a lot of older, veteran guys. And now we got a lot of young guys, so kind of how the roster's turned over has been fun to watch and fun to be a part of," Bailey said.
After a 2014 season where his franchise record of 30 straight made field goals came to an end and one where he played year one on his new contract which he received last January, the former OSU standout's success last fall is a tough act to follow, but like every good pro, he knows there's plenty he can still improve on.
"Yeah, I feel good about last year, especially in retrospect looking back after the season was over," Bailey said. "We had a couple blocked kicks I wish I could have back. But yeah, going into the year and having a little bit more security, getting signed in the offseason was nice, kind of gives you one less thing to think about and yeah, I thought it was a good year."
He added: "You want to build off of previous years, but you also want to take it just one at a time and try to make each year the best that you can. So I think the combination of those two things is the right mindset to have and it was a good year, definitely a lot of things I can take into this year that I learned and hopefully put another good one together."
But even as Bailey heads into year five of his NFL career, one thing which hasn't changed for the native Oklahoman is his approach.
He figures his mentality and regimen approaching each of his previous four seasons has worked well thus far, so why mess with a good thing.
"Really just trying to maintain, keep an edge, don't ever get too comfortable regardless of what's going on here or outside in your personal life as well. You kind of got to maintain an edge about you and just be cautious that you're not getting too complacent. Train hard, don't sell yourself short on anything," Bailey said.
"That's really been my approach every year, take the positives away from the previous years and also look at the negative situations and see what you can learn from those and try to create some sort of formula going into the next year that hopefully will be a positive platform for you to go about your business."
MORE FROM FOX SPORTS SOUTHWEST:
– PHOTOS: Cowboys Cheerleaders Auditions
– Ranking NFL quarterback salaries
– Oldest player on every NBA team
– College football's highest paid coaches in 2014