2014 preview: Will the Cowboys finally break through?
With football season around the corner, FOXSports.com provides a thorough analysis of all 32 teams heading into training camp. The offseason may have lacked some hard-hitting action, but franchise-altering moves have been made. Parity is excessive as ever. Every team looks great on paper in July. But it's the development and seasoning of a team that will matter in January and, yes … even February. Goodbye, offseason!
Today, we continue the series with the Dallas Cowboys.
2013: 8-8, second in NFC East
Head coach: Jason Garrett
Key departures: DT Jason Hatcher, DE DeMarcus Ware
Key arrivals: DT Henry Melton, RG Zack Martin (rookie), DE DeMarcus Lawrence
THREE QUESTIONS
1. Will former Lions offensive coordinator Scott Linehan take this offense to the next level?
To have any chance at making the playoffs, the Cowboys will have to be a top-five offense. This defense can't get any worse than last year statistically, but it will likely rank toward the bottom of the league again.
That means the Cowboys will have to win some shootouts. Linehan and Jason Garrett worked together in Miami. This is not a forced play-calling marriage like we saw with Garrett and Bill Callahan last season. Linehan already has a Calvin Johnson starter kit in Dez Bryant to go along with quarterback Tony Romo. Linehan has a pass-happy reputation, but it's been awhile since he's had a feature back like DeMarco Murray.
Linehan will try to throw the ball to Murray and third-down back Lance Dunbar quite a bit. It also helps that Dallas potentially has one of the best offensive lines in the league. The best news for the Cowboys is that no one in the NFC East looks like a powerhouse. Everyone seems to forget the Cowboys were 5-1 against their division opponents last season.
2. Can the Cowboys make up for the losses of DeMarcus Ware and Jason Hatcher in free agency and Sean Lee to injury?
You certainly can't automatically replace those types of productive players, but let's not forget they were part of that disastrous unit last season. Hatcher was the one player who rose above the malaise, but the Cowboys were wise not to overpay a 32-year-old defensive tackle.
Defensive coordinator Rod Marinelli likes the fact Jerry Jones has brought in several players on short-term contracts. He thinks he'll have a hungry bunch of no-names among his front seven. There's no way this defense can surpass last year's unit in ineptitude. They would basically have to be the worst defense of all-time. Players such as Henry Melton, Barry Church and Orlando Scandrick have too much pride to allow that to happen.
3. How will Jason Garrett respond to truly being on the hot seat this season?
This is the final season of Garret's contract. Jerry Jones desperately wants him to succeed, but another 8-8 season would likely get him fired. And if you haven't been keeping up, the Cowboys go 8-8 every season.
Garrett should feel a lot better about turning the playcalling over to Linehan after last season's awkward situation. I think Garrett is much more comfortable now that Marinelli is running things on defense. As one former head personnel man told me, "The game was just a little too fast for Monte Kiffin." Marinelli won't have to pay homage to his longtime mentor Kiffin because he's in more of a consulting role.
If the Cowboys win the NFC East or even advance to the playoffs as a wild card team, Garrett will likely be retained. But it's hard to see him getting an extension with anything short of that.
BREAKOUT PLAYER
Wide receiver Dez Bryant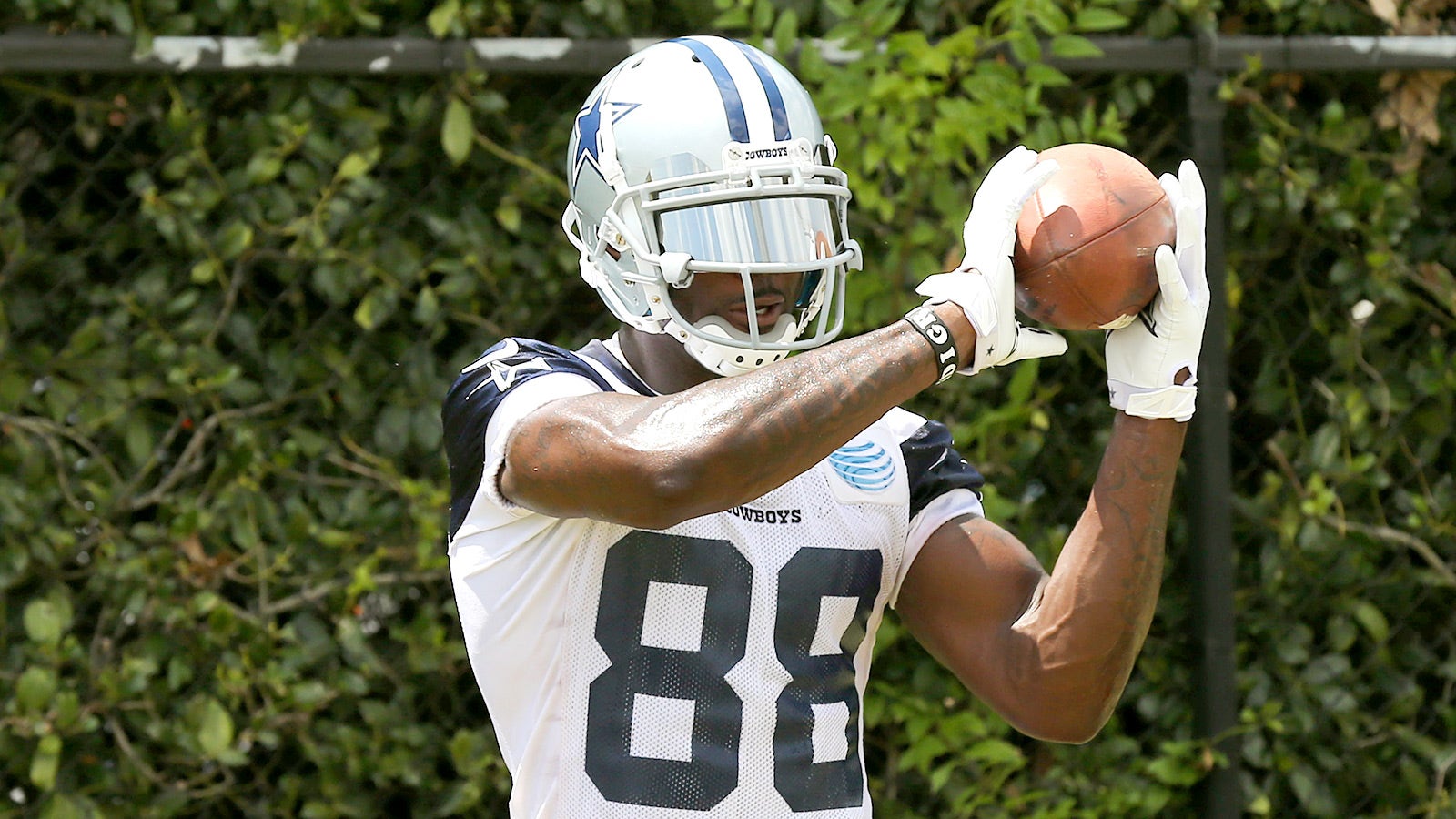 Bryant is the easy choice here. He's already one of the most dominant wide receivers in the league. Linehan wants to line him up in different places in order to make it more difficult to double-team him.
This position doesn't have a ton of depth, but No. 2 wide receiver Terrance Williams is definitely ready to take the next step. He became a lot more consistent for the Cowboys later in his rookie season. This is the season where you'll see him start burning teams with yards after catch.
But Bryant could rewrite the Cowboys' record books in 2014. He has his head on straight now and he has a better idea of how to take care of his body during the season. Linehan will make Bryant even more dangerous.
REASON FOR OPTIMISM
It's something that was mentioned earlier. This is not your father's NFC East. The Eagles were impressive last season under first-year head coach Chip Kelly, but quarterback Nick Foles is far from proven.
The Redskins and Giants have plenty of questions, too. Eli Manning can turn into an interception machine if he doesn't have enough time in the pocket. Unlike Romo, he doesn't make a lot of plays with his feet. And it's hard to know what to expect from Robert Griffin III. He's talked about wanting to stay in the pocket more. That sounds good in theory, but he took the league by storm two years ago by using his elite speed. He doesn't need to lose that threat.
If the Cowboys dominated their rivals with a horrible defense last season, there's no reason to think they can't compete in the division.
REASON FOR PANIC
This defense was historically bad last season, as as you may have heard. Losing middle linebacker Sean Lee to a season-ending knee injury was a huge setback. He may not have put up DeMarcus Ware-type numbers, but he was the best leader on the team. Justin Durant or Devonte Holloman will try to replace Lee.
It's also panic time when outside linebacker Bruce Carter gets matched up in space with smaller, quicker running backs. Carter has had a solid offseason, but the clock's ticking on his career. So far, he's wasted much of his potential.
Another player who could potentially have a huge bounceback season is cornerback Mo Claiborne. His 2013 season was undermined by injury and his whining about the team's defensive scheme. If Claiborne could win a starting spot coming out of training camp, the Cowboys could actually have some decent depth at corner. But I'd still lean toward panicking on this side of the ball. It seems like the logical thing to do.
ALEX MARVEZ'S 2014 PREDICTION
The season-ending knee injury suffered by middle linebacker Sean Lee (knee) during an OTA session means that the NFL's 32nd-ranked defense in 2013 could be even worse. Besides what is now a mediocre linebacker corps, the defensive line is deeper but still unimpressive and the secondary still features two underachieving starting cornerbacks in Morris Claiborne and Brandon Carr. The offense should be potent enough to keep the Cowboys in most games, but having to win shootouts each week isn't a recipe for sustained success. Prediction: 6-10.​