Cowboys' Witten remains a warrior despite limited playoff opportunties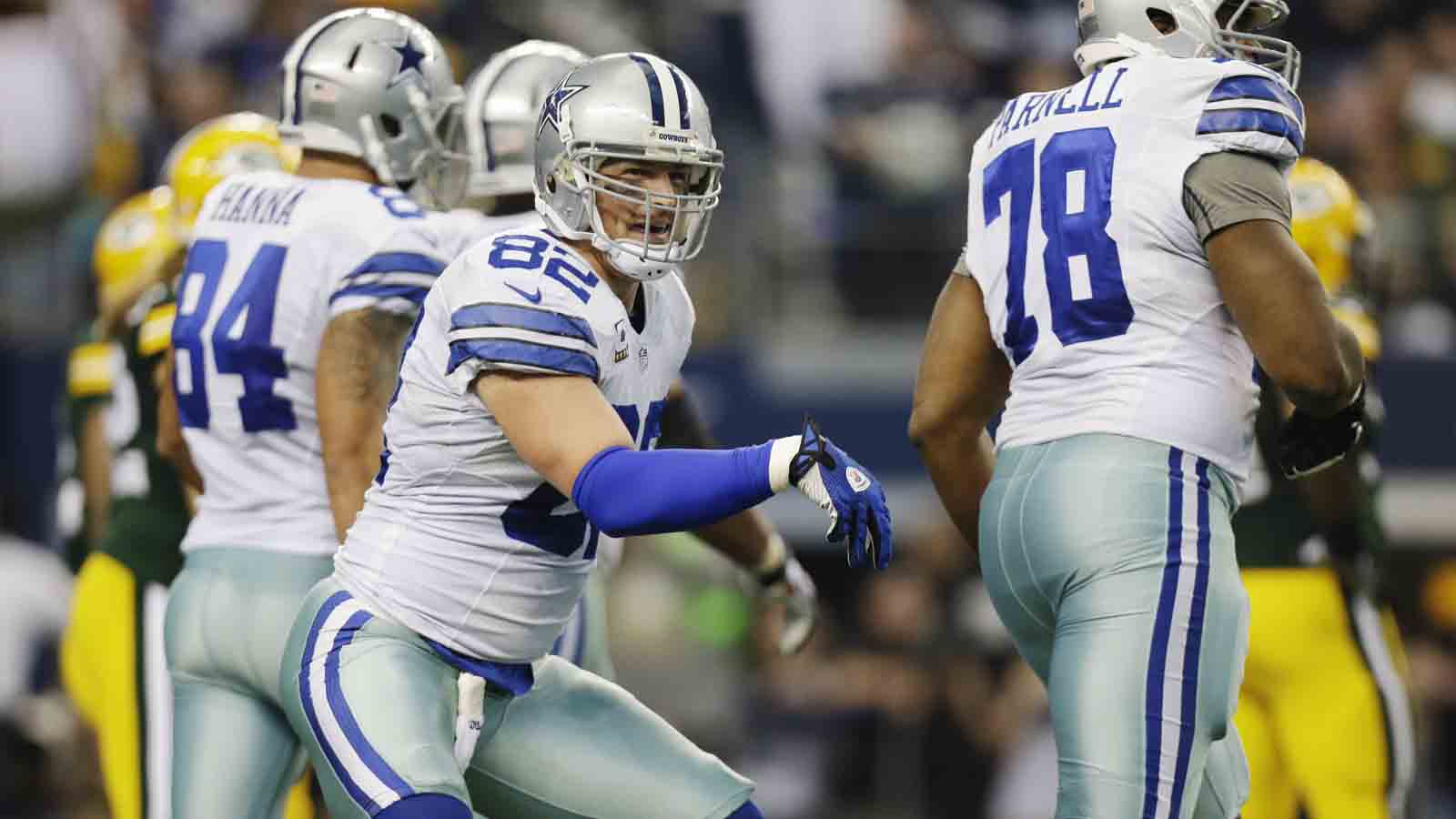 The embodiment of the last decade of frustration for the Dallas Cowboys is not quarterback Tony Romo.
Although much has been written about the window of opportunity closing for Romo, the real personification of Cowboys futility is tight end Jason Witten.
Witten doesn't get the glory of being a quarterback. He takes a pounding every game and yet at 31 – he turns 32 in May – his window may be closing even more rapidly on what should be a Hall of Fame career.
Yet you'd never know it from his production. Witten caught 73 passes in 2013, his 11th season. That makes seven seasons in a row that he's caught 70 passes, eight seasons in all.
He also had eight touchdowns, the second-most of his career.
And he spent much of 2013 tied to Doug Free's hip, making sure Romo didn't get his head knocked off. As much as Witten is a part of the passing game, he's an invaluable blocker as well.
Kyle Orton certainly knows how valuable Witten is. When the backup QB was thrust into the starting role in Week 17 against the Eagles, Orton found Witten 12 times.
With a playoff berth on the line, Witten produced his best receiving game of the season. The 12 catches were good for 135 yards, his 20th career 100-yard game.
"He is the best tight end in football and has been for 10 years," Cowboys coach Jason Garrett said after the game. "He is just a hell of a player and as special of a guy as I've been around. He is a unique individual and it was no surprise to me or any of us about how well he played tonight in this big game for us."
What should make any Cowboys fan's heart ache is that Witten hasn't had the chance to play in enough big games. Over 11 stellar seasons, he's played in just five playoff games. And won just one of them.
It's hard enough for a tight end to get voted into the Hall of Fame. It would be a shame if Witten's brief postseason resume kept him out of a deserved honor.
There's no reason to think Witten will get a chance to add to his playoff service time in his final seasons. After three straight 8-8 seasons, the Cowboys are headed in one direction: neutral.
That's why it's depressing to see Witten limp off after the final game of 2013. The always-gracious Witten never spoke to the media. No words were really necessary.
"He puts more into this than anybody I know," Garrett said. "Witten is as strong as anybody. It is disappointing for him, but again, he can walk out of that locker room with his head held high, because he does it the right way."
The Cowboys have tried to lessen Witten's load over the years by finding him a complementary tight end, but so far none have been able to flourish playing in Witten's considerable shadow.
Anthony Fasano, a second-round pick, was traded before he could get established. Martellus Bennett, another second-round pick, moved on after four underachieving seasons. John Phillips, a fourth-round pick, never fully blossomed.
It was made clear that James Hanna, a sixth-rounder in 2012, isn't the tight end of the future when the Cowboys drafted Gavin Escobar in the second-round last season.
Escobar was a somewhat controversial pick, given dire needs of the team at positions where there wasn't already an eight-time Pro Bowler in place.
In his rookie season Escobar caught nine passes for two touchdowns, including a score in the season ender. He may develop into a top receiving tight end, but his blocking is still inconsistent.
Then again, tight ends aren't asked to block as much these days as offenses take on more characteristics of the spread. Tight ends are being used more for their ability to create mismatches in the passing game.
Full-service tight ends like Witten are becoming almost as rare as fullbacks. It's even more rare to see a player who carries Witten's physically load stay as durable as he has.
When he stays in to block, Witten takes a pounding from defensive linemen. When he runs a route, he takes kill shots from linebackers and safeties. Sometimes he endures both on the same play, such as when he chips a pass rusher before releasing to run a route.
Despite all the bruises, Witten has played in 171 consecutive games, tied for third most in franchise history. He even played after lacerating his spleen last season – and went on to catch 110 passes.
Although Witten has shown no signs of slowing down, it's hard to imagine his career lasting another five years considering the mileage he's put on his body.
What a shame it would be if the window closed on the Cowboys' great warrior without at least one more shot, a legitimate shot, at postseason glory.
Follow Keith Whitmire on Twitter: @Keith_Whitmire