Cowboys DT McClain brings high motor, versatility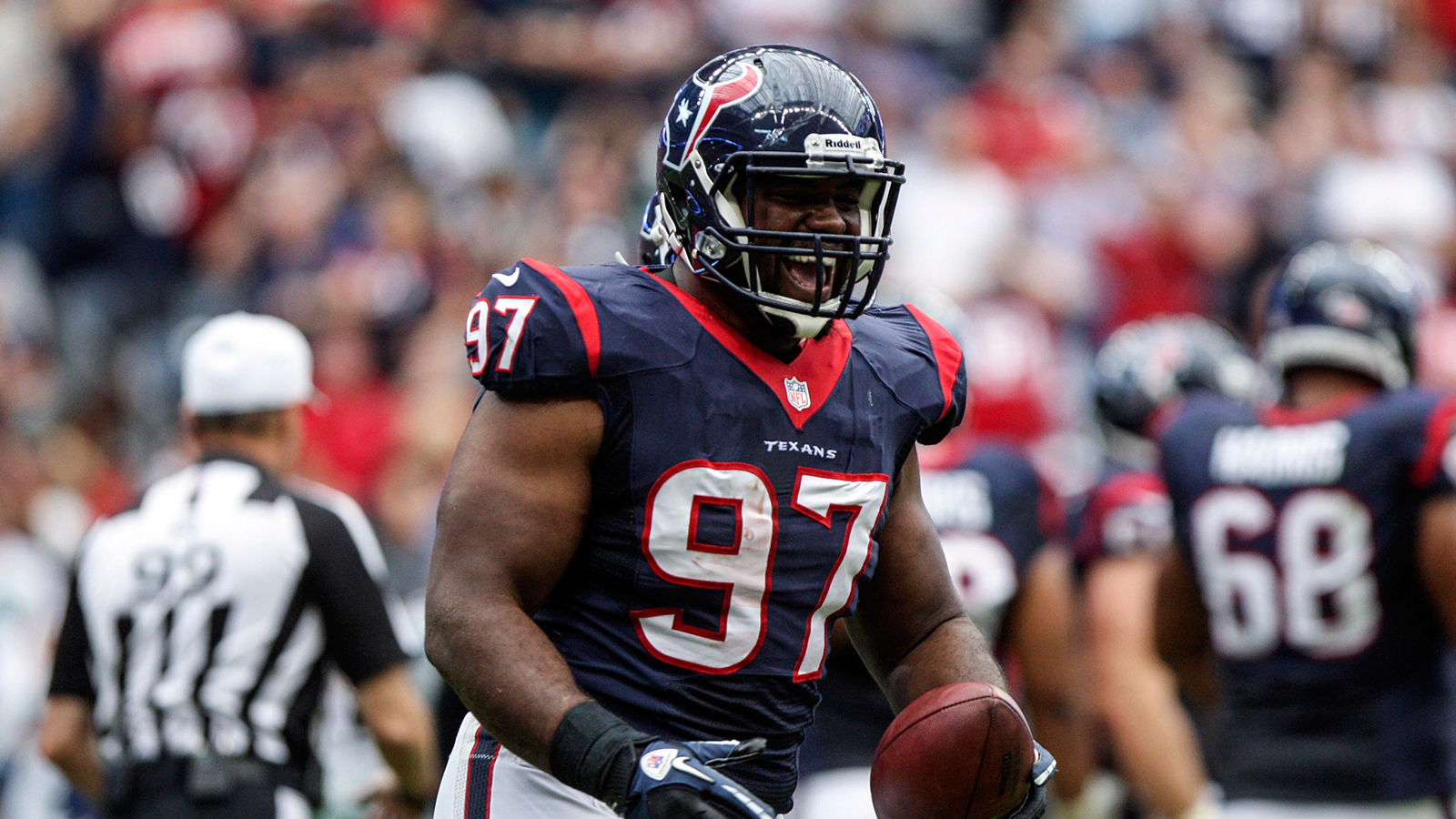 IRVING, Texas — Understandably, Terrell McClain doesn't really want to talk about how things went in his previous NFL stops with Carolina, New England and Houston.
Instead, the 25-year-old defensive tackle who was signed to a three-year deal earlier this offseason is focused on doing all he can to redeem himself with the Cowboys.
"I have (moved around). I really don't like talking about what's happened. Everything happens for a reason and God has a plan for me," McClain said earlier this week during Organized Team Activities (OTAs). "Everything that did happen made me a better person and has me to this point that I'm at now, getting to play for America's Team. I want to show what I can do to start putting my name back out there. That's how I look at it."
Last season with the Texans, McClain was a backup and finished the year with 10 tackles and one fumble recovery while appearing in all 16 games.
At 6-foot-2 and around 293 pounds, he definitely has the size and build to be a solid contributor at defensive tackle. But another of this Florida native's strengths is his versatility. In fact, Dallas liked the fact that he can play at both the one and three technique, versatility which factored into their decision to sign him.
"Yeah, I've been playing both of those since high school. My primary spot was the three tech, but once I got to the NFL they said it was good to learn (other) positions," McClain said. "Ever since I've been in Carolina and went to Houston, I've just been learning both positions, the nose and the three."
His size and versatility are clearly two of his biggest selling points, however this veteran also brings other great intangibles to his new employer.
"I bring high motor. I bring just something unique. It's rare to have a big guy who has good feet. In the NFL, that's rare," McClain said. "I can rush the passer and also play the run. Those are the biggest things right there."
Coming to the Cowboys reunites him with former college teammate George Selvie, who like McClain not only played at South Florida, but this talented defensive duo also each hail from Pensacola, Florida.
Reuniting with Selvie is a nice side benefit to signing a three-year deal with the Cowboys, but the main reason he landed in Big D is because the 'Boys offered him a chance to have a clean slate and make a fresh start with a new team.
"Yeah, it kind of has that (vibe)," McClain said. "There's not as much stress. But there's always urgency with every team. You want to make good impressions. You want to do your best to show them what you have to offer them and show them that you're a hard worker and you're willing to do whatever it takes to help the organization get to that plateau, to that peak where everybody's trying to get to."
McClain is quite familiar playing in a 4-3 defense, but whenever a player comes to a new team, there is always an acclimation process on either side of the ball to learn things like new terminology, nuances of the system and how the organization likes to do things.
This versatile Floridian is still acclimating to the Cowboys' scheme under new defensive coordinator Rod Marinelli, but feels that with next week's minicamp and the work he plans to do during his five weeks off back in Florida before training camp starts in late July that he should be ready to roll by the time the Cowboys head to Oxnard, California in about six weeks' time.
"No (I haven't learned everything yet), I've still got a lot of work to do but I'm making strides every day. You just want to focus on something small to get better at each day and that's what I'm trying to do. I have a lot of room for improvement, but we got one more OTA," McClain said. "Then we got minicamp next week and then we've got five weeks (until training camp). I'm going to go home and do a lot of training and get ready for training camp and use training camp as a slingshot to get where I want to be to reach my potential during the season."
As far as playing for Marinelli for the first time, this is not his first experience with the longtime NFL assistant and former head coach. Prior to the 2011 draft, he visited with Marinelli, then the Bears' defensive coordinator and now that he's playing for him, it's an experience he is clearly enjoying.
"It's been great. He has so much passion for the game. All he does is strive for the best. He wants everybody to do great things. He sees it in everybody. That's why he's pushing us so hard. That's the one person I definitely don't want to disappoint," McClain said. "He sees so much in me. That's why I try every day to try to show him what I got and learn from him because he's such a great teacher. It's just a true pleasure being coached by him right now."