Cowboys: Contributions, Contracts and The Cap – Defensive Line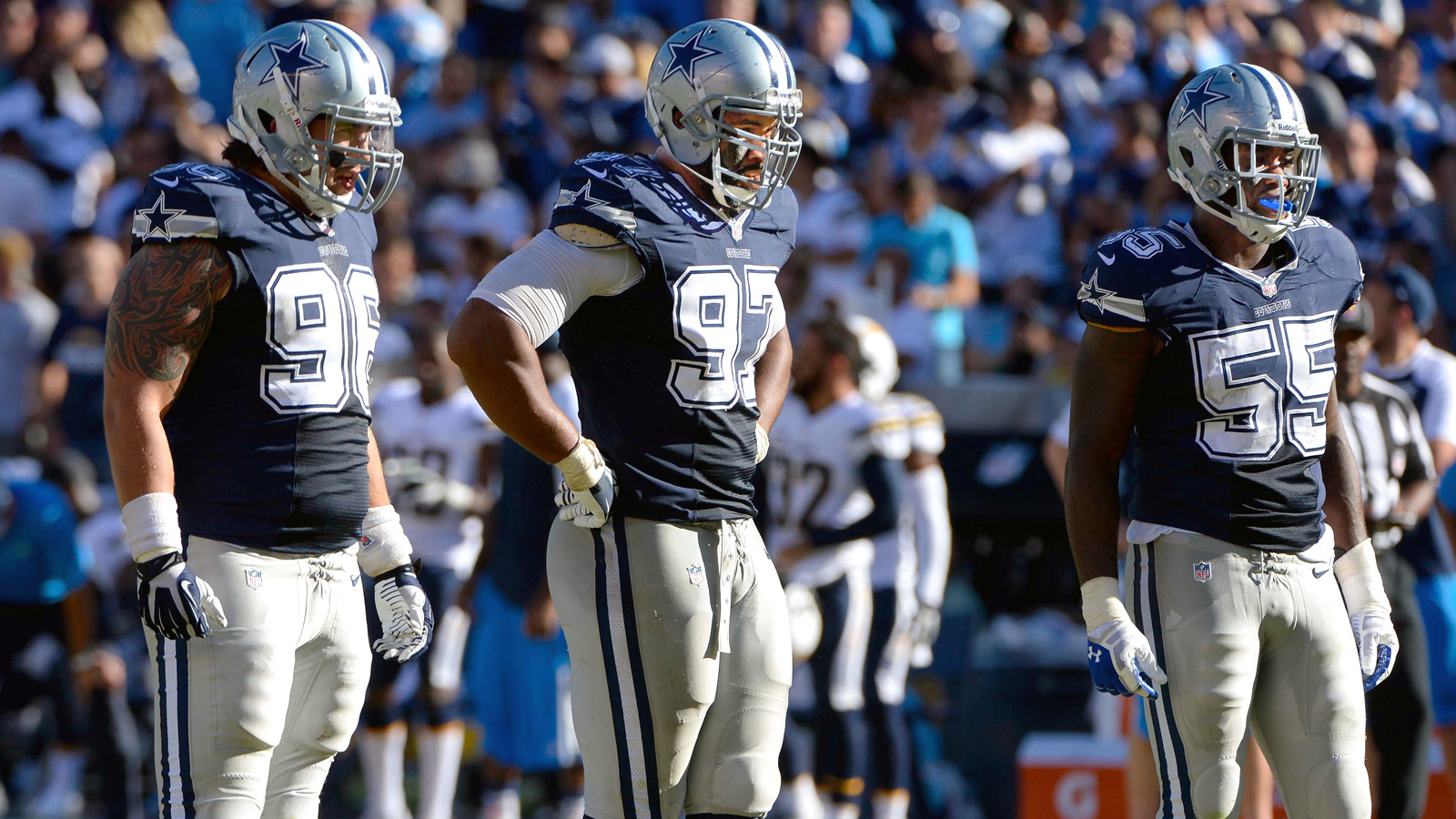 IRVING, Texas — Once upon a time, the Dallas Cowboys believed a strength of their 2013 team would be the defensive line.
And then "life" happened.
Defensive tackle Josh Brent was the driver in an accident that killed teammate Jerry Brown. Defensive tackle Jay Ratliff went off the reservation. Defensive end Anthony Spencer's "minor" knee injury cost him the entire season. Defensive end DeMarcus Ware followed up a spectacular training camp with a lackluster and injury-prone year.
The man once projected to be the fifth lineman in the rotation, Jason Hatcher, because a star and the only highly-productive guy in the group. The sixth man was Tyrone Crawford, and he was hurt for the year on the first day of camp. The seventh man was Ben Bass. He was also out for the year.
In the end, Dallas allowed historically bad numbers on defense because a system completely reliant on upfront pressure from four rushers … received too little.
And a strength became a weakness.
There are three major decisions to be made and emotion must be kept out of it.
DeMarcus Ware is an all-time great coming off a six-sack season and turning 32 in July. Leave his deal alone and he counts $16 million against the cap. There is no logic in doing that.
Ware has "offered" to take another restructuring but not a pay cut. If he bends, you tear up his expensive deal and try to mirror what Dallas did with tackle Doug Free last spring (reducing his $7-mil-a-year deal to $3.5 mil). If he does not bend, you cut Ware and gain $8.6 million in cap space.
Owner Jerry Jones, prone to thinking emotionally in these cases, must be convinced to change.
Does Dallas have somebody to replace Ware? Of course not; he's a Hall-of-Famer. How many of those can a franchise stash at one position?
But the other end, George Selvie, was salvaged from the street in the summer when all the injuries hit. He's now playing on a at $730,000 deal. Selvie recorded seven sacks from the strong-side ("non-sack") end. Ware recorded six when the entire defense was set up for him to get to the QB.
So why would anyone over-worry about replacing him?
Hatcher was as good a 3-Tech defensive lineman as there was in football this year. His 11 sacks were by far a career-high. He was an iron man, a leader and a stud.
But now he's 32. The Cowboys simply cannot pay age. Hatcher deserves his $8 million a year … but he deserves it from somebody else.
Spencer was this club's defensive MVP in 2012. But a supposed "knee bruise" (that was really a break) required surgery and cost him the year. One media report that insists the Cowboys should bring him back is naive; Spencer is still limping, and a source close to him admits to FOX Sports Southwest that he has no idea what his market value is now.
Who will bid? How much? When will he be healthy?
There is too much unpredictability with Spencer to project anything. And if anyone thinks Spencer is prepared to put his tail between his legs and re-up with Dallas because the Cowboys gave him $10 million in 2013 and got nothing for it … they don't understand the business of football.
Selvie is under contract for another year and that's a cheap, capable starter. Crawford is playing under his rookie deal at $580,000 and the Cowboys believe he's got a big future. Nick Hayden spent the year as a starter at 1-technique and at $730,000, might help as a rotation body if the line gets the help it needs. Bass ($420,000) projects as a rotation player. Corvey Irvin, Jarius Wynn and Frank Kearse are minimum-wage bodies.
The Cowboys need lots of help here before they ever again project the defensive line as a strength. Logic says they'll eyeball help high in the draft and if they decide to shop in free agency, they'll pipedream their way to talking about injured Bears star and DFW kid Henry Melton.