Cowboys CB Scandrick's return is welcomed, but who gets demoted?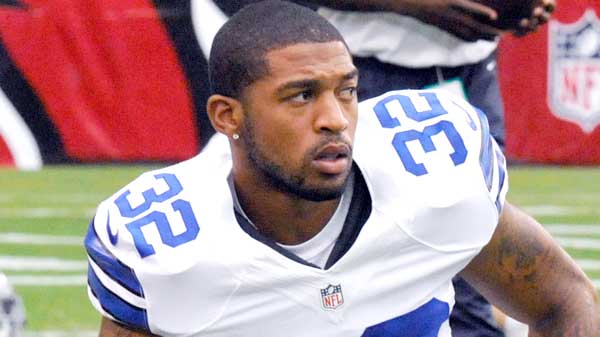 Although Orlando Scandrick's return from suspension was welcomed by Cowboys coach Jason Garrett on Wednesday, it also creates a somewhat sticky issue.
Which cornerback does Scandrick replace in the starting lineup?
Normally, it would be third corner Sterling Moore. However, Moore is coming off of a good game last week at Tennessee and the Cowboys' defense overall has been playing well in Scandrick's absence.
It could be former first-round pick Morris Claiborne, who has started at outside corner opposite the well-paid Brandon Carr. Clairborne hasn't lived up to expectations since being drafted sixth overall in 2012.
"We're going to see how he [Scandrick] does in practice today," Garrett said. "We believe in competitive situations. We don't have any doctrines about, you know, if a guy's a starter when he gets hurt, does he come back as a starter? We don't have any of those things on our team. We look at the guys and see how they can help us and what role they can help us in."
Garrett wasn't willing to address who might get demoted, but it may not be an issue he has to address immediately. Although Scandrick is considered the Cowboys' top defensive back, he may have some rust from missing the first two games of the season.
"It's good to see other players step in in his absence and show that they can play, too," Garrett said. "We'll get him back in the mix today in practice, see how he does, and make some decisions as the week goes on."
Scandrick's suspension for PED use was reduced from four games to two when the NFL and the Players' Association agreed on a new drug policy. Players who test positive for stimulants in the off season, as Scandrick did, will no longer face automatic suspension.
Although Scandrick's return was anticipated as early as last week, he reportedly was out of town when the suspension was officially lifted and showed up late to the Cowboys' practice facility Wednesday.
"Orlando showed up here about a half-an-hour ago and jumped into meetings with the defensive backs," Garrett said during his morning press conference.
"He looks good. I just had a brief conversation with him. I told him practice was at 11 o'clock and he seemed excited about that."
FOX SPORTS
DAILY
COWBOYS

EDITION
Because Scandrick practiced during training camp despite his looming suspension, Garrett indicated that he should be ready to step in.
"Obviously it's a break for all of us that it's two weeks shorter than we initially thought it was going to be," Garrett said. "I think his mindset throughout training camp will certainly help him and our team."
Scandrick's mindset, and ability, had Garrett almost gushing – for him – when answering questions about him. Scandrick plays with a chip on his shoulder, the kind of attitude Garrett has been trying to instill in the Cowboys' culture.
"He's got a competitive spirit," Garrett said. "He's got a way about him that we think is really positive for our team and infectious on our team. He's just a good player. Good to get him back in the mix."
To make room for Scandrick, the Cowboys will place offensive tackle Darion Weems on injured reserve. Weems has a shoulder injury that will require surgery, Garrett said.
Follow Keith Whitmire on Twitter: @Keith_Whitmire