Cotton Bowl comeback not improbable for Spartans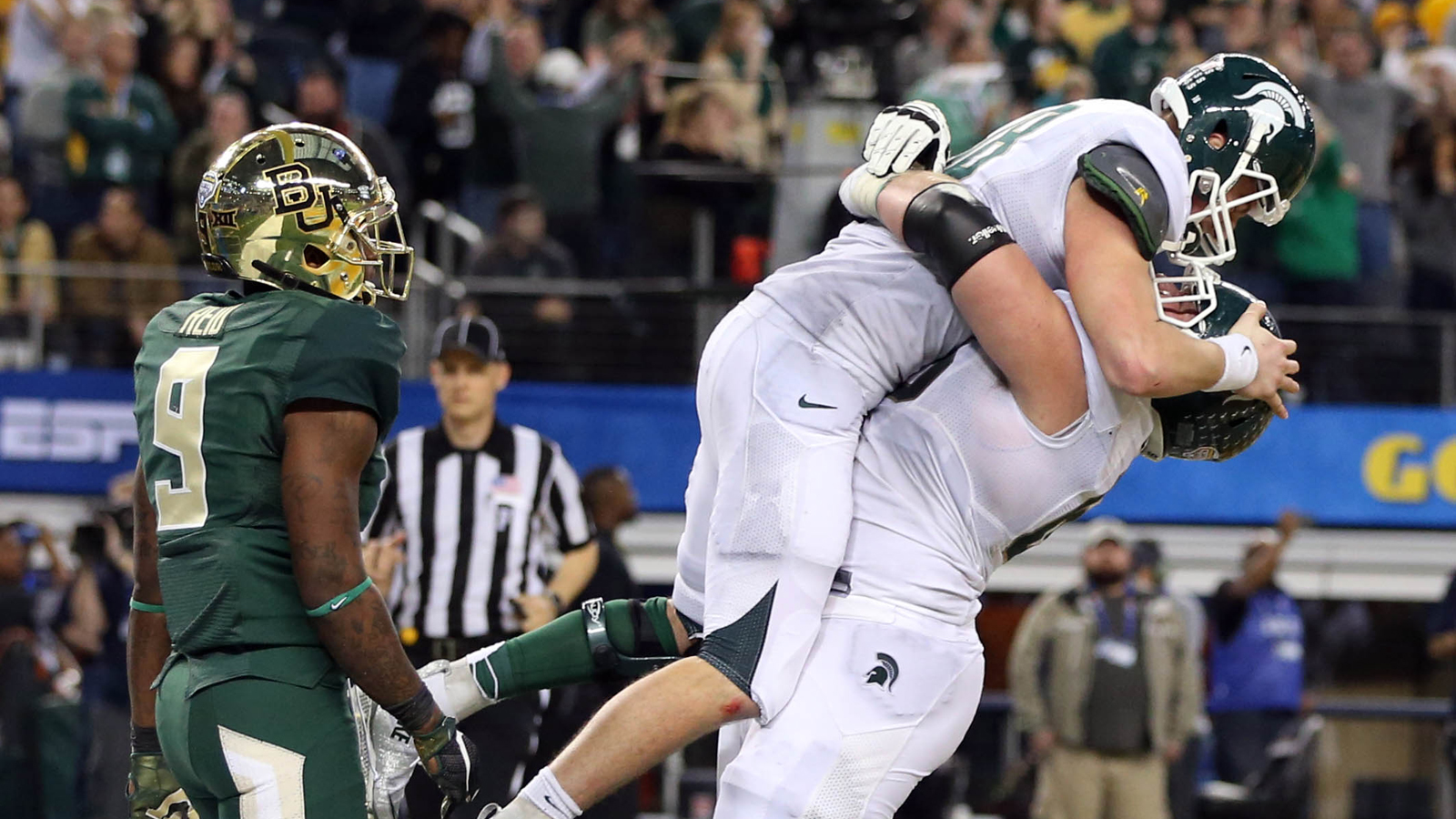 ARLINGTON, Texas — Michigan State head coach Mark Dantonio kept talking about the Spartans' belief system Thursday afternoon following a wild Goodyear Cotton Bowl.
Despite what Dantonio said even the most diehard of Spartan supporters would have believed Michigan State would have the type of comeback it did against the fifth-ranked Baylor Bears.
The lasting image from the game had all but been decided late in the third quarter when Baylor's LaQuan McGowan pulled in a short pass and rumbled in for an 18-yard touchdown as only a 390-pound offensive lineman can.
That score with 4:03 remaining in the third quarter put the Bears up 41-21 on Michigan State and seemed to give credence to Baylor's belief that it was snubbed by the College Football Playoff committee.
The Spartans spent the next 20 minutes rewriting that script though with Connor Cook's 10-yard pass to Kevin Mumphery with 17 seconds left capping a miraculous comeback and giving the Spartans a 42-41 victory and their fourth consecutive bowl win.
"We just keep winning and finding a way," said Dantonio, whose team wrapped up an 11-2 season. "We made some plays. We didn't win the turnover ratio but we got the block (field goal). We stopped the run but they were able to throw the ball certainly. Offensively we just kept playing. I'm just so proud of our football team."
Everything had to go right for the Spartans in the final 20 minutes and just about everything did. They included a missed Baylor field goal, a blocked Baylor field goal, interceptions from both quarterbacks and three Michigan State touchdowns.
Baylor had a chance to put the game away with just over a minute remaining. But Chris Callahan's 43-yard field goal was blocked by Marcus Rush and scooped up by R.J. Shelton, who raced 36 yards to Baylor 45 to set up the game-winning drive.
Cook hit Tony Lippett for a 17-yard pass on a fourth-down play to keep the drive alive and then Mumphery beat Baylor's Ryan Reid on a post for the game winner.
That score capped a Cotton Bowl that included an FBS bowl record 603 passing yards from Baylor, the second-largest comeback in Cotton Bowl history, 1,135 combined yards and 54 first downs. The Spartans have also trailed by double figures in each of their four bowl wins.
While all those numbers are staggering, all the Spartans cared about was finding a way to win.
"It's not about how you start it's about how you finish," said Cook, who threw for 314 yards and two fourth-quarter TD passes. "It sounds cliche but it really is. You have to give credit to our defense for coming up so big at the end. It (the comeback definitely ranks up there pretty high)."
So many things had to go right for the Spartans in the comeback. It started with a missed field goal by Callahan late in the third quarter. The Spartans responded with a five-play drive that ended with a Cook 8-yard pass to Josiah Price.
Michigan State kept the momentum there with an onside kick that Jermaine Edmondson recovered. But Baylor blunted that when Cook was intercepted with MSU at the Baylor 14. Michigan State stood tall on defense again, turning Baylor over on downs and then going 61 yards in nine plays with Jeremy Langford's 1-yard run cutting Baylor's lead to 41-35 with 4:55 remaining.
Once again fate and destiny aligned for the Spartans as Baylor's next drive was slowed by an offensive facemask penalty. That pushed Baylor back and they had to settle for the long field goal attempt.
Baylor couldn't stop Michigan State once it got some momentum going.
"I feel like we had a really good opportunity to come out of here victoriously and had a couple of unfortunate things that happened down the stretch that prevented us from winning," Baylor head coach Art Briles said. "But, I mean, we let some things get on the table, let some things get away from us. It's, quite honestly, an embarrassment to me as a coach. I feel bad for our players. I feel bad for our football team. And I feel bad for our university."
There was no such feeling in Michigan State's locker room. The Spartans have now won 42 games in the last four years, matching the most in school history.
Win No. 42 in that span won't be forgotten anytime soon.
"I don't know how to respond," said Mumphery, who finished with four catches for 87 yards. "I don't want to get too sentimental because I might cry. I was just like we have 17 seconds more and I'll celebrate after. I'm not ready for this to end."
MORE FROM FOX SPORTS SOUTHWEST:
– Highest paid coaches in college football
– Ranking NFL quarterback salaries
– Oldest player on every NBA team