Chelf steps up in memorable season for Oklahoma State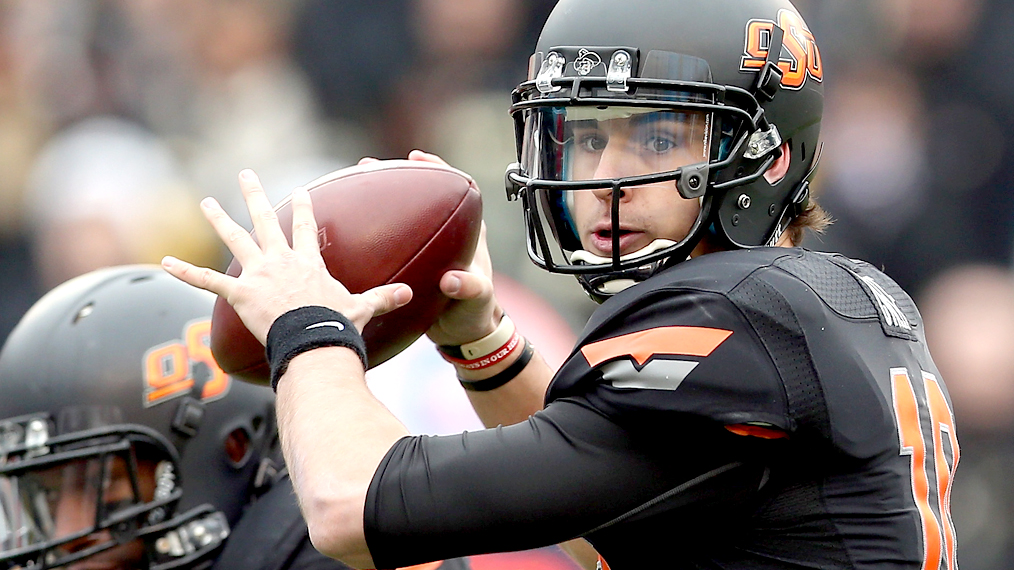 Clint Chelf was being a good soldier. He began the season as Oklahoma State's starting quarterback. By late September, he hadn't seen a meaningful snap since the first quarter of the first game of his senior season.
Yet there he was, quietly lifting weights when coach Mike Gundy approached him. Outside the locker room, talk of the surprising quarterback switch from Chelf to J.W. Walsh was everywhere. Conversation about the switch between the parties involved in his benching, though, had been almost non-existent.
"'Do you have any questions?' Because if you do, you need to ask me," Gundy told Chelf. "I'll give you what I think's the answer. It may not be what you want to hear."
Chelf had plenty of questions. For about seven minutes, the two replayed Chelf's forgettable 2013 debut, when he completed just 3-of-6 passes in Houston against Mississippi State. The slow start meant Walsh got a chance, and he ran for 125 yards on just 13 carries. He also completed 18-of-27 passes for 135 yards.
Chelf wanted to know what happened and why he didn't get a chance to take the field again after the early benching.
"I was disappointed," Chelf said. "I wasn't expecting to come out and not go back in. We had a package for J.W., and he's a good player, so we had certain things we wanted to do with him, but I was pretty shocked when I didn't get to go back in."
Chelf entered the game as his starter, but Walsh totaled 60 rushing yards on OSU's first touchdown drive late in the second quarter, and the quarterback run game was the offensive scheme the Cowboys could get to work in the 21-3 win.
"They weren't ready and he's running down the field like crazy so I can't take him out. How could I take him out?" Gundy told Chelf. "He's rushed for 136 yards. We didn't expect it to go that way, it just did. But how could I explain to the team a guy rushed for 100 yards and I took him out?"
It made sense, but it didn't lessen the pain of a missed opportunity. Chelf lost the quarterback battle in spring camp in 2012 to true freshman Wes Lunt and began the year as the No. 3 quarterback before injuries pushed him into a starting role. He didn't surrender that status until the early struggles against Mississippi State.
"They were tough," Chelf said of the days after the season opener. "That was maybe even more tough than it was the year before, because I really felt like, being a senior, that this was kind of going to be my year."
Three months later, Chelf can look back on a season that did end up being "his year."
A month and a half after being relegated to the bench, Chelf got another chance against TCU and took advantage.
"How well you handle adversity is something that speaks about you, not just in football, but in life," Chelf said. "I'm extremely proud of where I came from and what I had to go through, and I think that would make anybody a better person."
His first pass attempt was intercepted, but he helped OSU beat the Horned Frogs, 24-10.
Chelf finished the season with 1,792 passing yards, 15 touchdowns and six interceptions. The highlight came in a 370-yard, three-touchdown performance against Baylor when Chelf logged a quarterback rating of 239.9 in a 49-17 win over the 9-0 Bears.
"He went through a stage there where he was kind of lights out and got us through some tough games. He's been terrific," Gundy said. "There's a lot to be said about him and what he's accomplished and how it's transpired."
How he handled his time off the field impressed Gundy just as much, if not more.
"It's been beautiful," he said.
At the end of his conversation in the locker room, Gundy made sure to reinforce what Chelf already knew: Be ready, because his time could come. He admitted it might be hard, especially during his final season as a Cowboy, but when OSU needed him in the middle of what became a seven-game winning streak, he was ready.
"That wears on you, knowing you're going from here to there and not going to get to play and you don't know what your future holds, if you're even going to get your opportunity," Chelf said. "My family's helped me through that and they're a great support system for me and so whenever I was down, they would be there to help me."
Chelf's older brother Colton was part of that support system, and his roommate, linebacker Caleb Lavey, saw him deal with a promising season fall into uncertainty.
"I'll give Clint a lot of credit, because he got taken out but he accepted it, he took it the right way," he said. "He had a good attitude about it, and I don't know if I would have handled it the same way. He understood his role. He knew what he was going to do and he knew he was part of the team. He's grown up with these men and he wasn't going to hang them out to dry."
Added receiver Charlie Moore: "He's earned a lot of respect from the team by the way he's handled it all. I love to see Clint do well."
After falling to No. 2 on his own team's depth chart back in August, the Big 12's media and coaches voted him as a second-team All-Big 12 selection in December, behind only Baylor's Bryce Petty, who finished seventh in the Heisman Trophy voting.
Chelf's attitude turned a forgettable senior season memorable, and that conversation with Gundy doesn't seem nearly as painful now.
"I had a gut feeling that wasn't how my career would end here," he said.