Can Mavs recover after blowing golden opportunity?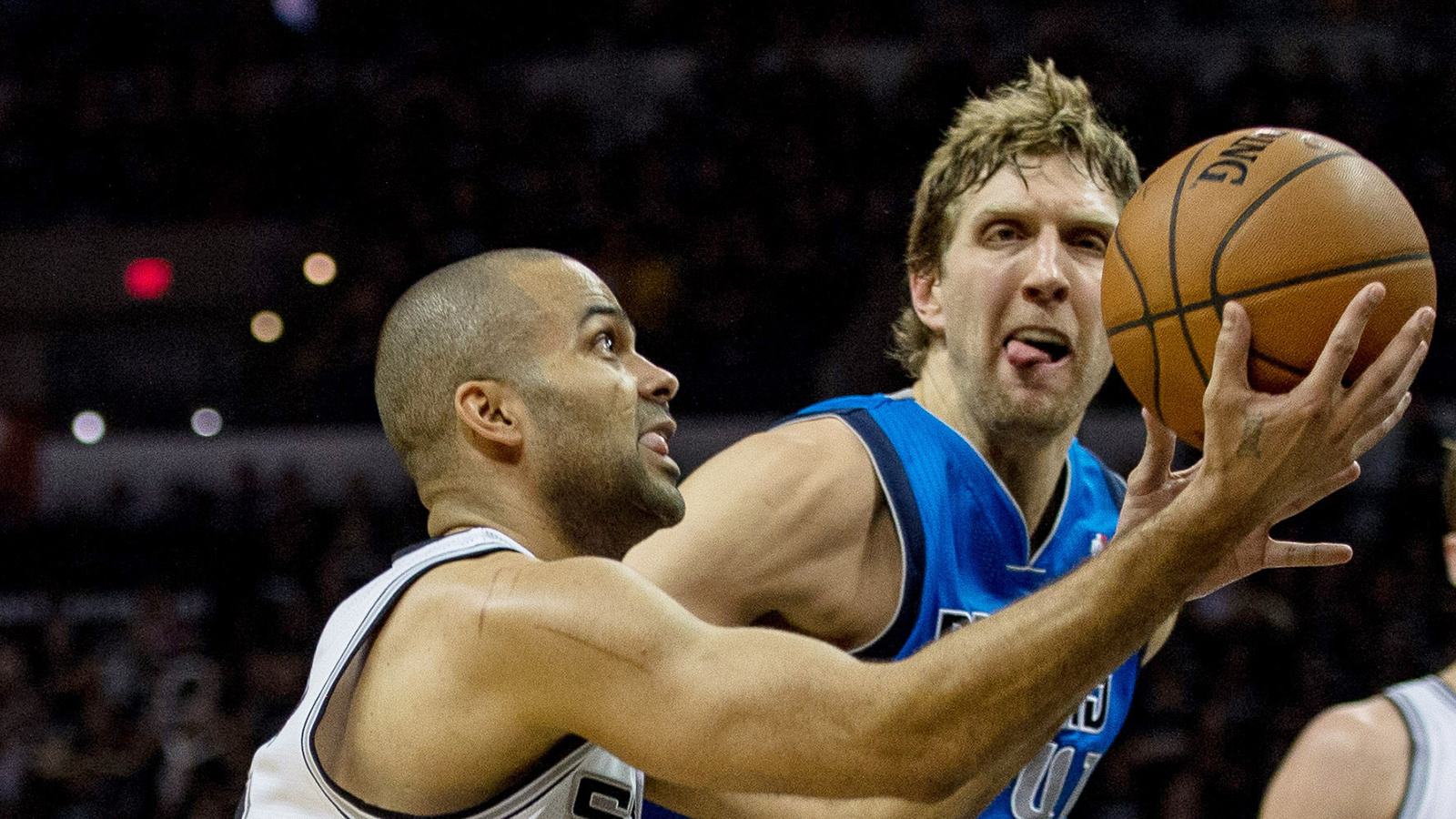 The prospect of the Dallas Mavericks winning four of the next six games against the San Antonio Spurs sounds pretty far-fetched. But stealing Game 2 in the Alamo City seems reasonable in the aftermath of Game 1.
Can a team gain confidence after blowing a 10-point lead in the fourth quarter and losing 90-85? Actually, the answer's yes. The Mavs got off to a horrible start Eastern Sunday and then fell apart in the game's final seven minutes. In between, Dallas gave itself every opportunity to win the game.
The Mavs may have missed a golden opportunity, but it would be wrong to suggest they've taken their best shot at the Spurs. Surely that can't be the case when the two best players on the team –Dirk Nowitzki and Monta Ellis –had miserable shooting games (combined 8-of-28). The best news for the Mavs is they found a way to contest 3-pointers on the defensive end. You can live with Tim Duncan and Tony Parker scoring in the paint as long as sharpshooters such as Marco Belinelli and Danny Green aren't getting wide-open looks. Mavs coach Rick Carlisle has to pick his poison against the Spurs, and he finally hit on something that worked Sunday. There's no reason to abandon that strategy.
On the offensive end, it's hard to imagine Nowitzki having another poor shooting night. In the past, he's responded to subpar efforts with enormous games. He's still capable of doing that at this point in his career. I also think he's doing a good job setting the tone for Game 2.
Given too much time to analyze this series, reporters asked Nowitzki on Monday whether Devin Harris should replace Jose Calderon in the starting lineup. Harris had 19 points and five assists in Game 1. He controlled the game's tempo and was a huge part of the Mavs extending their lead to 81-71 with just under eight minutes remaining.
"We're rolling the way we're set up," Nowitzki told reporters Monday. "Jose has been our starter the whole year. We've got to start the game off a little better. I think we were a little slow and we were down eight or 10 pretty quick there in the first quarter, so we've got to be a little better there, but Jose is our starter. He's the guy that puts us in our plays and we're rolling with it."
Nowitzki isn't the one who sets the lineup, but he's earned the right to state his opinion. A change in the starting lineup early in a playoff series might signal panic. And it might also upset the chemistry the Mavs have with a second unit that features Harris, Vince Carter and Brandan Wright. The Spurs and Mavs both have excellent benches, but Dallas had the advantage in Game 1. As one might expect, Carlisle wasn't ready to share his starting lineup two days before it was due.
"It's been one of our strengths, so there's a lot of value in it," Carlisle said of his bench. "[Harris] has been one of our keys since late January when he came back. NBA games are long. And there is a lot going on out there. We have a deep roster, and we need every single guy on the roster.
"If we get to a point where I feel major lineup changes are in order, we'll do it. But I'm not going to talk about it two days before the game."
It's hard to say which team benefits the most from having so many days between games. What we do know is the Mavs' veterans probably need the rest more. Spurs coach Gregg Popovich has the luxury of resting his veterans at certain points of the regular-season.
On the surface, that seems like an advantage.
But even Popovich noted that his team hadn't played as many meaningful games down the stretch. The Mavs probably got the Spurs' attention Sunday. And that's not all bad.