Can Riley do the same for Oklahoma offense that Leach did?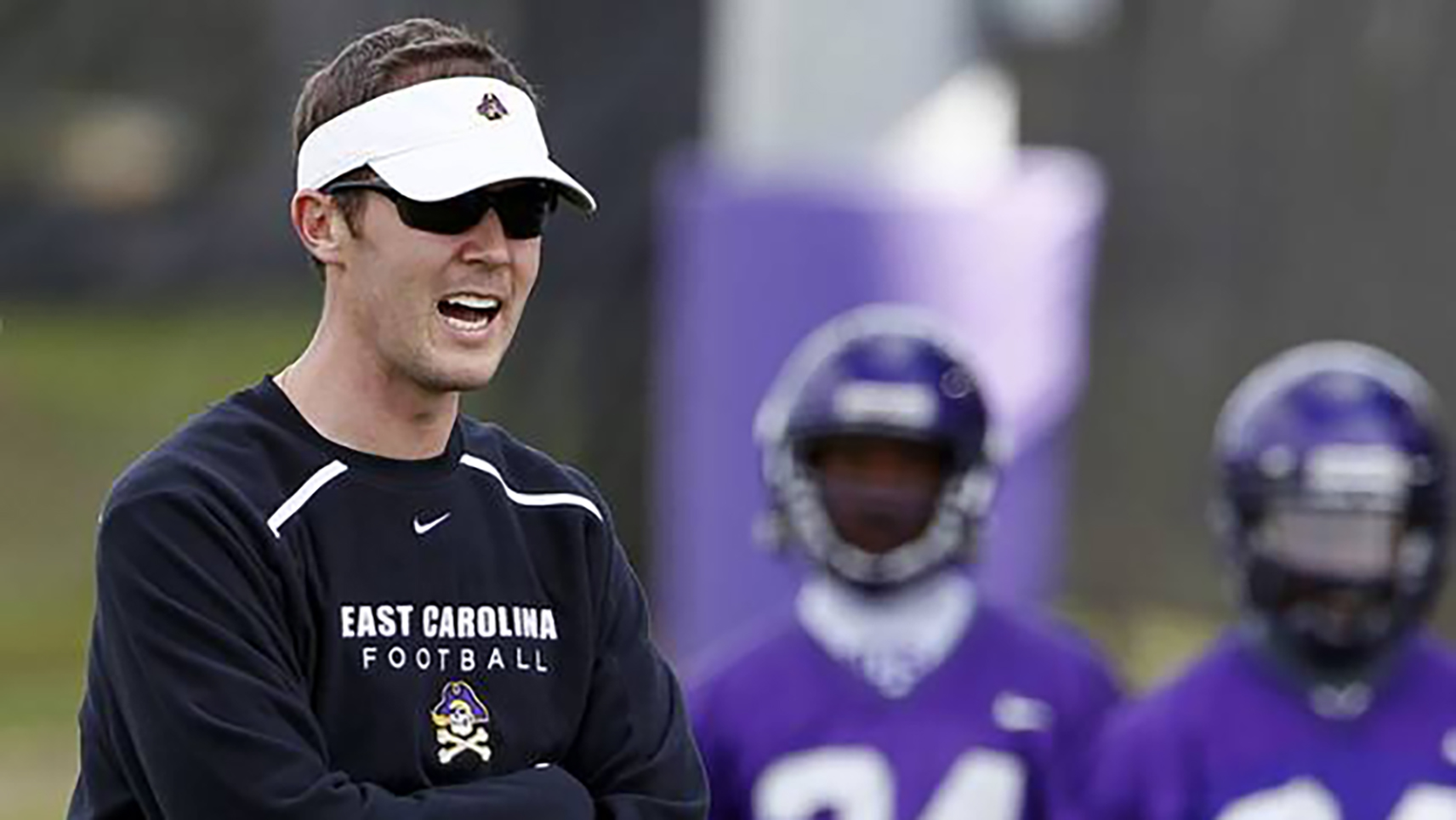 NORMAN, Okla. — In 1999, Bob Stoops came to Oklahoma and brought Mike Leach in to run the offense.
Leach and Stoops took players and moved them to parts unknown.
Players like Brandon Daniels, a one-time running back, quarterback and strong safety, moved to receiver under Stoops and Leach. A player like J.T. Thatcher moved from receiver to running back to defensive back to a field-position-changing return man.
High school running backs became college receivers. A junior college quarterback, Josh Heupel, became the savior.
If you could play, Leach got you the ball.
Saturday, Stoops and the Sooners introduced Lincoln Riley, recommended by Hal Mumme, a protege of Leach and the most-important hire since that 1999 hire of Leach.
"A little surreal," Riley said. "An honor to be here."
Well, congrats, coach. Now, figure out a way to do what Leach did.
What Leach did was build a high-powered, fast-paced offense that made it to a bowl game in his first season and won a national title the next. Now, it's up to Riley to do something quite similar, and do it by putting in the same offense Leach ran.
"He's the perfect guy to move forward," Stoops said. "A guy who comes up with the tree I believe in."
The tree has strong limbs and great roots and has spouted plenty of success. The success continues if Riley does what Leach did.
Not the winning part, not the implementation of the offense, either, but the ability to be creative with a canvas that's already colored.
Riley wants to pass the ball and pass it often, but the Sooners don't have an accomplished passer, and aside from Sterling Shepard, don't have a reliable receiver. Not on campus now. Not yet, anyway.
Hard to say what the Sooners will do in 2015, after all they hired Riley, a guy to run the same system Heupel was originally employed to operate. Yet, the all-out passing attack, successful under Sam Bradford and Landry Jones, didn't really come off under Trevor Knight last season. The switch to a Pistol offense, a Zone Read offense and then a running offense, never seemed like they were blessed in holy matrimony. No commitment. No long-term love. OU had little consistency on offense this past season and for chunks of 2014 before firing effectively against Alabama in the Sugar Bowl.
Now Riley is in charge and the move back to the original roots of the offense seems imminent. Right?
"It can become whatever we need it to become," Riley said of his offense. "I don't think we need a lot of specific things to make it work. Learning this from Mike Leach, they were open minded. We have a lot of good players and we're going to take a lot of pride in doing what we do well. I love the personnel we have here at Oklahoma. We have what we need here."
That has to be good news for the Sooner fans who watched OU fall flat against Clemson in the Russell Athletic Bowl, scoring six points and struggle to throw the ball all season, but it also seems borderline delusional, unless Riley can do what Leach did and make something out of what appeared to be nothing.
Saturday wasn't the time for bad news. Saturday was the time for positives and reassurance the Sooner brand still means something. Saturday, Riley sold the fact he could win. Now.
"We've got a good challenge going in," Riley said. "I just want a great player. You can look at the versions of this offense. We've had short, fast, slow. We just want a guy who's a winner. If he's got that, we'll build it around all the other stuff."
There's plenty of building to be done, that's for sure, and it appears Riley is going at it the same way Leach did.
"I don't know what it's going to look like," Riley said. "I don't have a clue. But our best people are going to touch the ball."
Who knows if Riley can do it, but he said exactly what Sooner fans want to hear. And it's exactly what Leach did.
Follow Andrew Gilman on Twitter: @andrewgilmanOK
MORE FROM FOX SPORTS SOUTHWEST:
– Highest paid coaches in college football
– Ranking NFL quarterback salaries
– Oldest player on every NBA team