Breaking down CF in the AL West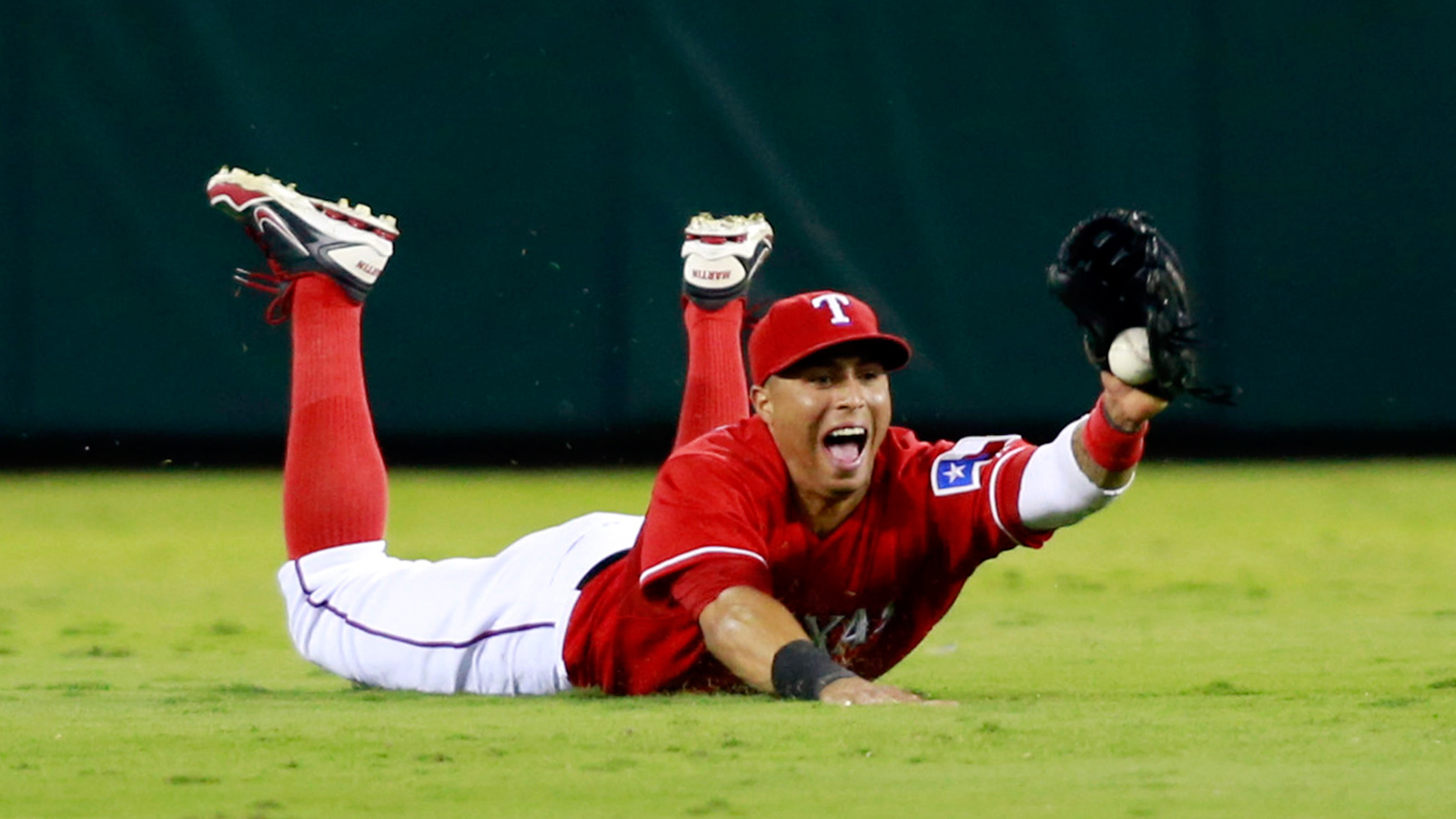 Leonys Martin could have a huge season for the Texas Rangers this season and it may not matter as far as the centerfield pecking order in the American League West.
That's what happens when you have arguably the game's best position player also roaming center in your division in Los Angeles centerfielder Mike Trout. While it's taken Trout just two seasons in the majors to establish himself as one of the game's best, there are plenty of other good centerfielders in the West.
Martin has a chance to make that CF pool a little deeper.
His play in center in his first full year in the majors in 2013 made Craig Gentry expendable from his part-time platoon role and opened the door for even more time for Martin, who had 457 at-bats last season.
The Rangers hope Martin, who will bat ninth, can find the consistency that eluded him in 2013. He had periods where he was one of the best hitters on the team, as he batted .333 over a 55-game stretch in the middle of the season. But that hot streak was bookended by stretches of cold streaks at the plate. He ended the year on one as he batted just .210 over the final month of the season to wrap up the year with a .260 average.
Martin believes he'll be better this year because he knows what's expected of him in a full season at the major-league level. He also showed last year that he can do other things than just hit. Martin stole 36 bases, and all 36 came after the middle of May.
Defensively he showed off a strong arm in center with 14 outfield assists, the third most in the majors and the most by a Texas player since Ruben Sierra had 15 in 1991.
If Martin falters, the Rangers will have to do some juggling and could move Shin-Soo Choo from left to right or have hot-hitting Michael Choice fill some of the void.
One player who certainly won't falter is Trout, who made a strong most valuable player case for himself a year after winning the rookie of the year.
Trout, who won't turn 23 until the summer, put together another outstanding season last year by batting .323 with 27 home runs, 97 RBI, 33 stolen bases and an OPS of .988. He's had the best offensive WAR in the AL in each of the last two seasons and finished 2013 with 75 extra-base hits.
Trout wasn't the only centerfielder in the West to have a big season in 2013.
Oakland's Coco Crisp, who is 34, put together one of his best years. Crisp hit a career high 22 home runs and also had 66 RBI. He surpassed 20 steals for the fourth-consecutive year and also scored a career high 93 runs.
The team that made the biggest move in center was Houston, which added much-needed punch to its lineup with the acquisition of Dexter Fowler from Colorado.
Fowler hit .263 for the Rockies last season with 12 home runs, 42 RBI and 71 runs scored. Fowler, who is just 27, was slowed by a knee injury last season but says he's healthy and looking forward to playing at Minute Maid Park.
Seattle has the biggest question mark in center. The Mariners are hoping youngster Abraham Almonte can handle the job. Almonte, 24, has just 72 at-bats in the majors but did have six extra-base hits and batted .264 the limited action. Almonte has struggled to hit this spring but the Mariners have continued to give him playing time and could end up using him as their leadoff hitter.
WEST RANKINGS
1. Los Angeles
2. Oakland
3. Houston
4. Texas
5. Seattle