Boudreau and Ruff bring much experience to Ducks-Stars series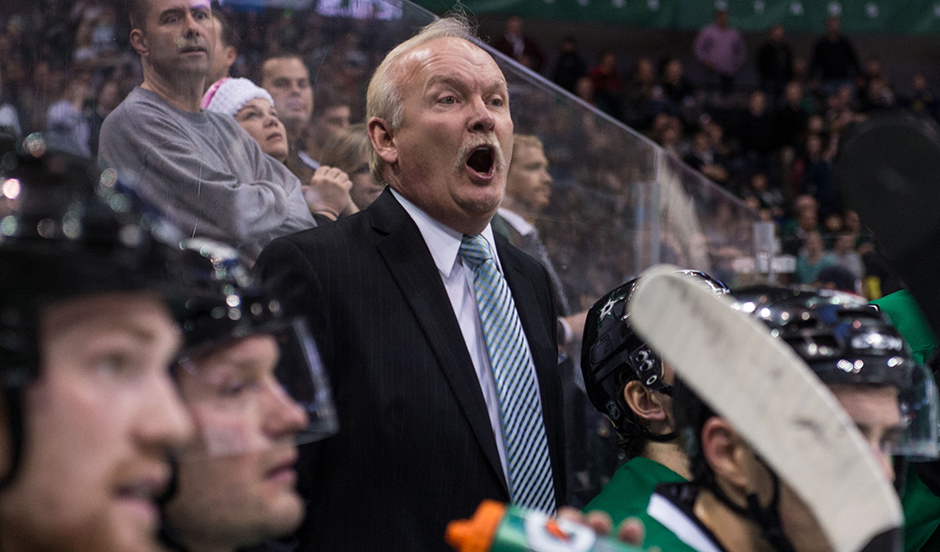 When the puck officially drops on the Stanley Cup Playoffs Western Conference First Round series between the Anaheim Ducks and Dallas Stars on Wednesday night at the Honda Center, the battle will commence between two coaches who have not only matched wits on numerous occasions, but two individuals with a combined 24 years of NHL head coaching experience who also have great mutual respect for one another.
Bruce Boudreau is in his third season leading the Ducks and guided Anaheim to the top spot in the West, the sixth time in his eight years as an NHL head coach he's guided a team to a first-place finish in the regular season.
Of course, the knock on Boudreau, who won the Jack Adams Award as the NHL Coach of the Year in 2008 with the Washington Capitals, has been his lack of playoff success, a trend he's hoping to reverse this year.
Boudreau and Ruff have met as head coaches 20 times and Boudreau has a 10-8-2 record against him. However, this season, Ruff's Stars went 2-1-0 against Boudreau's Ducks, which means this has the makings of a great playoff series.
But no matter how this first-round series finishes, that mutual respect will endure.
"We played Buffalo a lot when I was in Washington. I always thought he was one of the smartest guys out there and hardest to figure out because he could adapt very easily. I've known him for a long time," Boudreau said of Ruff.
During his 15-year run in Buffalo, Ruff always enjoyed doing battle with Boudreau when he was coaching the Capitals. And now that the two have renewed their rivalry out West, the first-year Stars coach expects another great chess match between he and his fellow former coach of the year to see who advances to the next round.
"He's going to see what I'm going to create as far as matchups. I want to see how he reacts to what I'm going to do. He gets to fight that battle on home ice first. I get to try to aggravate them," Ruff said.
And even though Anaheim and Dallas are no longer Pacific Division bunkmates as had been the case prior to realignment, these are teams that have already faced each other three times during the regular season, twice at the Honda Center and once at American Airlines Center.
So, Boudreau isn't expecting many surprises from the Ruff-led Stars, who snapped a six-year playoff drought by blanking the St. Louis Blues 3-0 last Friday at AAC.
"I don't think there's going to be a lot of surprises. I hope not anyway because we're not prepared for a lot of surprises," Boudreau said. "We know how he coaches unless he's changing a lot of things up this week. It should be good."
Under Ruff, one reason the Stars have snapped the franchise's record playoff dry spell is because his team has excelled at playing with blistering pace for most of the season. That speed begins on Dallas' top line with the likes of captain Jamie Benn and top scorer Tyler Seguin, but there are players up and down the Stars lineup who have a bit of pace of their game, guys like Ryan Garbutt, who finished third on the team with 17 goals.
And as Ruff looks across the way at Anaheim, a team that led the NHL with 266 goals this season, he sees a team with the likes of Ryan Getzlaf and Corey Perry that likes to play a game similar to how his own club attacks the ice.
"He's played up tempo," Ruff said of Boudreau. "They've been a good up-tempo team. That part of the game I think has been as good as anybody in this league and he seems to have a great rapport with his players. I'm expecting a real hard series."
Of course, Boudreau is focused on doing all he can to help the Ducks advance in this year's postseason, something they failed to do one year ago when they were upset in the opening round.
However, the veteran NHL coach can't help but be impressed with the solid turnaround Ruff has helped engineer in Dallas in just his first year on the job.
"He's a good coach. Once you're a good coach, you're a good coach. It doesn't matter where you coach. He made the playoffs a lot of years in Buffalo with not a really great team. I think this is a lot better team than he's had in the past other than the '99 team when Dallas won the Cup. He's done a lot of good stuff," Boudreau said.