Big plays help 'Flounder' in quest to join Cowboys' fraternity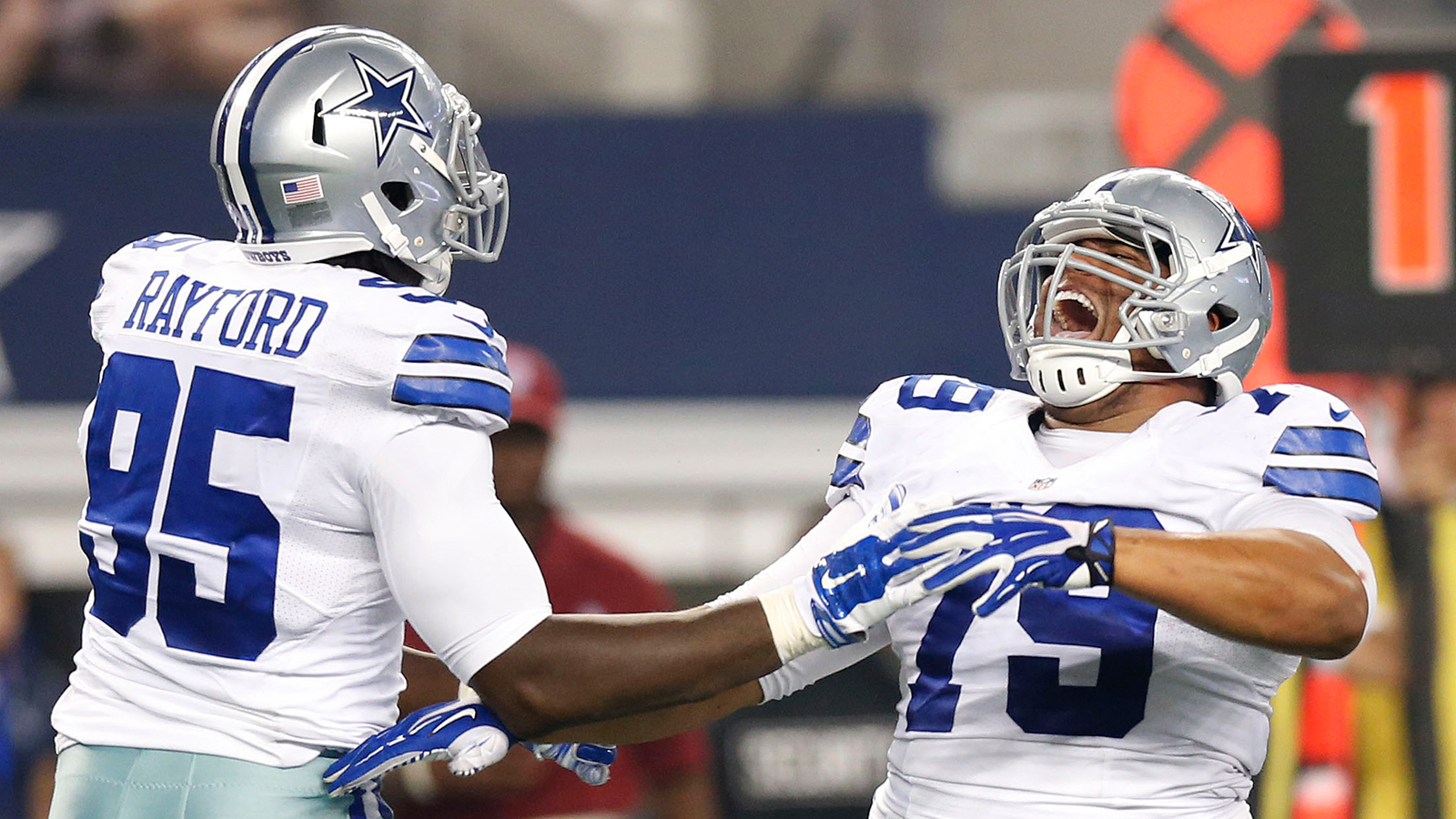 IRVING, Texas — Zach Minter signed with the Cowboys last Thursday and is already making a name for himself. It's just not his name.
After making four tackles and two sacks in Saturday's preseason game against the Ravens, the defensive tackle is drawing attention for more than his nickname around the practice facility.
"You guys remember Flounder from Animal House?" Garrett asked reporters on Tuesday. "He's got a little bit of that Flounder look to him. He didn't have a Flounder look to him when the ball was snapped, though. He really showed up."
Minter certainly looked more aggressive than Kent Dorfman, the pudgy fraternity pledge played by Stephen Furst in the classic comedy. Minter was constantly in the Ravens' backfield and had a tackle for loss and a quarterback pressure in addition to his two sacks.
"Not only did he show up on tape, he showed up in the game," Garrett said. "Players were coming up to me and literally hitting me with 'Don't take 79 out.' They didn't even know who he was."
Thanks to Garrett, Minter will be known as Flounder to everyone at Valley Ranch. Minter said he wasn't familiar with the character.
"No, but I looked him up," Minter said. "I thought that was kind of funny."
Minter has bigger concerns than a nickname. As an undrafted rookie out of Montana State last season, Minter appeared in two games for the Bears and was cut when Jay Ratliff signed with Chicago.
Minter was in the Bengals' training camp this summer and was cut, allowing the Cowboys to sign him.
That of his new teammates hadn't learned his name yet doesn't bother Minter. His focus is on making the team.
"I don't think it's really my job to try to make a name for myself," Minter said. "I'm just trying to find a spot on the team and I'm trying to help our team and our defensive line."
Minter's out-of-nowhere production is similar to the splash fellow defensive lineman George Selvie made last season. Like Minter, Selvie was just trying to make the roster and kept making plays.
FOX SPORTS
DAILY
COWBOYS

EDITION
"He [Minter] came to me yesterday asking, 'What did you do last year?" Selvie said. "And I'm like, 'Same thing you did.'"
Although Minter wasn't facing first-string competition when he made his big plays against Baltimore, his impact still resonated with the coaching staff.
"That's what we're all about," Garrett said. "We're all about 'Here's the opportunity. Here are your plays in practice, here are your plays in the game. Show us what you can do.' It doesn't really matter where you come from, and I think he's a good example of that."
After being cut once already this summer, Minter is more motivated than ever to earn a permanent spot with the Cowboys.
"It would mean a lot," Minter said. "I think I've worked pretty hard to get to this point. I'm just trying to stick around."
Part of his homework now is to watch the movie Animal House, which Minter, who was born in 1990, hasn't seen.
"I'm going to have to watch it here pretty soon," Minter said.
Garrett was reminded by reporters that the majority of his players probably didn't get the Animal House reference, since the movie debuted in 1978.
"Sometimes you have to explain," Garrett said, grinning. "They need to know a little history."
Follow Keith Whitmire on Twitter: @Keith_Whitmire