Big 12 spring meetings Day 1: League cracking down on court-storming, chants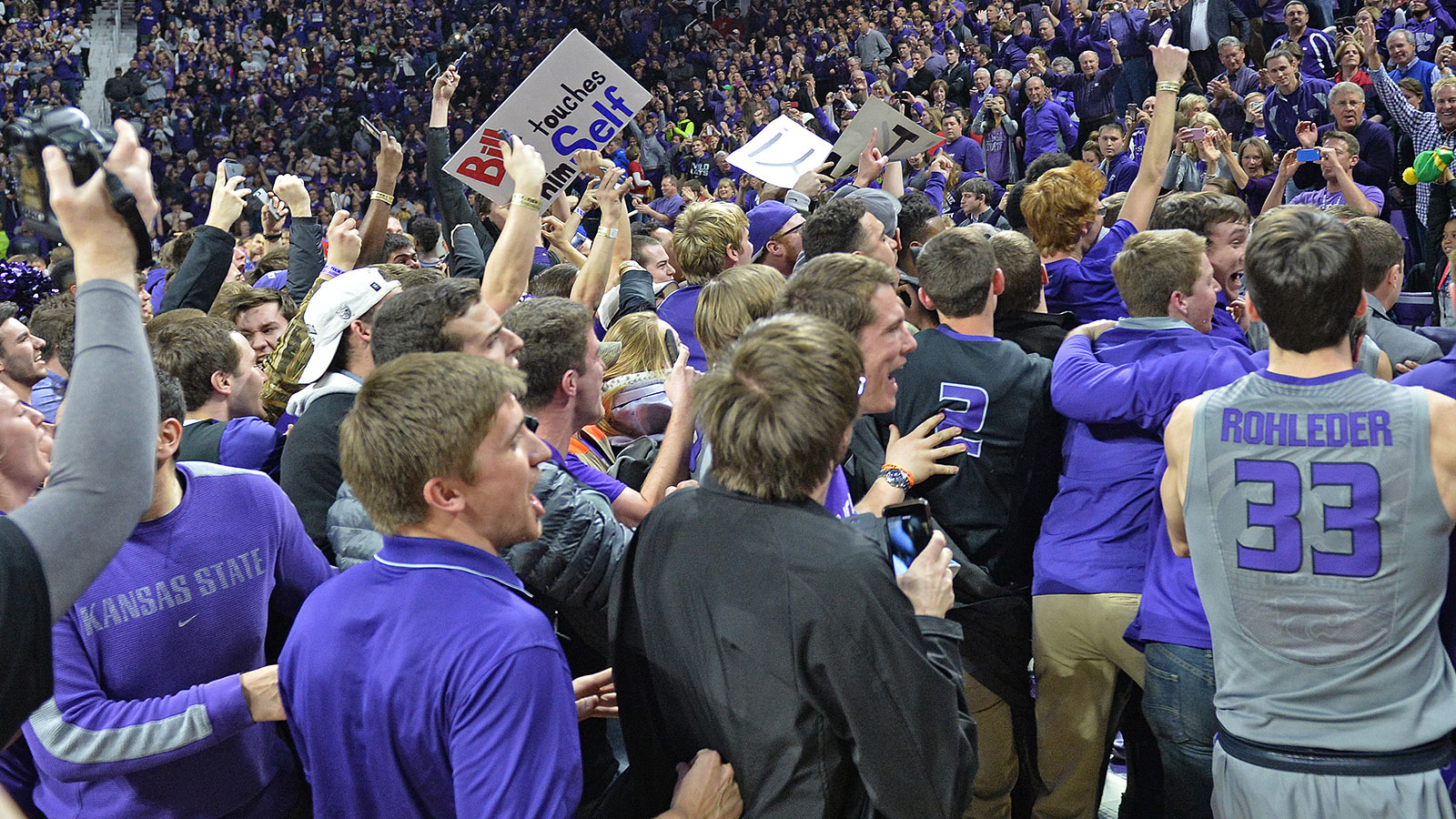 IRVING, Texas — The Big 12 is looking to keep fans off the field and F-bombs out of chants.
The league adopted a new sportsmanship policy on Wednesday that gives commissioner Bob Bowlsby the authority to dole out reprimands, fines and if necessary, strip programs of future home contests.
This week's discussion was, in part, precipitated by events after Kansas State upset Kansas in basketball on Feb. 23. Kansas coach Bill Self was smashed between fans and the scoring table in the postgame frenzy and Jayhawks forward Jamari Traylor was hip-checked by a fan who sought him out from across the floor. Video of both events sparked criticism.
"Any failure by the institution to safely get a visiting team and officials off the field will result in a review by our office," Bowlsby said Wednesday after the first of three days of spring meetings for the conferences athletic directors, presidents and chancellors.
Inappropriate chants also fall under the new sportsmanship policy.
"We have had some issues with that over the past year," Bowlsby said.
The league is requiring each school to appoint a student life staff member to assist the athletic department to help student leadership communicate that chants with "foul language or inappropriate intent" won't be tolerated.
The SEC has a policy in which teams incur fines for all court and field stormings. Fines are raised for each additional incident.
The Big 12's policy is mostly concerned with the safety of the opposing team and officials, and further incidents will be subject to review from the conference office and could face penalty.
Other notes from Big 12 meetings:
— Administrators spent time Wednesday discussing the logistics of implementing cost of attendance. The practice goes into effect in the fall semester after the Big 12 approved it and multi-year scholarships in December.
There has been debate about manipulating numbers to provide further benefit to athletes, but Bowlsby said there isn't much concern in the room about fraud. Texas athletic director Steve Patterson said he had no concern and both were comfortable with how the number is reached on each campus.
"It's done outside the athletics department. They use federal architecture to do it," Bowlsby said. "Is there some opportunity for local manipulation of it? Yeah, probably on a minor basis, but wide variation that won't stand the scrutiny of the department of education is probably not very likely. Any institution has too much to lose, if they lose their federal funding from Pell Grants it would be an awful occurrence."
— There's no consensus on where the Big 12 stands on satellite camps. The SEC's coaches, who are banned from the practice per league rules, have taken offense to coaches from the Big Ten hosting camps in SEC territory and having access to recruits during usual dead periods as a result.
"I tried to get a feel from our ADs, and I have to say, they're all over the place," Bowlsby said.
Oklahoma State has long used the practice in Texas, and other schools do the same. Michigan coach Jim Harbaugh will take part in a camp in the metroplex early next month. Generally, Big 12 schools outside of Texas who need the state's valuable recruiting base, have supported the practice.
"Our ADs for the most part are OK with where we are right now," Bowlsby said.
— Administrators also discussed scheduling as it relates to television contracts. There has been no movement toward requiring programs to play a Power 5 opponent or eliminating FCS games, but both could be a possibility in the future. Bowlsby also said a mandated Power 5 game is talked about "all the time" within the league.
"We certainly have encouraged our coaches and ADs to play FBS opponents," he said.
— Bowlsby said the prospect of implementing an early signing day in football recruiting has been met with resistance from Texas high school football programs who don't want the date to interfere with playoffs and state title games.
— Texas AD Steve Patterson said the university is continuing "discussions" to hold a football game in Mexico City, but haven't officially aimed for a date. The Longhorns will play a basketball game in China next year.
"We're an international brand and we're going to continue to do those things," Patterson said.
He also reiterated that Texas is not aiming to play a football game in Dubai, despite former coach Mack Brown's recent fundraising and ambassadorial trip to the area.
— Bowlsby reiterated the Big 12's stance against reinstituting the league title game in the wake of TCU and Baylor's exclusion from the inaugural playoff.
"I don't think a year makes a trend," he said, adding that the room of athletic directors is still comfortable with their road to the playoff. "If you look through history, nobody's been hurt more by (a league title game) than we have."
— Dallas Cowboys owner Jerry Jones is scheduled to speak to Big 12 administrators and hold a discussion panel at a dinner on Wednesday night.
MORE FROM FOX SPORTS SOUTHWEST:
– PHOTOS: Cowboys Cheerleaders Auditions
– Ranking NFL quarterback salaries
– Oldest player on every NBA team