Big 12 spring football preview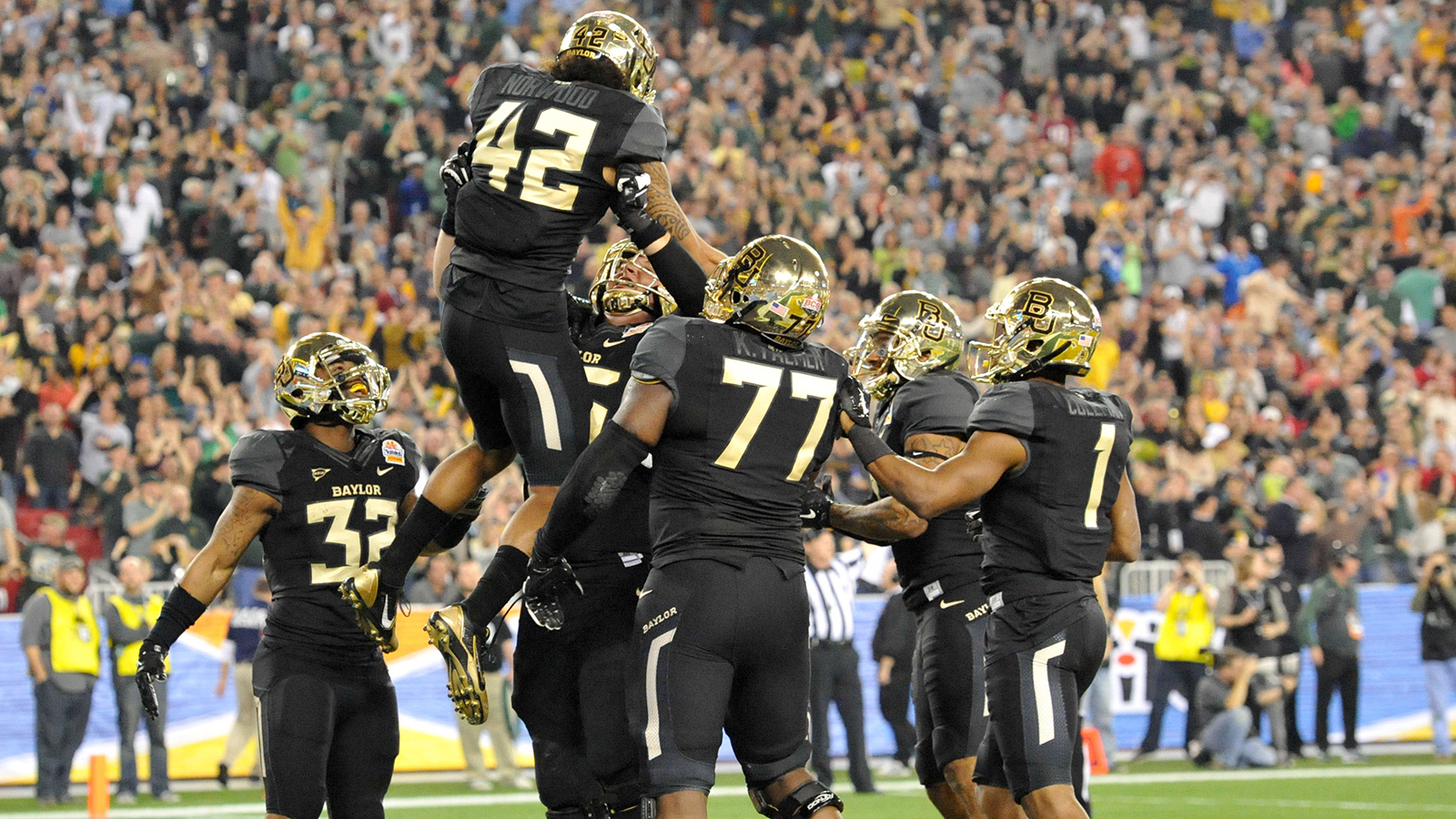 Oklahoma and Texas' dominance over the Big 12 is a thing of the past. Five different programs have won the last five Big 12 titles, and the last three have all been someone other than the Sooners or Longhorns, who combined for nine titles (seven from the Sooners) from 2000 to 2010.
Spring in the Big 12 now means the hope for teams outside the Red River Rivalry is much easier to grasp. Oklahoma State, Kansas State and Baylor have climbed the mountain and won titles. The summit isn't beyond the horizon for a program like Texas Tech or even TCU.
That climb starts in the spring, and here are five questions we can try to find answers to across the Big 12.
1. Will the spring be a launching pad for a quarterback resurgence?
Last season, Texas was the only team in the Big 12 who returned a quarterback that started the vast majority of his team's games the previous year. Concussions prevented David Ash from staying on the field beyond the Longhorns' Big 12 opener.
This year, all 10 Big 12 teams return a quarterback who had multiple starts in 2013. Baylor's Bryce Petty is a known entity who'll begin the season with Heisman hype after finishing sixth in voting last year. Throwing 32 touchdowns (and running for 14 more with just three interceptions) will do that.
With a year of experience under their belts, this spring could feature the beginning stages of breakout seasons for quarterbacks across the Big 12.
Texas Tech's Davis Webb tops that list of likely contenders after Baker Mayfield and Michael Brewer decided to transfer. The sophomore enters Year 2 of his tutelage under Kliff Kingsbury as the lone quarterback on the Red Raiders roster with any experience, and he topped 385 yards in five of his final six games last season. We'll talk more about Oklahoma's Trevor Knight later, but he gave the Sooners hope with a legendary Sugar Bowl performance against Alabama.
Kansas State's Jake Waters threw 10 touchdowns in his final four games and will continue throwing to the Big 12's best receiver, Tyler Lockett.
Last season was a down year for quarterbacks across the league, but 2014 could look very, very different.
2. Is Charlie Strong the answer in Austin?
Mack Brown, also known as everyone's kindly grandfather, was the ultimate player's coach. The Texas legend helped resurrect the Longhorns program, but resigned in December after nearly two decades at the helm.
Now, it's Charlie Strong's time. He's already brought in sweeping cultural changes like moving much of the roster back on campus from off-campus apartments, requiring players to sit in the front two rows of classes and banning earrings from the facility.
He also installed a conditioning program run by Pat Moorer and moved spring practice back nearly a month from where Brown held it, so the strength and conditioning will have time to make an impact before he gets his team on the field on March 18. So far, Texas hasn't had any major player departures or rumors of heads butting, but will the on-field results be there?
Strong will be under a microscope all spring, and so will his offensive coordinators, Joe Wickline and Shawn Watson. Wickline, a former OL coach at Oklahoma State, will call plays from the field. Watson moved from Louisville with Strong, where he helped mentor Teddy Bridgewater into a likely top 10 pick.
Quarterback David Ash returns, but his history of concussions makes it easy to wonder if he can hold up through the beating of a season. Backup Tyrone Swoopes better be ready.
The talent is on campus in Austin for a quality debut, but the bar is obviously high at Texas. Nine wins a year won't cut it for long. If it did, Brown would still be Texas' coach.
3. Can the newbies start moving in the right direction?
All the people who doubted whether West Virginia or TCU could handle the move to the Big 12? So far, they've been right.
TCU's been hampered by injuries in 2012 and 2013 and West Virginia dealt with them at QB last season, but neither new Big 12 member made a bowl in 2013 and both finished at 4-8. West Virginia hadn't missed a bowl since 2001, Rich Rodriguez's first season in Morgantown. TCU hadn't been home for the holidays since 2004.
West Virginia promoted safeties coach Tony Gibson to defensive coordinator and TCU hired Doug Meacham from Houston and Sonny Cumbie from Texas Tech to serve as co-OCs.
Both programs are entering their third seasons as Big 12 members and expectations won't be high, especially considering both teams have major questions at quarterback. Could either be a surprise team?
4. Is Baylor building a monster?
Baylor coach Art Briles is talking a big game after capturing his first Big 12 title in 2013. "We want to run the show," Briles told Fox Sport Southwest this spring. "That's the plan."
Baylor returns Offensive Player of the Year and Heisman candidate Bryce Petty and open their new home, $250 million McLane Stadium, this fall. Most importantly, Briles is back after spending much of 2013 fending off speculation that he'd be the next coach at Texas.
The Bears will focus on replacing seven departed starters on defense, but returning big talents along the defensive line like Shawn Oakman and Byron Bonds will make it easier to replace defensive backs like Ahmad Dixon, Demetri Goodson and K.J. Morton.
Seeing the Bears' progression has to be scary for the rest of the Big 12, and it's happened in just six years. Plenty of coaches warned Briles that Baylor was a dead-end job when he came from Houston. He took the Bears to a bowl game for the first time in Big 12 history in Year 3.
Robert Griffin III's Heisman Trophy the following season made it clear Baylor hadn't touched its ceiling yet. Nick Florence led the nation in passing yards the following season and won eight games, shedding off the idea that Baylor's rise would end when its most transcendent player exited the program.
Last year, with Griffin III two years in the rearview mirror, the Bears fielded their best team ever, thanks to a resurgent defense under coordinator Phil Bennett that led the Big 12 in yards per play.
Baylor will be one of the league's favorites to repeat this year, and just fielded a top 25 recruiting class. If they can plug the holes in the defense this spring, don't be surprised to see the Bears in a playoff access bowl next season, trying to erase the memories of an ugly loss to UCF in the Fiesta Bowl last season.
5. Does Trevor Knight make Oklahoma a national title contender?
Knight's 348-yard, four-touchdown performance in the Sugar Bowl win over Alabama made it easier to forget he was the same player who was benched early in the season after failing to complete 50 percent of his passes and suffering a minor knee injury.
Was the Sugar Bowl a sign of things to come? Or a flash in the pan? The spring may provide plenty of clues.
Knight's mobility and big arm give him a high ceiling, but his accuracy was spotty at times throughout the season. Blake Bell officially moved to tight end this spring, so all the first-team reps will belong to Knight. If he plays most of next season like he did in the upset win over the Tide, you can bet Oklahoma, which also boasts a defense loaded with young talents like LB Eric Striker, DE Charles Tapper and LB Dominique Alexander, will be in the mix for one of four spots in the inaugural College Football Playoff.