Big 12's postseason results were far from expected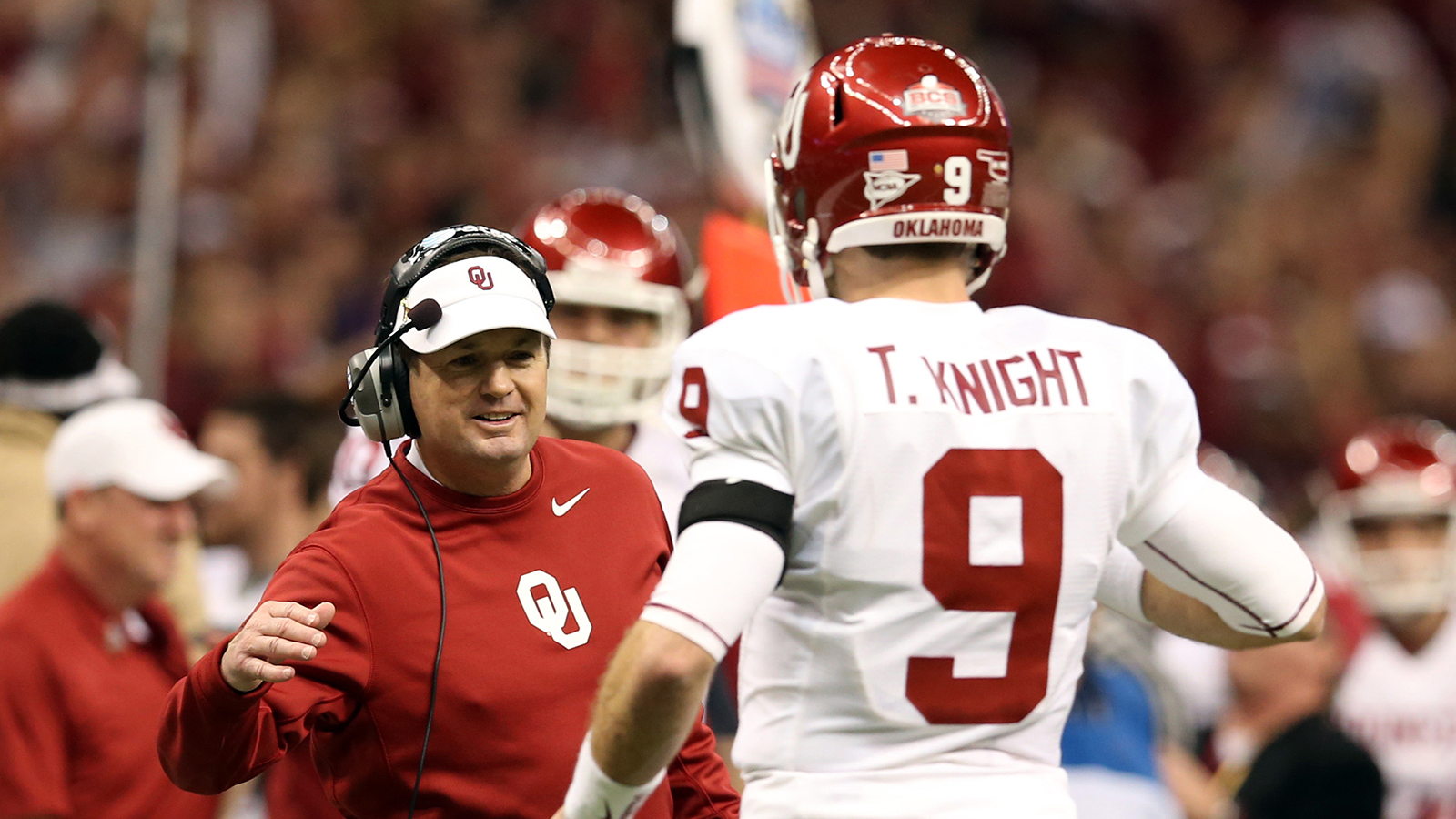 The Big 12 season's done, but before the year officially ends with tonight's national title game, here are a few thoughts on what the six Big 12 teams did during the postseason.
Oklahoma showed us flashes of something special. Oklahoma picked a heck of a night to play its best offensive and defensive game of the season. The Sooners' talent level may not be what it was when the Sooners were making what seemed like bi-annual trips to the BCS title game, but they've still recruited well under Bob Stoops. The team is stocked with athletes, and you saw that with guys like Eric Striker, Jalen Saunders and Geneo Grissom making plays all over the field. Striker had three sacks, Grissom had two and scored the game-sealing touchdown on a fumble recovery. Trevor Knight had what people are fairly calling a breakout game. If OU plays anything close to that next season, they're going to be tough to stop in the Big 12 title race. You're going to have a tough time talking me out of the idea that Oklahoma will enter 2014 as the Big 12 favorite. It's been a long, long time since we've seen Oklahoma look like that on a big stage against a team like Alabama, the nation's best team. That was no fluke, and Alabama was invested and interested in winning that game. Oklahoma was just better.
Do bowls get any more unpredictable? Let's summarize: Texas Tech was completely dominant against Arizona State as a 14.5-point underdog. Baylor got outplayed for 60 minutes against UCF as a 17-point underdog on the school's biggest stage. Oklahoma dogged on SEC kingpin Alabama all night in New Orleans as a 17-point underdog, which easily produced the bowl season's most shocking outcome. I expected Alabama to play a bit flat and Oklahoma to keep it closer than people expected, but it seemed like my jaw was dropping on every other snap.
Texas' flaw was on full display. The Longhorns defense played well enough for a competent offense to win by double digits. Oregon hasn't been held to one offensive touchdown since 2010, but Texas did it in a send-off for Mack Brown that wasn't lacking in effort. Case McCoy gave Texas everything he had these past three seasons, but it doesn't change the fact that he's inaccurate and lack's arm strength. The former produced McCoy's first pick six and the latter produced his second. Quarterback play has been Texas' Achilles heel despite strong defense, offensive line play and running backs in recent years, and without offensive balance, the Longhorns offense looked inept. Effort has never been the issue with this team, but it was sad to see Mack go out like that, with 60 minutes of watching why it had to happen. Texas not having a quarterback hurts even more when so many other Texans like Johnny Manziel, Robert Griffin III and Andrew Luck have grown into college football superstars while the Longhorns floundered at the position.
People, please: Don't overreact to one game. Bowl games mean more than nothing, but they don't mean everything. West Virginia's Orange Bowl rout and ensuing 7-6 campaign is the poster child for that phenomenon. Oklahoma probably played its way into an inflated preseason top five ranking. The Sooners showed who they could be, not who they'll necessarily be every week in 2014. We had barely seen flashes this season of what OU showed against Alabama. Conversely, Baylor's not nearly as bad as it looked against UCF. Bryce Petty has a lot of improving to do over the offseason, but he'll have a talented receiving corps to help him do it. Texas Tech won't routinely rout top 25 teams next season like it did a very good Arizona State team, but the Red Raiders are a dark horse for the Big 12 title. Look for my early 2014 Big 12 Power Rankings later this week.
Oklahoma's win outweighed Oklahoma State's loss. We've got to address the whole SEC-Big 12 thing, don't we? The Pac-12 had a strong case as the nation's best conference, but this season, the Big 12 didn't come close to what the SEC put on the field. Still, Oklahoma State proved it was just as good as Missouri. Neither team looked significantly better than the other, but somebody's going to make plays late. That was Missouri. Meanwhile, a flawed Oklahoma team absolutely looked better than Alabama the entire night. This is the same Sooners team who got completely outclassed by Texas in the Red River Rivalry and blown out by Baylor. Missouri and Oklahoma State were essentially equals in the conference pecking order and looked like it on the field. Oklahoma was the Big 12's third-best team during the regular season, while Alabama was the SEC's best. Strike one for Big Game Bob and his offseason smack talk in that debate, even if the SEC was clearly a better conference than the Big 12 at the top, middle and bottom this season. The Big 12 should be very strong next season, with plenty of top 25 teams and perhaps a case as the nation's best conference. Don't be surprised if this game is cited often in the debate next year. The Big 12 had a down year in 2013, but still went toe-to-toe with the SEC on the field in the postseason.