Big 12 predictions: Week 14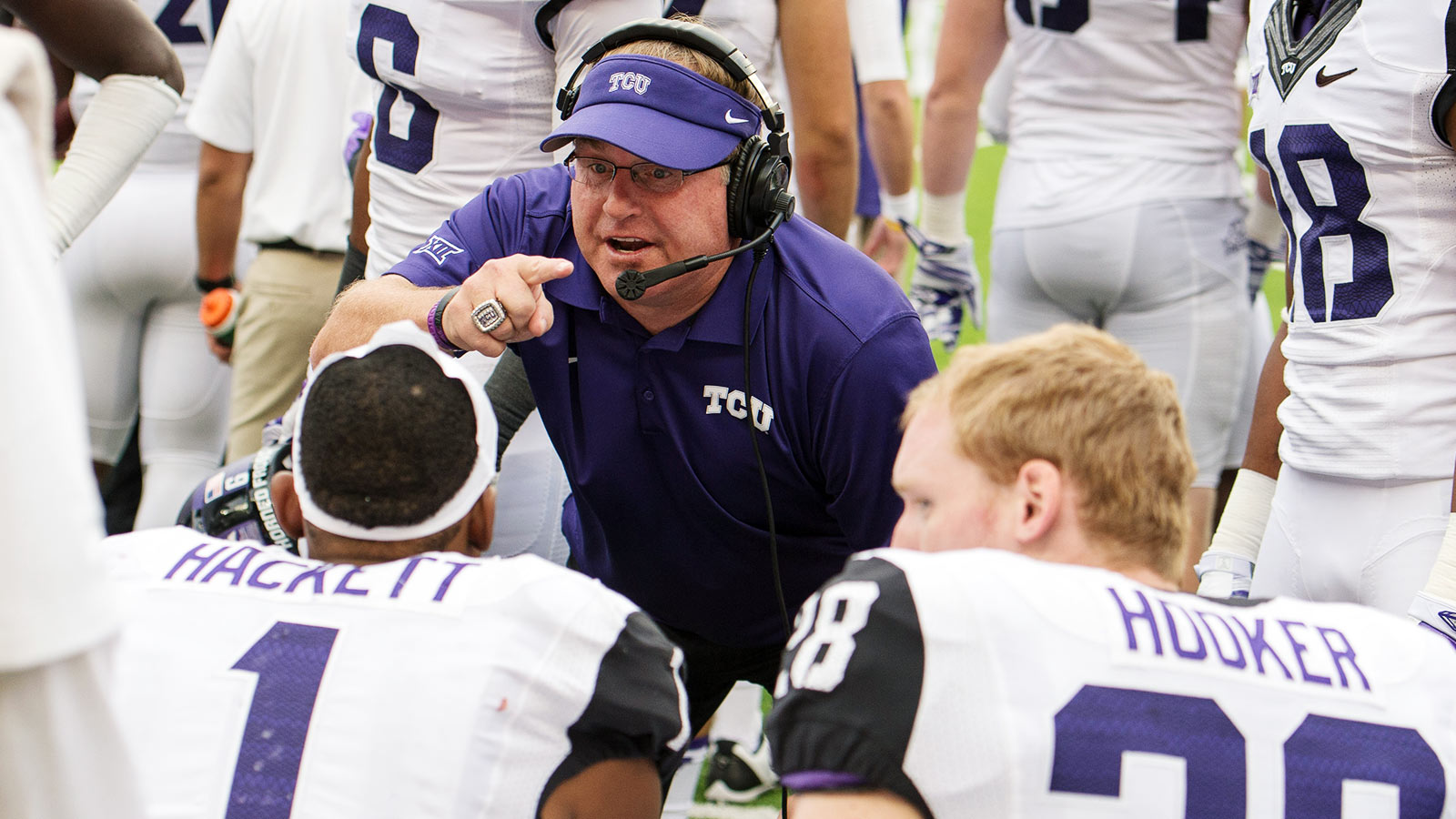 After my 1-3 disaster in Week 12, I've enjoyed a pair of perfect weeks. You better believe I've got my eyes on sailing the sea of perfection through to bowl season.
I'll be at AT&T Stadium on Saturday for Baylor's game against Texas Tech, but I'll also be back in the studio by the time Big 12 Live gets started.
Be sure to tune in to our show on Saturday night at 11 CT on Fox Sports Southwest, Midwest and other regional Fox affiliates. I'll be on with Gary Reasons, Jon Berger and Ric Renner to break down this week's games with highlights, interviews, insight and opinion.
You can also follow my work on Facebook and follow me on Twitter.
On to the picks!
Last week: 4-0 (1.000)
Overall: 61-7 (.897)
THURSDAY
TCU 24, Texas 17: The Longhorns will make this game interesting, but they lack the offensive firepower to spring the upset. They'll need a special teams or defensive score to topple TCU's playoff hopes. Texas' strength up front should be able to slow TCU's running game, which may again be without B.J. Catalon. Trevone Boykin's ability to extend plays and improved accuracy are the difference on Thanksgiving night. Somebody get the man a turkey leg the size of his shoulder.
SATURDAY
West Virginia 34, Iowa State 21: Clint Trickett may practice this week, but I'll be surprised if he plays. Skyler Howard won't have to do much if he ends up being the starter on Saturday. West Virginia's quality depth at running back with Rushel Shell, Dreamius Smith and Wendell Smallwood can wear down Iowa State, who has given up 336 rushing yards per game in its last three outings. Howard can still make some plays, but he'll have a big margin of error, thanks to the running game. Dana Holgorsen locks up an acceptable 7-5 mark for 2014, which began with him squarely on the hot seat.
Baylor 66, Texas Tech 27: Baylor's lit up the scoreboard at AT&T Stadium against Texas Tech, and that won't change this year. Texas Tech is thin and struggling at safety, which is not a good place to be weak against the Bears. Tech gives up 6.3 yards per play, the worst mark in the Big 12 and 111th nationally. Baylor fans in Arlington will be clamoring for Art Briles to shoot for 82 points in the fourth quarter.
Kansas State 38, Kansas 13: We say it every year because it's true: There's no letdown when K-State plays Kansas. Bill Snyder loves beating KU more than any team in college football. Jake Waters is playing some of his best football and K-State doesn't allow the big plays necessary for KU to make this interesting. The Wildcats have surrendered just 29 plays longer than 20 yards this season. No other Big 12 team has given up fewer than 39. K-State is fourth nationally in that stat. The Wildcats are a poor matchup for KU.
MORE FROM FOX SPORTS SOUTHWEST:
– Ranking NFL quarterback salaries
– Wake up! Athletes caught sleeping
– Best college football traditions