Big 12 Power Rankings: Pre-Big 12 Tourney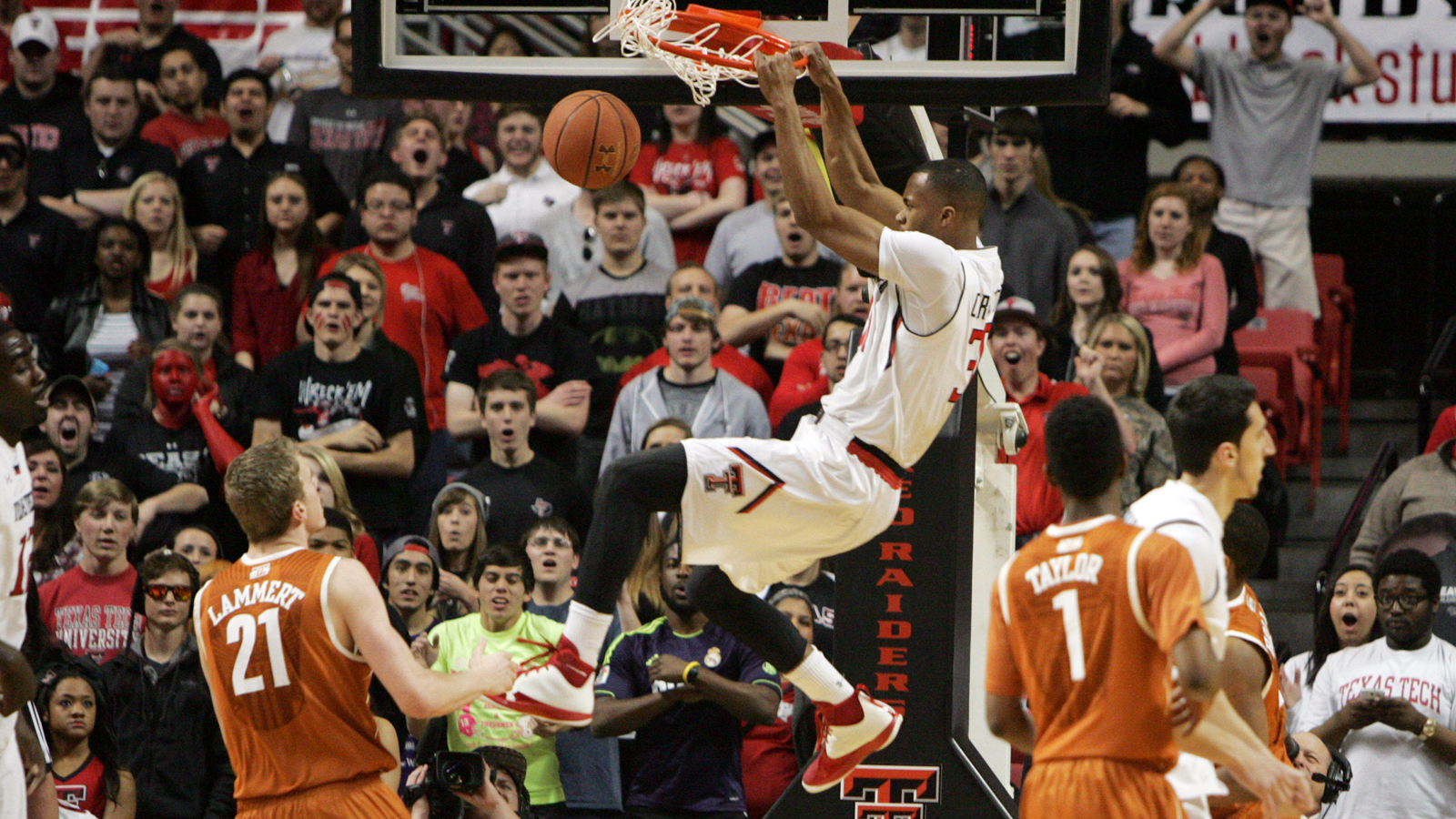 The regular season is done, and the Big 12's 10 members will all make a trip to Kansas City this week for the Big 12 Tournament. Here's how the power rankings look before the unpredictable week in the nation's barbecue capital tips off.
1. Kansas 23-8, 14-4 Big 12. Last week: 1. When Andrew Wiggins' jumper is falling, he's the most terrifying player in the Big 12. You saw shades of his athleticism during his 41-point outburst at West Virginia, but you also saw how important Joel Embiid is to the Jayhawks. Their offense often runs through him in the post, but he changes shots and his presence alone can clog up the lane for slashers like WVU's Juwan Staten. If Embiid's back is healthy for the NCAA Tourney and Wiggins gets hot, you better believe KU will be at JerryWorld for the Final Four.
2. Oklahoma 23-8, 12-6 Big 12. Last week: 3. The No. 2 seed was on the line and Oklahoma answered the bell. The Sooners logged a double-digit win over a desperate West Virginia team and blew out TCU with a second-half run to lock up the Frogs' winless season in Big 12 play. Lon Kruger made a strong case for Big 12 Coach of the Year, too. His team doesn't have near as much talent as some in the league, but it won five of its final six games to finish behind only KU in the league standings. That's remarkable. Only two Sooners made the coaches three All-Big 12 teams.
3. Iowa State 23-7, 11-7 Big 12. Last week: 2. The midweek loss to Baylor cost ISU a share of second place in the Big 12, but Naz Long's buzzer-beater provided yet another thriller against Oklahoma State, who ISU beat in triple OT back on Feb. 3. Saturday's win snapped a two-game losing streak, but here's one cause for concern for my dark horse Final Four pick: That Feb. 3 win in Stillwater was its only road win against a team other than TCU in its last seven opportunities.
4. Baylor 21-10, 9-9 Big 12. Last week: 7. Anybody want to play this team in March? The Bears have now won seven of their last eight games. Don't be surprised if they make a run to the Big 12 title next week, either. Cory Jefferson and Isaiah Austin are playing some of their best basketball over the last couple weeks. And how about Kenny Chery's stat line in Saturday's win over K-State? He scored 29 on just 13 shots and added six boards, six assists and three steals. Oh, Canada.
5. Oklahoma State 20-11, 8-10 Big 12. Last week: 6. OSU is streaky even within games. The Cowboys led by 14 in Ames early in the second half, and subsequently botched a four-point lead in the final 20 seconds, in part because of a mixup on whether or not they planned to foul with a three-point lead in the final seconds. Marcus Smart returned to his December form a bit with 27 points on 17 shots against the Cyclones. He hadn't topped 24 points since scoring 30 in a win over Purdue back on Nov. 28. The Pokes are in the tourney, but might need to either win the Big 12 tourney (possible) or bow out early to make a run in the NCAAs. The lack of depth on the roster will make it tough to match up with a No. 1 seed in the second round, but if OSU is an 11 seed or a seven, a trip to the Sweet 16 is a very real possibility with the way the Cowboys closed the regular season.
6. Kansas State 20-11, 10-8 Big 12. Last week: 4. The Wildcats won't lose many games when Marcus Foster shoots 7-11 from three-point range. Foster struggled earlier in the week (4-16, nine points) against unanimous All-Defensive team selection Marcus Smart, but the All-Big 12 second-team selection shouldn't fret. Foster will be one of, if not the best, returning talents in the Big 12 next year.
7. Texas 22-9, 11-7 Big 12. Last week: 5. The Longhorns aren't heading into the Big 12 tourney with the right kind of momentum. Texas lost a seven-point lead with less than 10 minutes to play against Texas Tech. At one point this year, UT was KU's biggest competition for the Big 12 title. The Horns have now lost four of six games heading to Kansas City this week. That's how you tumble all the way down to No. 7 in the power rankings when teams 2-7 in the Big 12 are separated by so little.
8. West Virginia 17-14, 9-9 Big 12. Last week: 8. The Mountaineers will need a title run in KC this week to make the NCAA field, despite hanging a .500 record in Big 12 play, which is a real accomplishment for this team. Juwan Staten may be the preseason Big 12 Player of the Year next season. He'll definitely earn a ton of votes.
9. Texas Tech 14-17, 6-12 Big 12. Last week: 9. The Red Raiders finished the regular season on a good note, snapping a six-game skid with a comeback win over rival Texas. There's no NIT in Tech's future, but Tubby Smith's first year provided plenty of moments that make it easy to believe the program is headed for sunnier skies very soon.
10. TCU 9-21, 0-18 Big 12. Last week: 10. TCU's glad this season will meet its merciful end next week, but you've got to respect how guard Kyan Anderson has played through it. He's averaging 17 points and 4.4 assists a game and shooting just under 47 percent through the year. If this year's discouraged him, he hasn't shown it on the court. Props, Kyan.