Big 12 falling victim to unforgiving tourney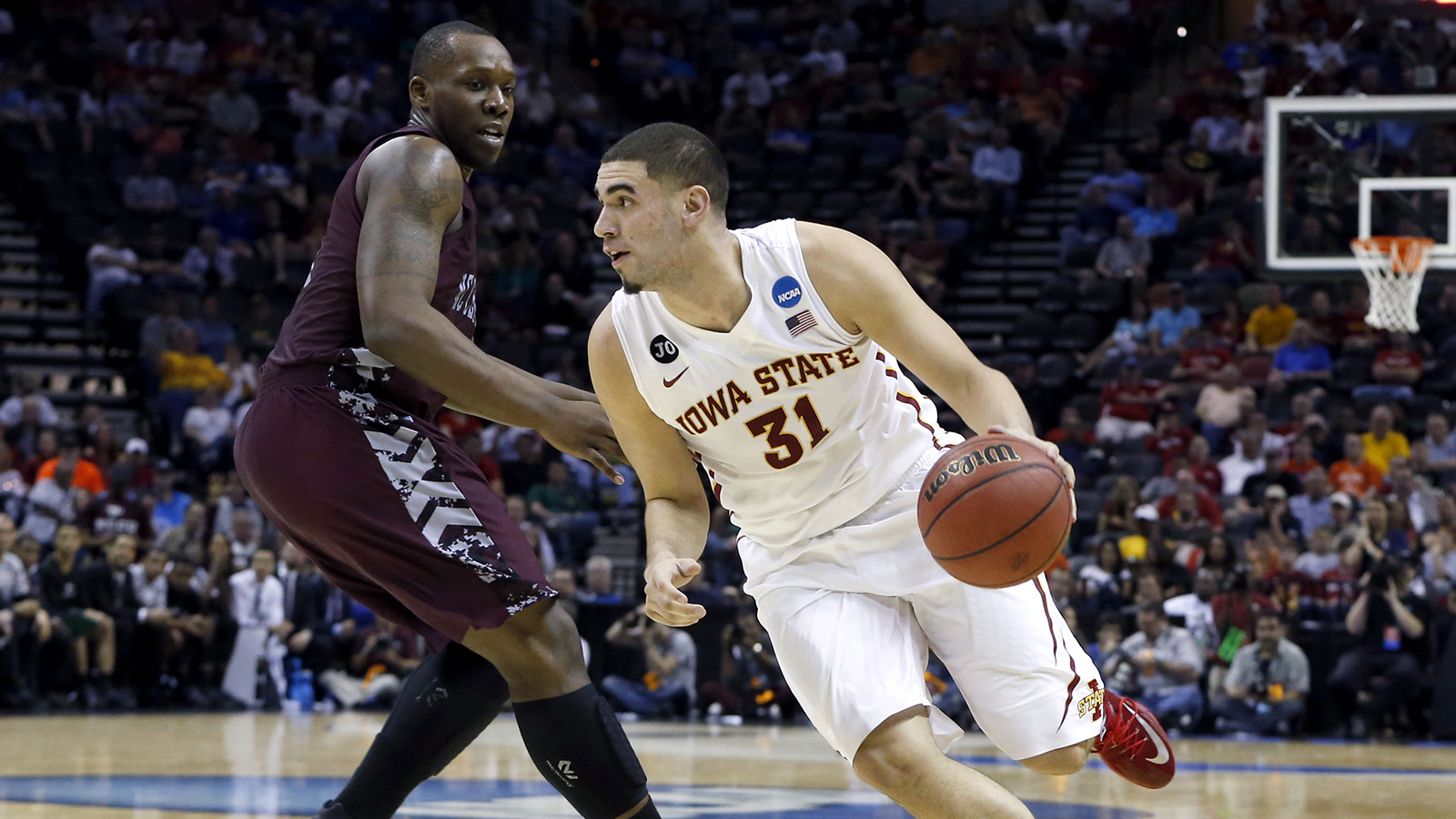 It's a shame.
Stanford wasn't going to wait six days for Joel Embiid to get healthy, and you can bet the NCAA Tournament wouldn't be on hold for six weeks until Georges Niang's broken foot healed.
For now, the limits of modern medicine prevented scores of Iowa State fans from lining up to donate a healthy kicker that would have allowed Niang to suit up.
The Big 12 sent seven teams into the 68-team NCAA Tournament, but only two–Kansas and Iowa State–earned better than a four seed.
Injuries stole unfortunate headlines for both teams during the weekend. Iowa State survived–for now–losing Niang to a broken foot. Kansas couldn't say the same about the stress fracture in Embiid's back.
"It was pretty hard watching them lose," Embiid told CBSSports.com after the loss. "I felt like I could've helped."
Who knows how far KU would have gotten, but Embiid's importance in settling down KU's offense with touches in the post and ability to change and block shots around the goal on defense makes one thing clear: KU would be preparing to face Dayton next week if Embiid hadn't aggravated his back on March 1 against Oklahoma State and sat the final two games of the regular season, the Big 12 Tournament and the first weekend of the NCAA Tournament.
Kansas deserves credit for denying Embiid the chance to play. He told CBS he wanted to, and the training staff said no.
Those decisions are made knowing the possible cost, and Kansas paid the price on Sunday afternoon.
Bill Self's most hyped recruiting class ever will never play together again. Andrew Wiggins, the biggest recruit in Big 12 history, has already seen his time come and go.
It's all over, in large part because of a little crack in Embiid's back.
That's a shame.
Iowa State was a trendy Final Four pick (yours truly picked them to reach JerryWorld) when the bracket was unveiled a week ago, but the sight of Niang hobbling through the AT&T Center in San Antonio with his foot in a boot on Friday night after Round 1 took the Cyclones off the radar.
Too many forgot Hoiberg still had the Big 12's Player of the Year in Melvin Ejim and another All-Big 12 first-teamer in DeAndre Kane to work with. (Side note: Hoiberg also possesses some, uh, dance "moves."
"I know the emotions (Niang) was feeling and the things going through his head," Kane told reporters after beating North Carolina. "We really wanted to get this one for him because without him we wouldn't be here. So this game was definitely dedicated to Georges."
Kane's game-winning layup sent the Cyclones into the Sweet 16. He finished with 24 points, 10 rebounds and seven assists.
Still, Niang's injury means four days of hearing why Iowa State may not knock off Connecticut to play for a chance to reach the Final Four. It won't be two good teams playing at full strength inside Madison Square Garden, highlighted by a legendary battle of scoring point guards: Kane and UConn's All-American, Shabazz Napier.
That's a shame.
Every year, the tournament reminds us how unforgiving its bracket can be. Any basketball fan would love to see Wiggins play college ball a little longer.
The same is true for his fellow ousted freshmen: Duke's Jabari Parker and Syracuse's Tyler Ennis, though Ennis could conceivably return for 2014-15.
Wiggins won't, though, and the tournament didn't pause for one second to eulogize his brief career full of spectacular moments like his alley-oop slam in the first round and head-scratching stat lines like his four-point, four-rebound, four-turnover stinker in his final game as a Jayhawk.
If Iowa State's going to go down at some point, it deserves to go down with every asset at its disposal. It won't.
"It's over," Wiggins told the Kansas City Star. "There's no more chances."
Embiid staked a claim in just one year as one of the most talented Jayhawks ever. He'll leave without suiting up for a single postseason game.
That's a shame.
That's the tournament.