Baylor proves it's more than just offense in win at Texas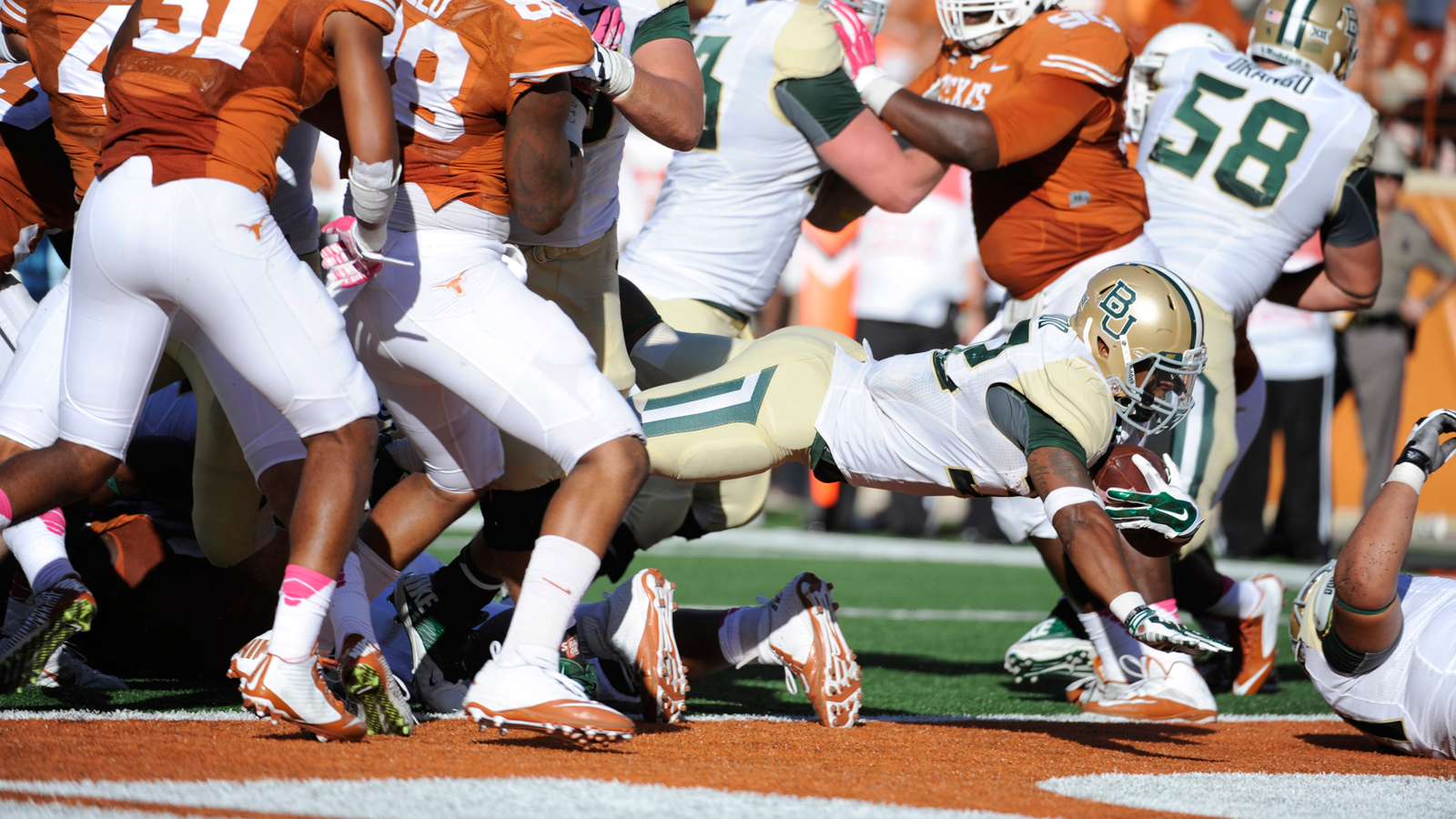 AUSTIN, Texas — Baylor is more than just an offensive machine.
When quarterback Bryce Petty and the nation's top-ranked offense struggled to find the end zone on Saturday against Texas, the Bears' defense and special teams stepped up in a 28-7 road win.
"I thought we won the game in three different ways," Baylor coach Art Briles said. "I thought we made enough plays offensively. I thought special teams was just very critical.
"At the end of the day, I thought our guys just came in with an attitude and a hunger that we always have."
After the Longhorns stalled on their opening drive, Baylor blocked a 52-yard field goal attempt and returned it for a touchdown.
That would be the only scoring by either team in the first half.
Texas shut down Baylor's prolific passing attack, holding Petty to just 111 yards passing.
"It was ugly, but it's a win nonetheless," Petty said. "Any time you go out there, I would much rather it be ugly than pretty. We got the win, which is exactly what we wanted to do. It wasn't exactly how I planned it but we got it done. My head is still spinning trying to think about it."
Texas' offense was also off-target all afternoon and didn't score until late in the fourth quarter. The Longhorns haven't been shut out at home since 1976.
"Defensively, you pitch a shutout for 58 minutes left in the ball game on the opponents' floor, you're always going to have a good chance to win," Briles said. "My hat's off to our football team."
For first-year Texas coach Charlie Strong, there's no moral victory after having their own impressive defensive performance.
"What's key for us, we just have to learn how to win," he said. "We don't know how to win yet. We don't know how to finish.
"We're sitting here 2-3. We've just got to continue to get better. Told you guys a while ago, we are going to eventually get over the hump, but we got to win these games."
Quarterback Tyrone Swoopes and the Texas offense were able to move the ball in the first half, but they continued to shoot themselves in the foot with penalties and turnovers.
After the defense made a goal line stand in the second quarter, the Longhorns marched 98 yards only to fumble the ball at the 1-yard line — blowing a chance to tie the game seconds before halftime.
"Just mishandled [the snap]," Swoopes said. "I am not going to put it on [center] Jake [Raulerson], not blaming anybody, but I just mishandled it."
Texas heads to Dallas next for its rivalry game against Oklahoma, who is coming off a loss to TCU. The Horned Frogs' huge win sets up a showdown with Baylor next weekend in Waco.
The defending Big 12 champs are the clear favorites to repeat after the Sooners' loss, but Briles still sees plenty of room for improvement.
"I think we are a better team than last year and that's just the bottom line," he said. "We are not where we need to be or have to be to have a chance to win the conference again, but I do think we are a better football team than we were a year ago at this time."