Lady Bears' dynasty grows with fifth straight Big 12 tournament title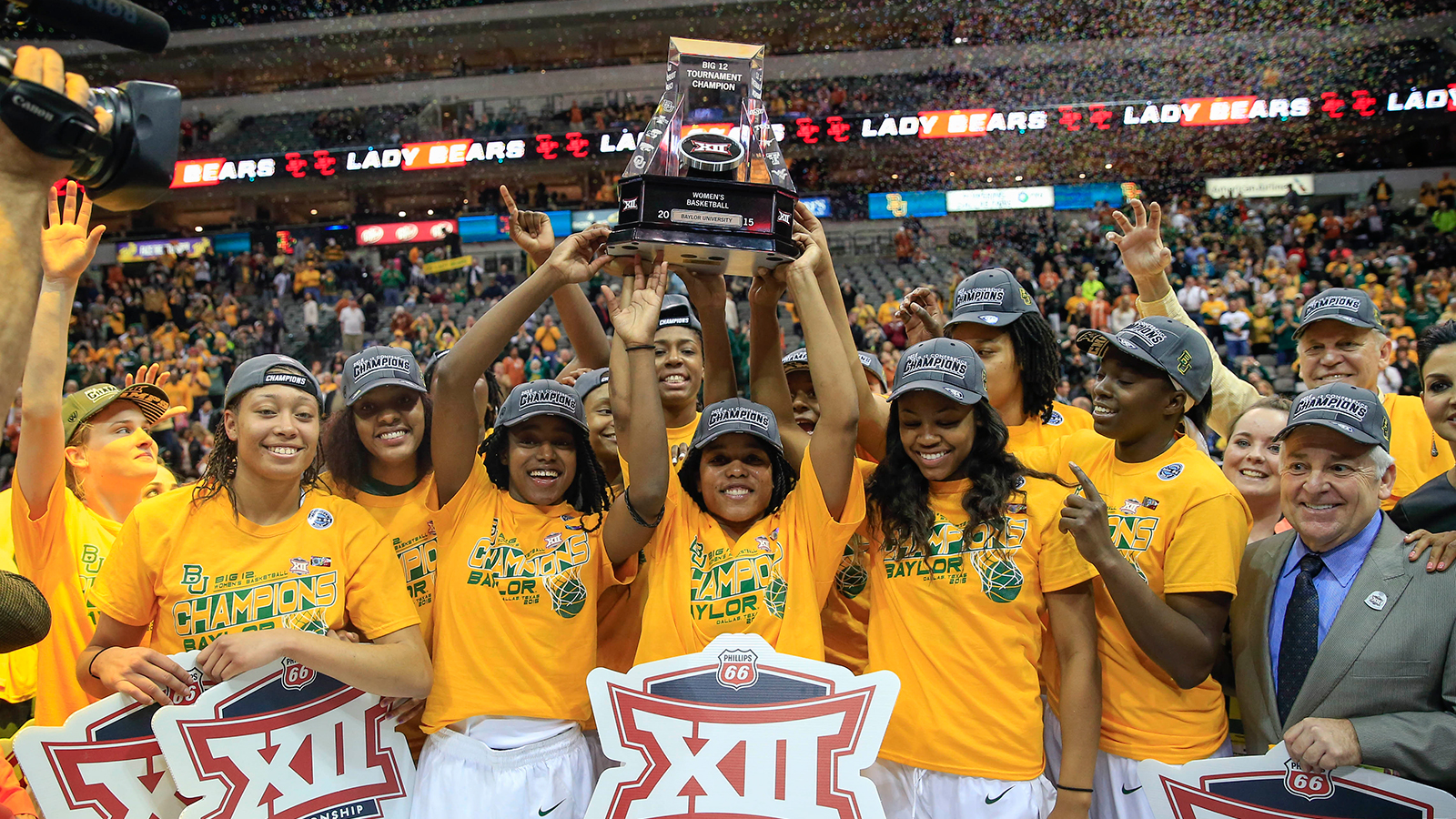 DALLAS — It's beginning to sound like a broken record. Baylor has added another Big 12 championship to its trophy case.
The top-seeded Lady Bears made it look easy in a 75-64 title game win over sixth-seeded Texas at American Airlines Center in Dallas on Monday.
The Longhorns were hoping for redemption after letting an upset of then-No. 3 Baylor slip away in a 70-68 last-second loss in Austin on Feb. 8.
"I think two Texas players have been waiting for this, right?" Baylor coach Kim Mulkey said. "'We're going to beat them today and we wanted another shot at them.' Well, be careful what you wish for."
This one was never in doubt in the second half as the Lady Bears pulled away with a comfortable lead in the final minutes, but Mulkey wasn't happy with how Texas didn't go down without a fight.
"I didn't like the game ended with them pressing with starters on the floor," she said. "But that's [Texas coach Karen Aston's] prerogative and that's her team to do that."
Baylor beat its three opponents in the tournament by an average margin of 13 points for the program's fifth consecutive regular season and conference titles.
"It means that women's basketball's bigtime at Baylor," Mulkey said. "My [athletic director] says we're a dynasty."
Wow, this team just amazes me! They believed in each other. Their hard work, sacrifice, & commitment paid off! #SicEm pic.twitter.com/Fq6hGFcPe9

— Kim Mulkey (@KimMulkey) March 10, 2015
Sophomore forward Nina Davis scored 16 points to earn the tournament's Most Outstanding Player honors for the second year in a row. Celebrating conference championships may be the norm for the fans in Waco now, but it's still something new to Davis.
"We're excited," she said. "Yes, this is the fifth year in a row, but we don't have five rings. This is only like our second one of the season, so this is definitely an exciting time."
For coach Mulkey, who now has won six total Big 12 regular season and tournament championships, she wants to treat every title like it's her and her program's first.
"You have to remember that there are a lot of kids in that locker room, this is their first," she said. "It's kind of like having children, your first child comes into the world, man, we're out of our mind. And then the second one comes along and the third one comes along and we get a little bit, you know, lazier. I don't want to be around people like that."
Davis was the star and the focus of the Longhorns' defense, but she was just one of four Lady Bears who scored in double figures.
"She's a player that just settles us, but we're not the Nina Davis show," Mulkey said. "We've got a lot of kids that have some talent out there.
"I've played a lot more players this year than I ever have in 15 years because they're basically demanding that from me."
With a No. 5 national ranking and a 30-3 record, Baylor is still projected by many to be a No. 2 seed in the NCAA tournament.
Did a dominating Big 12 tournament effort do anything to change that?
"I've expressed myself many years on what I think is right and wrong, and I guess I'm like a fine wine, I've just realized keep your mouth shut, it doesn't do any good, it probably pisses them off," Mulkey said. "I expect to host the first and second-round games at Baylor, I expect a great Baylor crowd, and let's see how far we can take this thing."
Follow me on Twitter @LouisOjedaJr
MORE FROM FOX SPORTS SOUTHWEST:
– Ranking NFL quarterback salaries
– Five-star recruits who were never stars in college
– Biggest football recruiting steals of the past decade